In recent years the online livestock auction system has experienced significant growth, becoming the first-choice marketing channel for many farmers across Australia. However, in line with the recent growth, the most efficient and practical way to market stock online is still being determined.
Many sellers and their agents have methodology as to where to set starts and reserves, but much of these practices are based on trial and error and what has worked from previous experiences.
The AMI team have reviewed start and reserve data between 2016 and 2020 to determine how the distance between the starting price and reserve correlates with clearance rates, while also reviewing how different seasonal conditions impact clearance rates.
One of the benefits of the online auction system is that it gives the control to the vendor. The vendor is the price setter, and if their lot doesn't achieve the price they expect, they maintain complete ownership of their animals and their future choices. Numerous price setting techniques are used every week to achieve the best outcome for the seller. AMI has reviewed past trends, to showcase where the success lies, while also equipping producers and agents with insights to assist with decision-making when setting prices.
To this analysis, clearance rates were used as the main benchmark comparison and are calculated by the number of head sold, divided by the number of head listed for a given category. Sold lots are any lots that have sold at, or post auction.

Looking to cattle first, as shown above in figure 1, the lower the number of bids between a starting price and its reserve, contributes to a far greater percentage of lots selling when compared to lots that start a greater distance from reserve. Further to this, lots that are less than 10 bids away on average, making the difference between start and reserve $100 or less, results in a 75% chance of selling.
When reviewing this data from figure 1 on a yearly basis, it is evident that seasonal conditions also effect clearances based on bid difference. When tougher seasonal conditions are present, lots which have a larger gap between start and reserve, have a lower chance of selling when compared to the 5-year average for that category. Conversely, when the market is strong, and demand is at all-time highs, higher than average clearance rates are received across all distance ranges.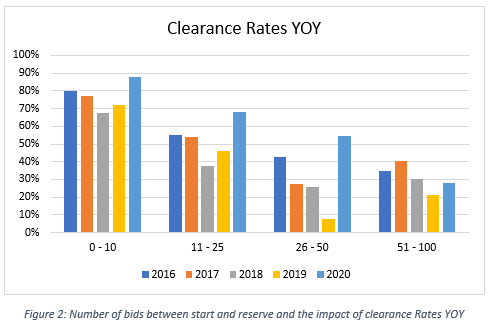 When reviewing sheep, the trends are very much the same as cattle. The further the distance between start and reserve, the less likely a lot has of selling. If a lot starts under 25 bids away from its reserve, it has on average a 73% chance of selling, while for anything starting over 25 bids away, has just a 28% chance of selling. For the under 25 bid range, only 9% of lots resulted in a passed in, or no bid status after their reoffer run. Whereas over 25 bids difference resulted in a 17% pass in, or no bid rate after being reoffered - resulting in no sale. This is highlighted through the 51 – 75 bid difference range where 31% of lots result in being passed in or having no bids on the reoffer run.

It may seem obvious to set starts and reserves close together to result in a sale, but the psychology behind the seller's methods results in a range of varying methods behind how to set starts and reserves. There are many factors that must be accounted for before setting prices, and while it's not always in the seller's best interest to tighten the distance between their prices, based on five years of online sale data for sheep and cattle, a larger percentage of lots that are under 25 bids away from reserve sell both at auction and post auction. The added benefit to tightening starts and reserves is that lots are on the market quicker and are more likely to start closer to market value, resulting in a decreased length in auction running times.