The supply of sheep and lambs offered exclusively on AuctionsPlus for the month of February totalled 411,733 head - a significant increase on January, which had 277,546 head listed. February weekly markets were significantly more consistent than the holiday interrupted January, which provided a clear indication of the true market - where rebuilding intentions remains the primary driver of strong prices and throughput.
Young breeding articles remained a hot commodity throughout February. Rain and patchy storms continued to maintain the seasonal momentum through key eastern states growing regions, with southern markets securing large volumes of stock, including Central Western NSW (61,464 head), the Riverina NSW (49,032 head) and SW Victoria (20,558 head). Merinos were in high demand throughout the month, with younger categories achieving elevated clearance rates, while prices remained on par or slightly down from the previous month.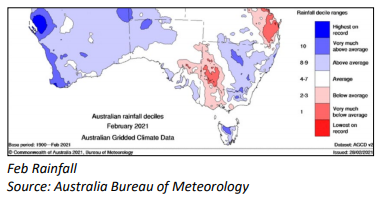 Listings through AuctionsPlus for February were dominated by the same three regions that topped the buying, with SW Victoria (55,607 head), Central Western NSW (53,807 head) and the Riverina NSW (38,689). Reports indicate that while many buyers are initially looking to fill paddocks from locally sourced stock, sights are being forced to look far and wide, with so many key regions all having favourable seasons. A highlight for the month was the Wheatbelt region of WA offering nearly 11,000 head, consisting of over 3,000 SIL Merino ewes listed. Almost 34%, or 3,733 head offered from the Wheatbelt travelled east during the month, with 393 head to the Central & Hills region of SA and the remaining 3,340 head sold to various regions in NSW.
February registered 56,589 Merino wether lambs offered exclusively online - an increase of 20,524 head from January, with an 88% clearance rate. Prices remained strong despite the significant increase in listings, with the category averaging $139/head - a 2% average price rise compared to January and 2% on the same period in 2020. Merino ewe lambs were in high demand achieving a 92% clearance rate for the month, after a spike of 5,629 head in listings to total 13,028 head – with prices averaging $185/head for February, easing 7% from January. Composite lambs also averaged a very strong clearance rate for the month, with 89% of the 18,312 head offered selling – with prices averaging 12% higher from the previous month.
Clearance rates and prices steadied slightly for older stock categories in February, although prices were significantly up from the same period in 2020. There was 52,811 SIL Merino ewes offered for the month, compared to only 27,799 head in January, with the 90% increase in supplies seeing prices edge 7% lower, to average $266/head. Merino ewes with lambs at foot (LAF) sold to a steady 46% clearance, while prices rose 4%, to average $308/head. Just over 4,000 head of NSM first cross ewes were offered in February, with 59% of stock cleared online, averaging $234 - back 9% on a very thin January market.