AuctionsPlus Statistical Review December - 2020
AuctionsPlus Market Insights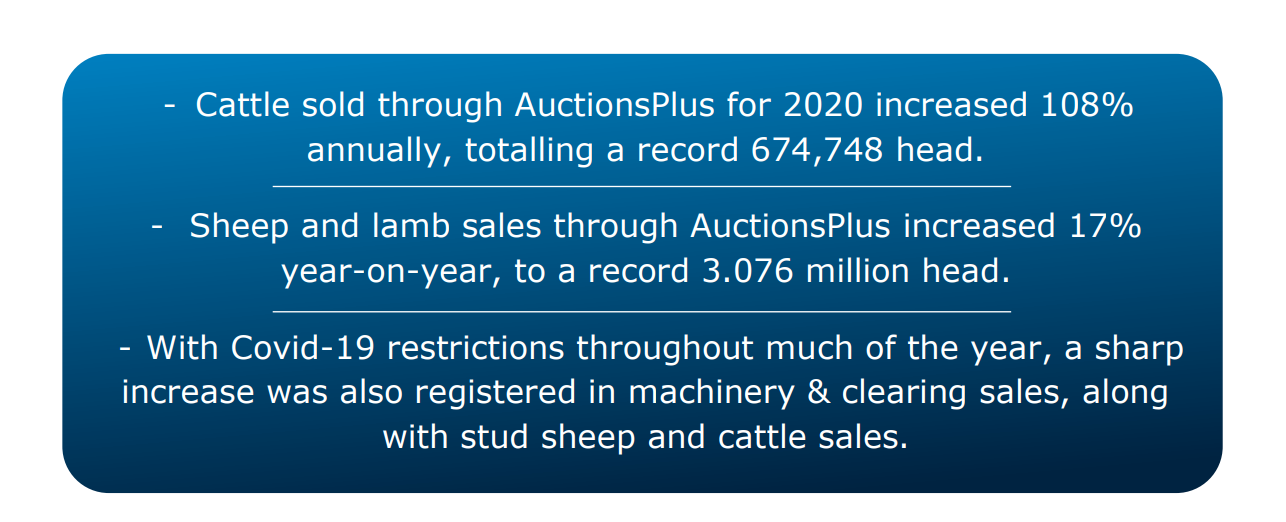 CATTLE
The number of cattle sold through AuctionsPlus in 2020 reached 674,748 head – an increase of 350,448 head, or 108% on 2019. NSW maintained its place as the largest listing state throughout the year, at 261,608 head – an increase of 24% year-on-year.

While the record prices registered during the second half of the year have been widely reported, it should also be noted that the first three months of 2020 was drought conditions, which encouraged increased sales through the online platform.

Queensland closed the gap significantly on NSW, falling just short of the number one position for the year, at 250,866 head – up 248% on the previous year. The combination of drought in key cattle producing regions, Covid-19 related movement restrictions and record high prices in the second half of the year all contributed to the 248% increase.

Victoria registered the second largest percentage increase in sales throughout the year, up 292% on 2019, at 95,017 head. South Australian sales increased 457% in 2020, reaching 34,306 head. Tasmanian (17,814 head) and WA (11,444 head) sales increased 171% and 196%, respectively in 2020.

Southern Queensland maintained its mantle as the largest cattle purchasing region for 2020, at 113,492 head – up 163% on the previous year. Given that southern Queensland is the meat processing and feedlot hub of the Australian cattle industry, this outcome is not a surprise. However, the next three largest purchasing regions were all in NSW, reflecting the improved seasonal conditions, with the NW Slopes & Plains (up 124%), Central West (up 246%) and Northern Tableland (up 558%).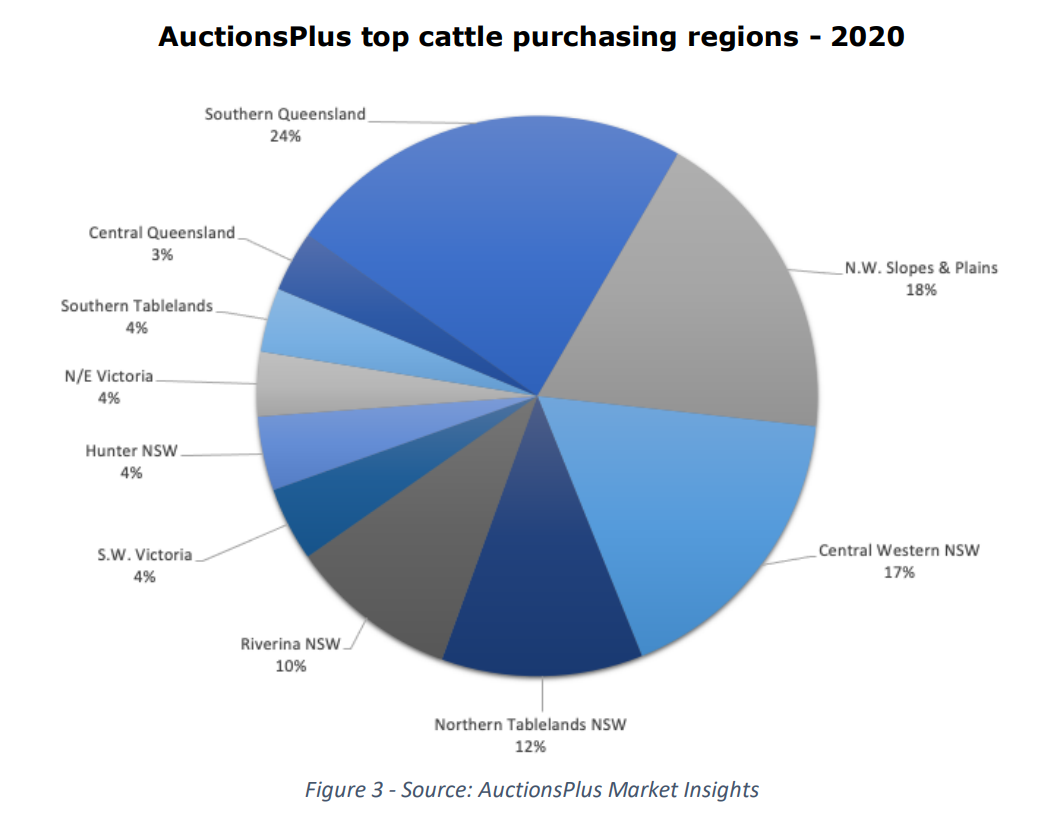 Steers and heifers made up 74% of all cattle sales for the year – slightly above the range for the past five years of 68-73%. The largest percentage increase for 2020 was from joined cows and heifers (PTIC and SM) – up 165% annually at 103,243 head. Cows with calves at foot also increased considerably, up 106% year-on-year, at 44,677 head.

SHEEP AND LAMBS
Sheep and lamb sales on AuctionsPlus in 2020 reached 3.076 million head – an increase of 17% on the previous year. NSW easily maintained its position as number one, despite a 19% decline year-on-year, at 1.356 million head. The improvement in seasonal conditions across key sheep producing regions throughout the past year resulted in NSW producers reducing turnoff, while purchases from the surrounding states skyrocketed.

Victorian sales of sheep and lambs online jumped 67% annually, to 721,325 head, while SA increased 108%, to 547,365 head – many heading into NSW.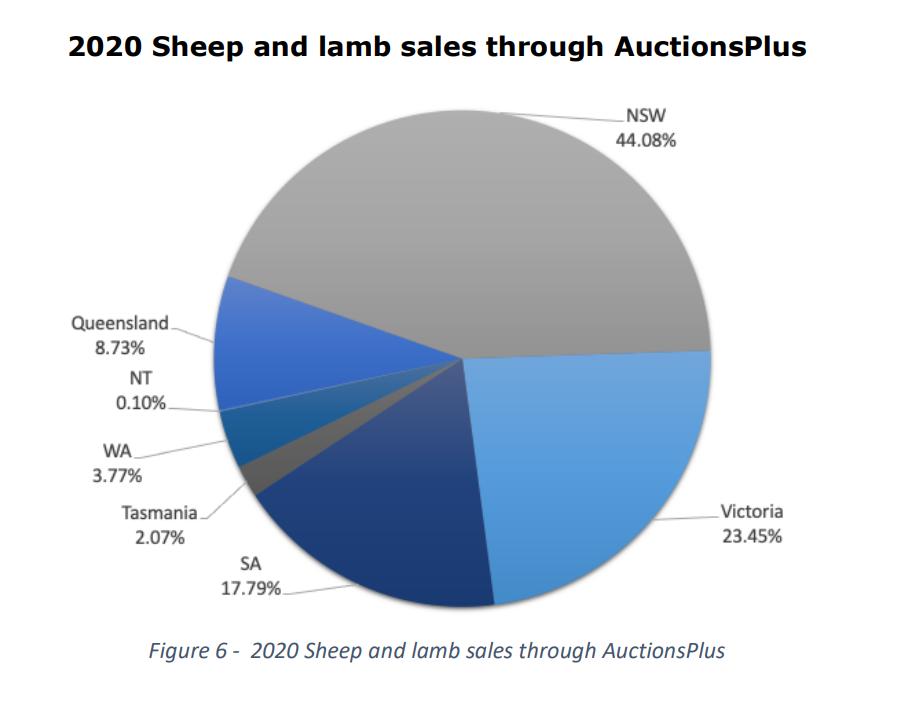 One of the features of the year was the massive jump in sheep and lamb sales from WA, up from 7,685 head last year, to 116,065 head in 2020. The tough seasonal conditions in WA, combined with the higher eastern states' prices, enabled many WA producers to put their wares online.

Merinos made up 53% of all sheep and lambs purchased through AuctionsPlus in 2020, at 1.633 million head – up 17% on the previous year. As a percentage of total offerings, it was comparative to the previous five years, falling between 51- 53%.

GOATS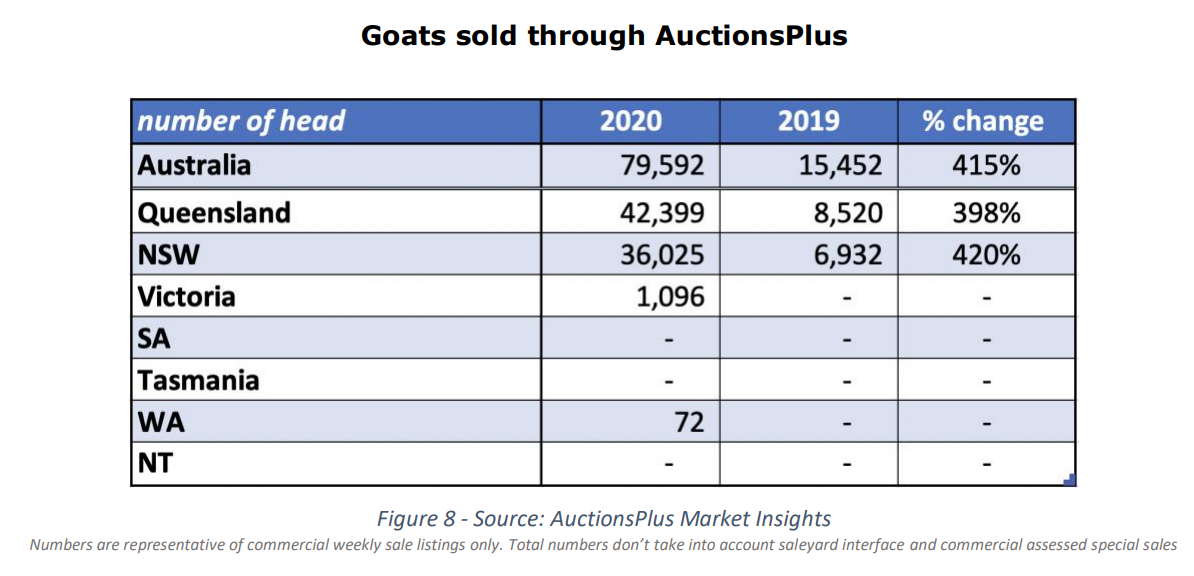 Continuing their steady industry growth year-in-year-out, goat purchases through AuctionsPlus in 2020 reached 79,592 head – up 415% on 2019.

Queensland and NSW dominated the sales, with 42,399 head and 36,025 head, respectively.
OTHER SALES
There was a significant jump in other sales through AuctionsPlus in 2020, a combination of a continuation of the growth from previous year and the Covid-19 restriction on physical sales attendance - from property, machinery and clearing sales, stud cattle and sheep, through to equine, alpacas and working dogs.

Sheep stud sales facilitated by AuctionsPlus increased 384% in 2020, with 305 held.

Cattle stud sales increased 118% in 2020, at 310 sales.

An additional 172 machinery and clearing sales were facilitated by AuctionsPlus in 2020 – an increase of 521% from 2019.

Tim McRae, Chief Market Analyst, AuctionsPlus Market Insights
tmcrae@auctionsplus.com.au
To download this report in pdf - click here.