As much of the south eastern regions of Australia continued to dry out this week, the overall supply of cattle continued to remain very tight heading into the Easter break. Total online offerings this week reached 7,365 head, with the heavier steer lines easing back, while prices for the lighter heifer lines moved higher.
Given the very wet March, which created widespread logistical issues throughout the supply chain, and back-to-back disrupted selling weeks due to Easter, it now will not be until the full selling week ending April 16 that an accurate sentiment within the market can be assessed. However, with mild temperatures and little rain forecast over the Easter period, their continues to be almost no seasonal pressure upon the market – with most offloading reportedly due to income requirements, lured by the very attractive prices. The young cattle market continues to sit at all time levels, as the EYCI cracked a new record of 896.5c/kg cwt this week.
Unfortunately, for many an astute buyer, the continued talk of record high markets, reduced supplies and robust rebuilding intentions would be getting a little stale. Looking ahead, widespread opportunities to purchase young cattle at any major discount to the current rates now looks to be in the final quarter of 2021.
Steer, 280-330kg, averaged $37/head lower this week, at $1,608 – with a 92% clearance rate for the 1,119 head offered. In the north, a line of 125 Brahman steers out of Julia Creek, averaging just shy of 300kg liveweight, sold to $1,373/head – equating to 874c/kg cwt.
Of note this week, albeit on a very thin market, heifers (400kg+) averaged $105/head higher than steers at the same weight - $1,829/head compared to $1,724/head. Hesitant buying for the heavier steer lines, given the disrupted weeks will have impacted demand, while in contrast, heavy heifers continue to be chased hard for herd rebuilding.
For breeding lines, bidding continued to be fierce for a very limited supply of assessed females with CAF. A line of 30 NSM heifers and 30 calves out of South West Victoria averaged $3,580/head. The 100% Angus heifers were 30-32 months old and averaged 543.9kg liveweight. Similarly, 75 18–22-month-old PTIC heifers, averaging 419.9kg/head, out of Nundle NSW, sold to $2,480/head – or 1193.5c/kg dressed.
NOTE: Prices as at 2pm, Thursday 1 April, 2021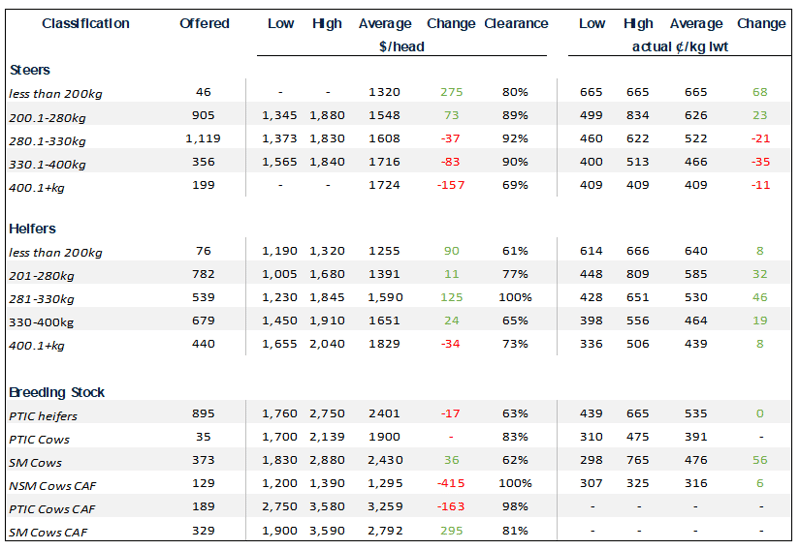 ---