A 13% contraction in the number of cattle offered exclusively on AuctionsPlus this week had price averages for the week varied, especially for the joined and assessed female lines. From the 15,876 head offered, PTIC heifers continued to be the largest category line, followed by 200-280kg steers.
One of the most notable factors in the market this week was a decline in the number of joined cows, heifers and CAF offered. While this may only be a weekly disruption, prices across all categories were well back, with PTIC heifers decreasing $85/head on last week, averaging $2,256/head, with a clearance rate of 58%.

However, lines that meet buyers' specifications continue to clear the market very quickly and at what could only be described as "seller friendly prices". 70 PTIC heifers out of the Northern Tablelands of NSW, sold to $2,810/head this week, or an estimated 1,411c/kg lwt. The 17–19-month-old Angus heifers, were 100% PTIC to a registered Wagyu bull, averaging 394kg lwt, with almost all assessed at fat score 3.

A line of 55 cows and 54 calves at foot sold for $2,190/head this week, sourced out of Cooladdi, west of Charleville, Queensland. The 55 Santa Gertrudis/Shorthorn Hereford cows averaged 357kg lwt, with all offered at fat score 2.

Average prices for the two heaviest young steer prices eased back $23/head and $14/head this week, averaging $1,739/head and $2,019/head, respectively. The demand for all lines and weight ranges remains exceptionally robust, with many regions now assured of an autumn that will likely register good growth prior to the cooler months setting in.

A selected result this week had 53 weaned, 8–9-month-old Angus steers, from Willow Tree, NSW averaging 342.9kg, selling for $1,780/head, or 913.3c/kg cwt. Additionally, a line of heavy feeder steers sold for $2,396/head this week, or 846.8c/kg cwt. The 70 Angus steers out of Barnawartha, Victoria, weighed 517kg lwt, were 18-19 months old, with 94% at fat score 2.

Forecasts for some good falls in the coming week through southern Queensland will be interesting to watch, especially if some of the drier regions finally get some much-needed rain. In the south, producers will start to turn their attention to feed supplies for the winter months.
Note: all prices reported below are as at the close of reporting of 2pm, Friday 5th March.
For more categories, please go to: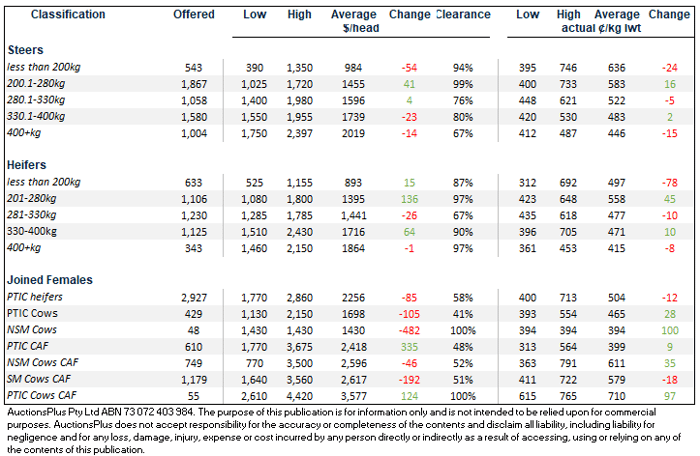 ---
To download this weeks report in pdf - click here.