With the Easter holiday-induced short trading week, overall sheep and lamb numbers offered exclusively through AuctionsPlus this week only totaled 42,549 head – back on the 46,681 in the previous week and less than half of the throughput registered in the previous full selling week. Overall lamb prices were largely steady, to slightly higher, except for the shedding lines, which contracted $70head in the absence of selected future breeder ewe lambs.
Given the second week of reduced supplies, overall demand was also steady, reflected in very high clearance rates across the main lamb categories, except for first cross ewe lambs, at only 45%. However, with only the 45% clearance rate for the 3,045 head offered, the average price for the week lifted $10, to $243/head.
Crossbred lambs were steady this week, at $168/head, with a 91% clearance rate for the 3,685 head offered. Both Merino wether lambs and Merino ewe lambs registered robust clearance rates, at 94% and 91%, respectively this week, averaging $146/head and $184/head. An indicative line of 390 Merino wether lambs, out of Methul NSW, weighing 41.6kg liveweight and May-Jun 2020 drop, sold to $154.50/head, or an equivalent 858.3c/kg dressed. Across the sheep lines, prices contracted for the NSM categories, albeit with very thin numbers for some categories. NSM Merino ewes dropped $30, to average $164/head – with a 73% clearance rate for the 2,035 head offered. A line of 201 NSM Merino ewes out of Tamworth NSW, 6.5-years-old and averaging 52.7kg liveweight, sold to $180/head, or 947.4c/kg dressed.
SIL Merino ewes were easily the largest category offered this week, with the 9,552 head offered going against the reduced trend – up 63% on last week's supplies. Even with the jump in offerings, the clearance rates this week hit 76%, compared to the 53% in the previous week – signaling a jump in demand for assessed and proven lines. SIL Merino ewes averaged $2 higher this week, at $265/head. SIL first cross ewes dropped $12 last week to average $343/head, while SM Merino ewes averaged $307/head.
NOTE: Prices are as of 5 pm Thursday, 8th April 2021.
For more categories, please go to:
Sheep Averages 06/04/2021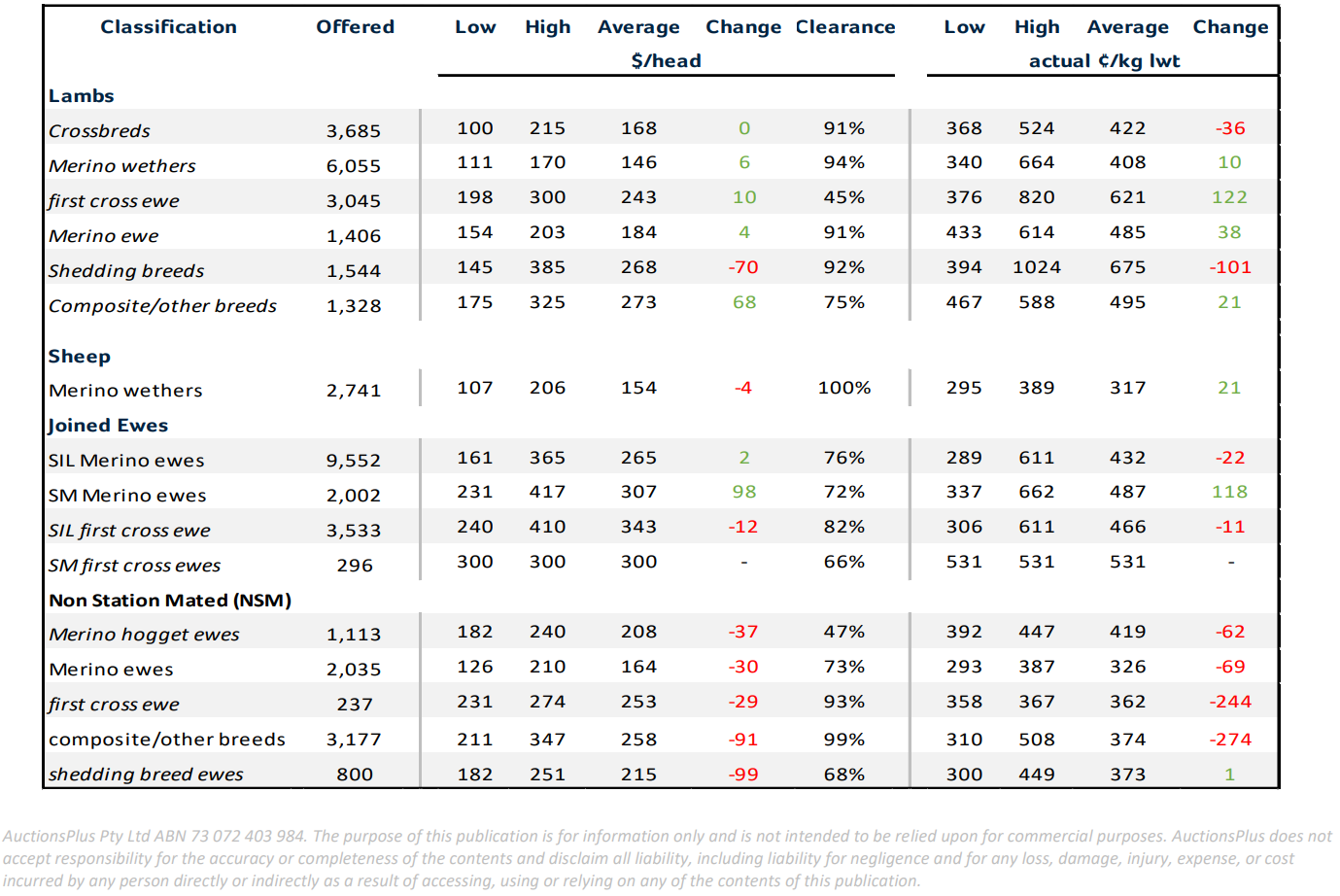 To download this report in pdf - click here.