It was another large offering of sheep and lambs exclusively offered on AuctionsPlus this week, with total supplies rising 11%, to 107,418 head. After last week's 15% increase in offerings, the flow of stock into the market over the past two weeks has had a notable impact on prices, especially for the joined ewe lines.
Merino wether lambs continue to meet steady demand, with the clearance rate in previous weeks being consistently above other categories. The 17,152 head offered this week resulted in an 85% clearance rate, with prices slipping $2, averaging $137/head. An indicative result for this week was 250 Merino wether lambs out of Benalla, Victoria, which were July-August 2020 drop, unshorn and averaging 39.6kg, sold for $150/head.
Crossbred lambs sold to mixed demand this week, with a 21% drop in the total numbers offered, at 15,788 head. The contraction in supply only had a marginal impact on the weekly average, edging $3 higher, at $164/head – with a 69% clearance rate.
In a mixed market, 8,850 first cross ewe lambs averaged $18 higher, at $260/head, while Merino ewe lambs slipped $5, to $188/head – with a weekly clearance rate of 57% and 41%, respectively.
Joined ewe lines were softer this week, with prices back across the three main categories. For SIL Merino ewes, 61% of the 17,485 head were sold within the official sale time, with the average price back $4, at $255/head. An indicative sale for the week saw 275 SIL Merino ewes out of Stawell, Victoria, averaging 63.3kg live and shorn in February, sell for $265/head. Comparatively, SM Merino ewes decreased $56, to average $199/head, while SIL first cross ewes decreased $30, to $300/head. The relatively low clearance rate for both categories, at 40% and 49%, respectively, continued to point to a stand-off between sellers expectations and buyers enthusiasm. In recent weeks, clearance rates have slowly increased in the days following the Tuesday auctions, as expectations and enthusiasm converge.
While the widespread falls through central and northern NSW this week may have come too late to impact this week's offerings, next week's listings will be very closely watched, given the extensive and heavy falls forecast. If the falls forecast deliver, the on-farm desire to retain and rebuild will be refreshed – balanced against the ever-present need for cash flow and income.


NOTE: Prices are as at 5pm Thursday, 18 March 2021.
(Prices subject to change, as auction sales continue past 5pm Thursday)
For more categories, please go to:
National AuctionsPlus Store Report - Sheep and Lamb
Sheep Averages 16/03/2021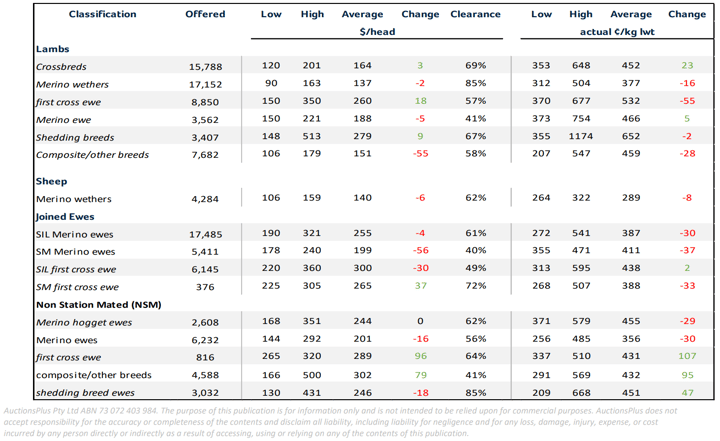 ---
To download this weeks comments as a pdf - click here.