When drought conditions started to ease across the eastern seaboard in early 2020, it spurred extensive cattle movement, as producers in the east looked as far as Western Australia to rebuild their herds after consecutive years of drought.
WA breeding stock have been heavily sought after in recent months, as eastern producers seek to rebuild their herds. Light weaner cattle have been popular with producers as they seek to make the most of the abundance of feed on the ground. Looking at numbers from 1 November 2020, through to 18 January 2021, where AuctionsPlus has been operating in the Boyanup, Muchea, Mount Barker and Pemberton saleyards - 17,803 head of cattle has been sold. Of these, 5,058 head were bought online, and 2,184 head travelled interstate (see figure 1).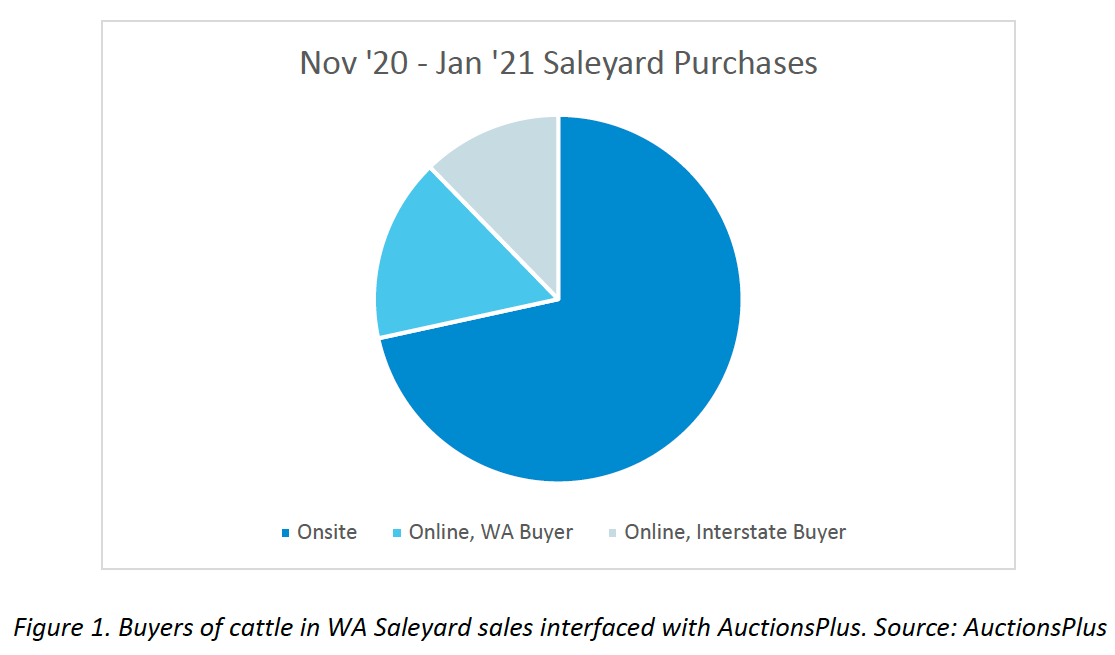 Commentary from several buyers has reiterated that breeding articles and smaller weaner and yearling cattle have been the most desired categories due to demand and the viability of transport. WA producers have also enabled eastern states buyers to purchase larger runs of cattle, making an easier task out of transporting stock. Prior to 2020, many buyers had not had the need to look to the west when sourcing stock, with AuctionsPlus now a vital tool for allowing this connection. Scott Bremner of Elders Killara stated, "if it wasn't for AuctionsPlus operating in the WA saleyards, we wouldn't have looked that way". Additionally, further demand for stock in the west has been driven by record prices in the east, where the EYCI currently sits upwards of 870c/kg.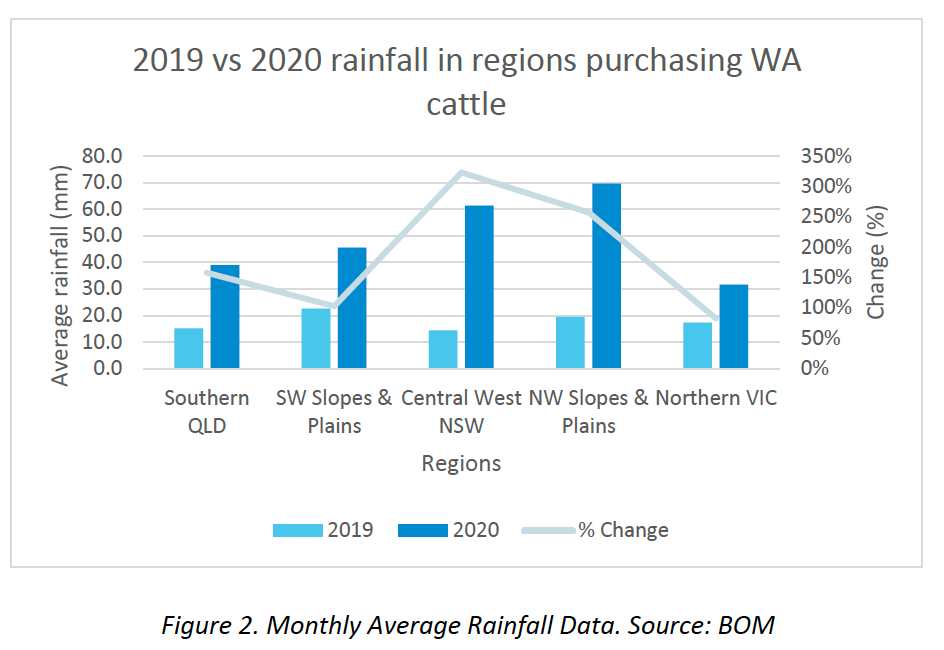 As seen in figure 2, selected regions of NSW experienced over a 200% increase in yearly rainfall, with southern Queensland and northern Victoria experiencing a similar trend in 2020, compared with 2019. Following this, 2020 saw 19,236 head of commercial cattle in WA sold on AuctionsPlus, with more than half– travelling interstate. This was a significant jump from 2019, which saw only 442 head of the 6,768 head sold on AuctionsPlus travel interstate (see figure 3).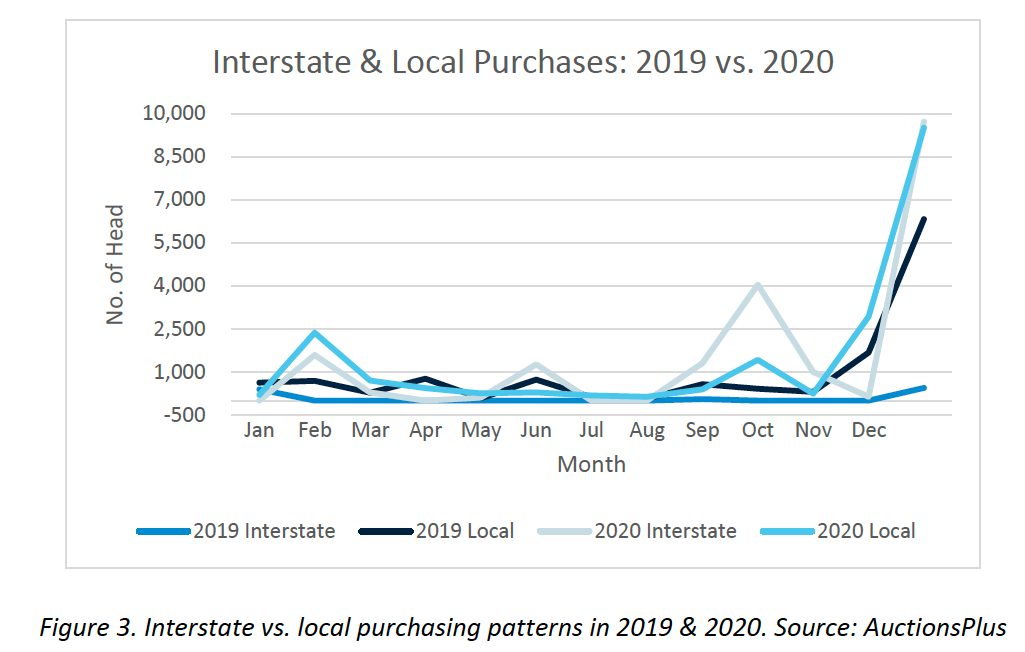 A relatively straight-forward process is involved in trucking cattle across the Nullarbor, with one purchaser stating it cost them 37c/kg to transport heavy calves. This includes trucking them to Kyancutta in South Australia, unloading and spelling them overnight, then loading them onto new trucks to finish their journey to the east. Bremner trucked a road train of light heifers averaging 320kg, which he stated cost $150/head. Heifers weighing 300-350kg sold on AuctionsPlus to online buyers in December 2020 were significantly dearer in eastern states saleyard sales, averaging 411c, while they averaged 354c in the west. As producers sought suitable breeding articles, heifers in the west have been an extremely viable option to pursue, despite the 30-40c/kg freight component, with eastern buyers still paying less for stock from the west.
During the most recent period of positive seasonal conditions in the eastern parts of Australia, Western Australian livestock agents and producers have taken advantage of the opportunity to increase competition on their stock, utilising AuctionsPlus to market their stock nationally. Nutrien Ag Solutions agent Simon Green said, "the last time we saw volumes of cattle heading east was 2011 and outside periods of positive seasonal conditions in the east, cattle remain local". Over the course of the January saleyard interface sales, where AuctionsPlus was involved, Simon stated many stock categories are "20-30c/kg dearer for having the interstate competition at play, whilst remaining up to 50c/kg cheaper than the southern Victorian and South Australian January weaner sales", making this a viable option for several eastern states' buyers when freight is approximately 30-40c/kg.
Looking ahead, it is likely Western Australian producers will look to sell so long as the price gap between local buyers and interstate buyers remains. Green stated "producers will keep selling when they have the stock and if the demand is there from the east, then that is where they'll go".