Unrelenting demand for a very limited supply of light and young cattle continues to be the headline story for the cattle market. Overall cattle throughput on AuctionsPlus this week totalled 18,203 head – up 2% on last week, as average prices for most steer indicators increased, while heifer categories lost some of last week's gains.
While the latest three-month rainfall outlook from the Bureau of Meteorology points to a continuation of the favorable conditions for many key cattle producing regions, there remains vast regions of central Queensland that have only registered patchy falls throughout the most recent wet season. While the flow of cattle out of these regions has been very quickly soaked up by southern producers, many finding a home in northern NSW, any significant rain across these Queensland regions over the next month will only exacerbate the already extremely tight market.

Steers, 200-280kg, averaged $26/head higher this week, at $1,415/head, with an 85% clearance rate for the 1,898 head offered. In contrast, the 3,038 heifers for the same weight range fell $66/head, to average $1,260/head – with a 78% clearance rate. For the heavier 280-330kg categories, steers were largely unchanged on last week, at $1,592/head, while heifers slipped back $51/head, to $1,467/head.

One of the highest prices in a c/kg dressed weight basis this week was achieved for a line of 66 weaned Angus heifers out of the Hunter Valley in NSW. Averaging just below 300kg, the 9-11 months old heifers sold for $1,960/head – or an equivalent 1,196c/kg dressed.

The cow market recaptured some of last weeks gain this week, with PTIC cows with CAF averaging $276 higher, at $3,014/unit – with a 73% clearance rate. This week again saw some excellent lines presented, with a market high of $4,720/unit. Certified PTIC heifers averaged $178/head higher, averaging $2,301/head – with a 57% clearance rate for the 3,214 head offered.
Note: all prices reported below are as at 2pm, Friday 26th February.
For more categories, please go to: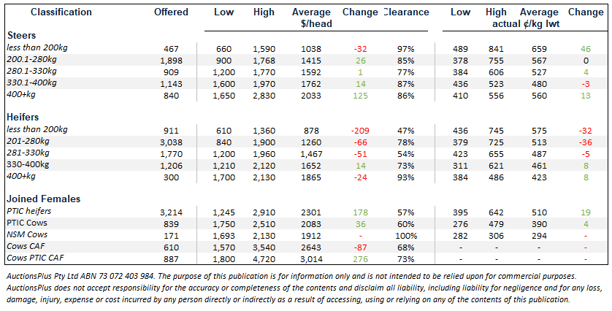 ---
To download this weeks report in pdf - click here.