The widespread rain across many key cattle producing regions over the past two weeks has seen a consolidation in demand for light and young cattle at historically high levels, as available supplies plummeted this week. Rainfall through central and southern Queensland, with extensive flooding in NSW, has created significant supply and logistics issues, which is likely to be maintained for some weeks, impacting the ability to move stock off farm.
The total supply of cattle offered exclusively through AuctionsPlus this week contracted 42%, to only 10,605 head – easily the lowest weekly total for the year so far. With the sharp contraction in supplies, prices were up across most of the steer categories, but mixed for young heifers and the assessed joined females.
Across the three mid-weight steer categories, supplies contracted 57% for 200-280kg steers, 50% for 280-330kg and 27% for the 330-400kg lines, with the clearance rates very high, at 88%, 88% and 94%, respectively. Interestingly, with the large contraction in supplies and high clearance rates, prices were only marginally higher, compared to last week's larger gains, averaging $2, $25 and $50/head higher respectively. The constrained increase in prices, compared to the sharp decline in offerings, possibly indicates that buyers have reached their upper limit for the lighter lines.
For a very limited supply of young heifers, $/head prices declined as the weight categories increased, with the heaviest lines of 400kg+ falling $108 on last week, to average $1,863/head. For the two largest categories, 200-280kg and 280-330kg, the total numbers offered this week were back 59% and 26%, respectively, averaging $1,380/head and $1,465/head, respectively.
A very thin breeding market saw only significant numbers offered for PTIC heifers (1,859 head), PTIC cows (938 head) and NSM cows with CAF (697 head). The 33% decline in the PTIC heifers for the week contributed to a $180 increase, to average $2,418/head – at an 85% clearance rate.

NOTE: Prices as at 2pm, Friday 26th March, 2021.

CHANGE OF SALE DATE: The regular AuctionsPlus Commercial Cattle sale next week will be held on Thursday, 1st April, due to the Good Friday Public Holiday. The catalogue will close at 9am Wednesday, 31st March.
For more categories, please go to:
Cattle Averages 26/03/2021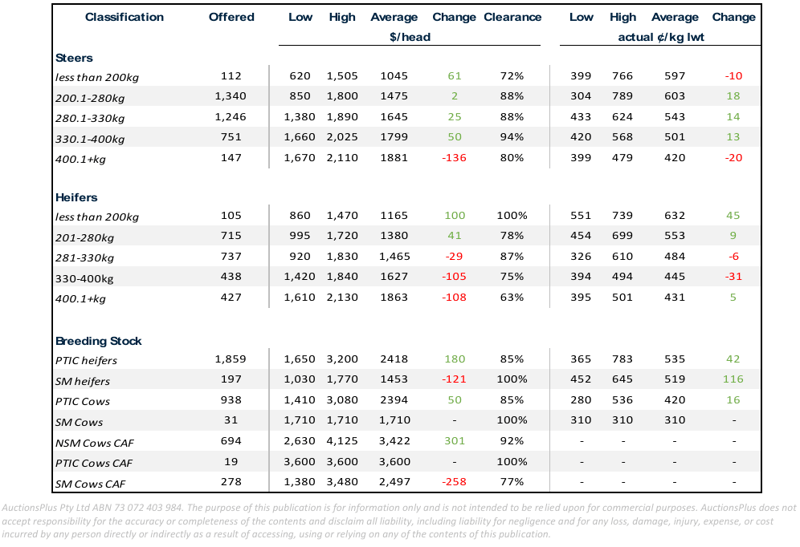 ---
To download this weeks report in pdf - click here.