The supply of sheep and lambs exclusively offered through AuctionsPlus this week contracted 13%, to 84,228 head – the second consecutive weekly decline following the very high throughput from the first two weeks of the month. Overall, the market was lower despite the contraction in supply, with 9 of the 14 indicative prices declining on last week.
The consistent weekly markets and absence of holiday disruptions through February helps to provide a clear indication of the level of confidence within the market. Overall sentiment, while still very strong, is clearly anchored to a rebuilding slant, with the absence of prime breeding stock through the market accentuated in recent week. This growth sentiment also links to the sustained positive seasonal conditions heading into autumn, with the latest rainfall outlook from the Bureau of Meteorology through to May continuing to point to wetter than normal conditions.

One lamb price category to register an increase in supply this week was Merino wethers, with an additional 12% offered – with the average price slipping $14/head, to $134/head. In contrast, a 31% decline in the number of first cross ewe lambs offered, at 5,904 head, had the price jumping $26/head on last week, averaging $276/head.

Merino ewe lambs averaged the week down $35/head, at $174/head, while 2,874 crossbred lambs finished the week back slightly, at $174/head.

The 20% decline in the number of SIL Merino ewes offered online this week failed to help support prices, with the average price slipping $30/head, to $239/head. Interestingly, the clearance rate for reported SIL categories continues to be well below many of the other lines, despite the clear desire for suitable breeding lines. The 62% and 59% clearance rate this week for SIL Merino ewes and first cross ewes, respectively, points to sellers holding firm on the value they have placed upon these lines, as buyers remain hesitant to dig deeper into their pockets.

NSM Merino ewes finished the week $3/head higher, averaging $232/head, with almost an additional 1,000 head offered.


Note: all prices reported below are as at the close of reporting of 5pm, Thursday 25th February.
For more categories, please go to:
National AuctionsPlus Store Report - Sheep
Sheep Averages 23/02/2021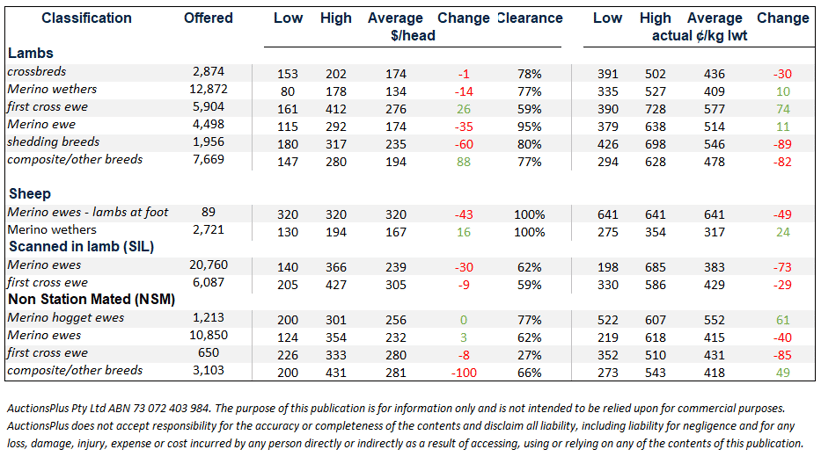 ---
To download this weeks comments as a pdf - click here.