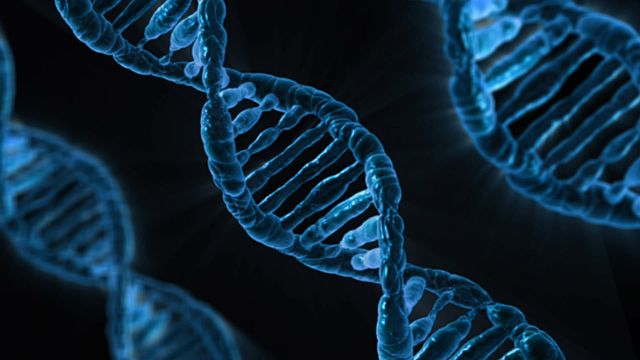 One of the world's leading researchers into livestock genetics believes Australia, and much of the western world, is at risk of being left in China's wake when it comes to advancing food production with gene editing.

Dr Alison Van Eenennaam, who leads a team in animal biotechnology and genomics program at the prestigious University of California, Davis, says that China is becoming the dominant player in the use of gene editing, something that may become increasingly important as the world grapples with looming food security concerns.
"Over 50% of the applications that I found in the peer reviewed literature in a recent survey were Chinese applications and they were applications being done in all the major food species," Dr Van Eenennaam said, citing significant investment in genome editing for ruminants like cattle and sheep, as well as pigs, chickens and aquaculture.
"I think that there is a potential to fall behind if this is not being pursued here. There are some pretty low-hanging fruit in terms of useful traits that would benefit Australian agriculture and it doesn't make a lot of sense to not utilise this technology when it really is very analogous to conventional breeding."
Speaking to AuctionsPlus following her presentation delivered at the 23rd International Congress of Genetics in Melbourne, Dr Van Eenennaam said conventional selective breeding had been hugely beneficial in terms of increasing the sustainability of meat production, and genomics could offer further synergistic opportunities.
Dr Van Eenennaam said the Australian sheep industry was an outstanding example of the power of genetic improvements, having seen the national flock drop by half since 1963 but mutton production has remained constant and lamb production increased from 368 kilo tonnes (klt) to 535 kt in 2022.
"It's almost a miraculous story in terms of producing more with less and that's very much driven by genetics," she said.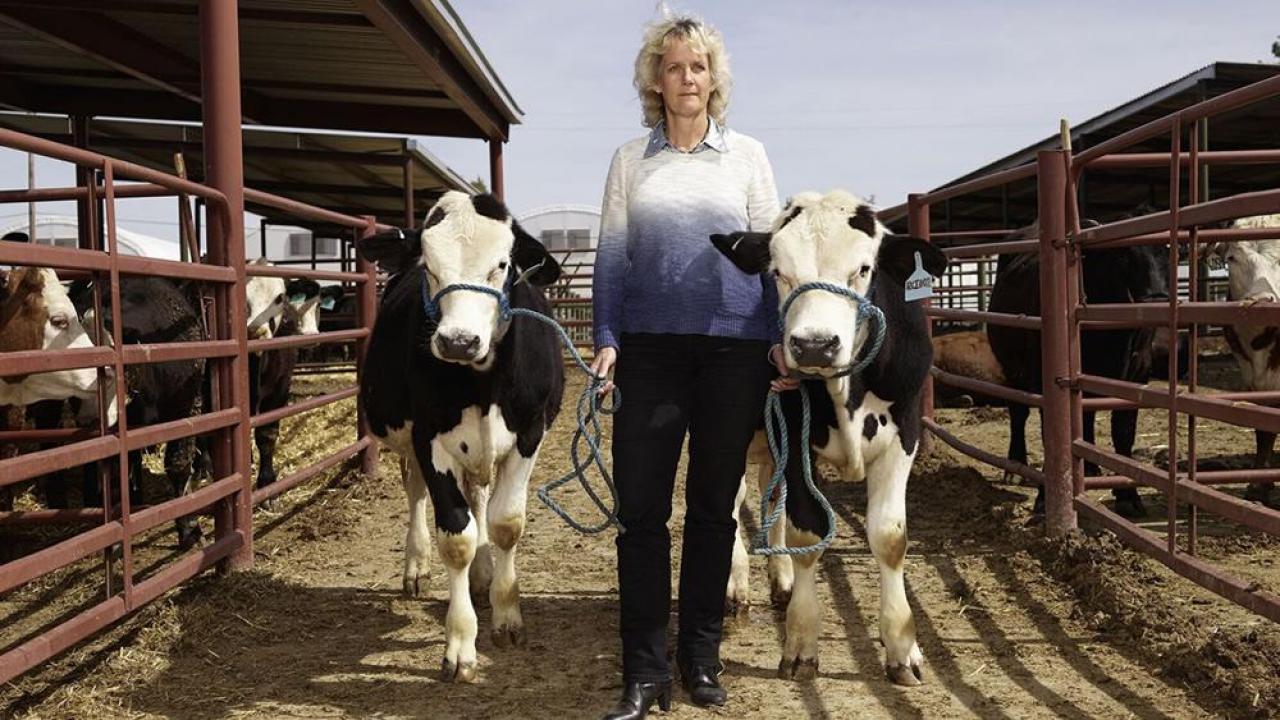 Dr Van Eenennaam with dehorned Holsteins.

The challenges of genome editing
The researcher collaborated with US genome-editing company Recombinetics to splice the 'hornless' element of Angus genes into Holstein dairy cows, preventing the need for dehorning.
The discovery was a ground-breaking example of the potential of the science but amid backlash from the anti-GMO community, the US Food and Drug Administration ruled that introducing intended genomic alterations into the DNA makeup of livestock was akin to creating veterinary drugs and needed much more stringent regulation.
New gene editing platforms such as CRISPR allow for gene editing to take place by only removing genes from a DNA strand, whereas older genetic engineering technology involved using viruses or introducing engineered proteins that may have resulted in unintended allergens.
As a result, gene deletions introduced by gene editing are treated no differently to naturally occurring genetic variants by regulators in several countries including Australia.
Genome editing has already been used to prevent livestock disease, including making pigs resistant to porcine reproductive and respiratory virus, while the CSIRO is working on a genetic edit that would allow for the in-ovo sexing of eggs and diversion of unwanted male eggs to prevent their hatch.
But regulatory uncertainty is preventing further work that could effectively speed up the process of selective breeding and bring significant gains to the livestock industry, Dr Van Eenennaam said.
Australia is more conservative than other big livestock jurisdictions like Argentina and Brazil, where edited genes that are 'repaired' using a non-transgenic nucleic acid template are considered non-GMO. In Australia, such a technique would render the animal subject to GMO regulations.
And Europe's ongoing resistance to GMO effectively cuts off that market to anyone using the technology as all genome edited animals and plants are considered full GMOs.
"The elephant in the room here is the historical hangover of fear associated with 'GMO', which doesn't even have a definition in the scientific world. And it's just become a boogeyman that's associated with fear," Dr Van Eenennaam said.
"If it's not treated differently in Australia, but it's considered to be a GMO in Europe, then what does that do for your trade markets? That does create a trade issue for Australia when you don't have regulatory harmony between Australia and Europe."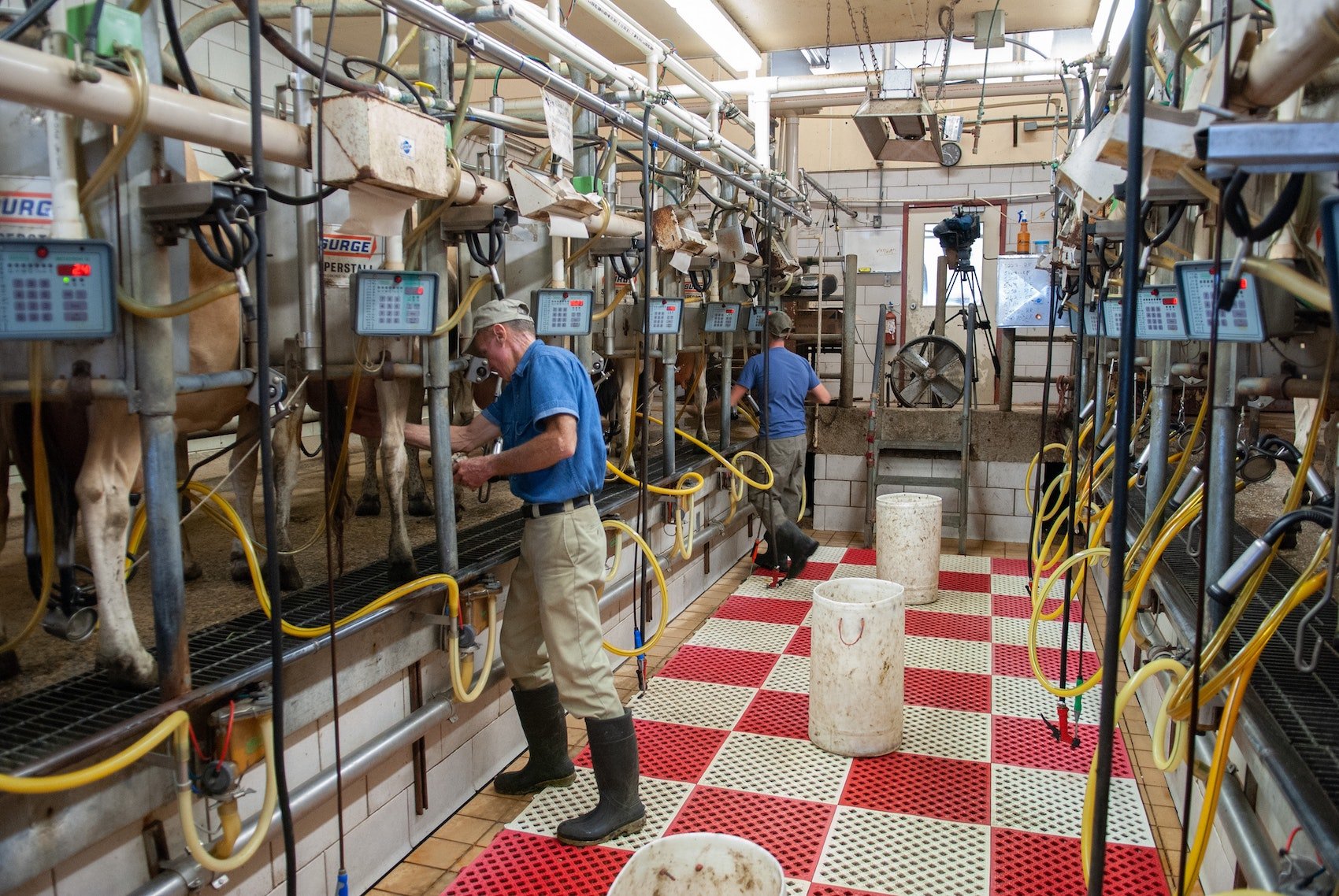 Selective breeding improved the productivity of US dairy cows so much that the herd has dropped by almost two-thirds but output has risen 1.6-fold. Photo: Mark Stebnicki.
Gene editing as a path to sustainability
Selective breeding has been critical to improving the productivity of agriculture, and if jurisdictions like the EU are going to meet their sustainability targets, the bloc will need to rethink their opposition to the technology.
"If Europe really wants to meet its goals, it's going to have to allow breeding innovation to take place because genetic improvement is such an important component of sustainability," Dr Van Eenennaam said.
"If you can have the types of returns we've had from conventional breeding, and then add on a gene edited resistance trait accompaniment to disease threats like African swine fever, foot and mouth disease, and lumpy skin, it is a win for sustainability.
"There are costs associated with not allowing technology to come to market and there are some pretty big threats as it relates to some of the viruses coming down the pipe that I would argue, as are better addressed with genetically resistant animals than with treating the animals that get sick with that disease."
While it is unlikely that the big productivity gains delivered by selective breeding over the past decades would be replicated by gene editing techniques, Dr Van Eenennaam said it could help with synergistic traits to make livestock more resilient in a changing climate.
She cited the example of a naturally occurring mutation that results in a 'slick' hair coat that allows cows to stay one degree cooler than those with a normal hair coat.
"That's a mutation you can mimic in Holsteins that would keep their temperatures down which might be useful in hot environments like in Queensland," she said.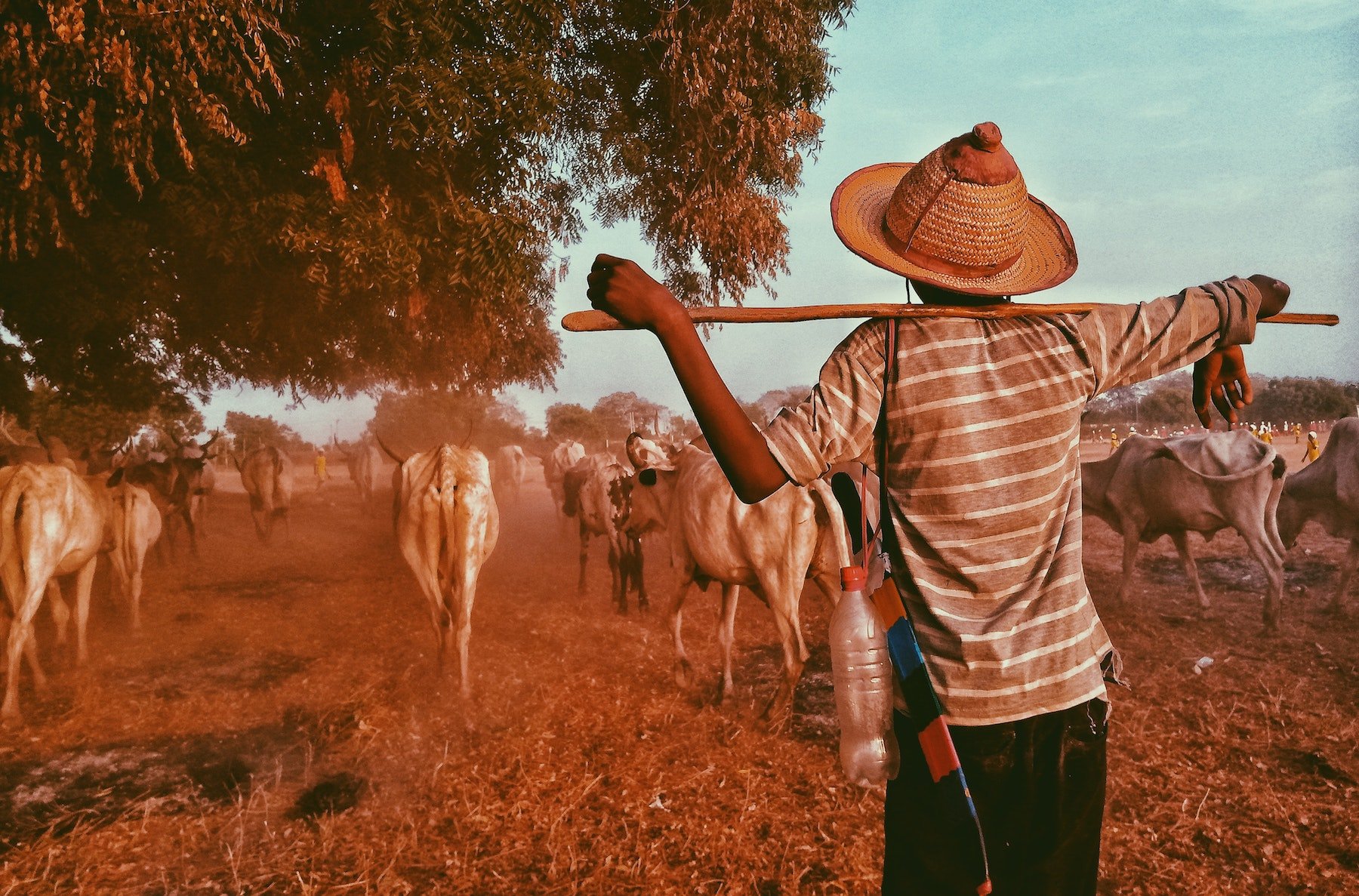 The largest populations of ruminants in developing countries need better management and feed resources. Photo: Omotayo Tajudeen
Developing countries in critical need of better genetics as food demand soars
The biggest gains from a sustainability standpoint may not be in the west, however, but the developing world.
That will be particularly important given the release last week of a report by the World Resources Institute that found that crop calorie demand is projected to grow by 56% between 2010 and 2050, and meat and dairy demand to grow by nearly 70%.
"Humanity needs to produce enough food, fibre and feed to meet the needs of nearly 10 billion people by 2050 on the same (and ideally less) working land area that now provides for roughly 8 billion," the report stated.
It called for improved livestock breeding to encourage hereditary traits that increase the conversion of fodder and feed to meat and milk, alongside improved grazing practices.
For Dr Van Eenennaam, good genetic breed plans, rather than gene editing, could make a massive difference.
"25% of all cattle, 373 million head are in Africa. India has over 300 million cattle and buffalo. These are where the really big populations are, and for the most part, they're not particularly productive animals in part due to lack of management and feed resources.
"Livestock in these developing countries provide a banking system, fertiliser, transportation, livelihoods, and they are upcycling inedible foodstuffs like cellulose in crop waste into highly nutritious milk and meat.
"So whilst I agree that we should do everything we can to try to reduce the footprint of our animals in developed countries, there's a more pressing role to try to improve the productivity in the developing world to address future demand.
"That is an urgent, unmet challenge from a greenhouse gas perspective."