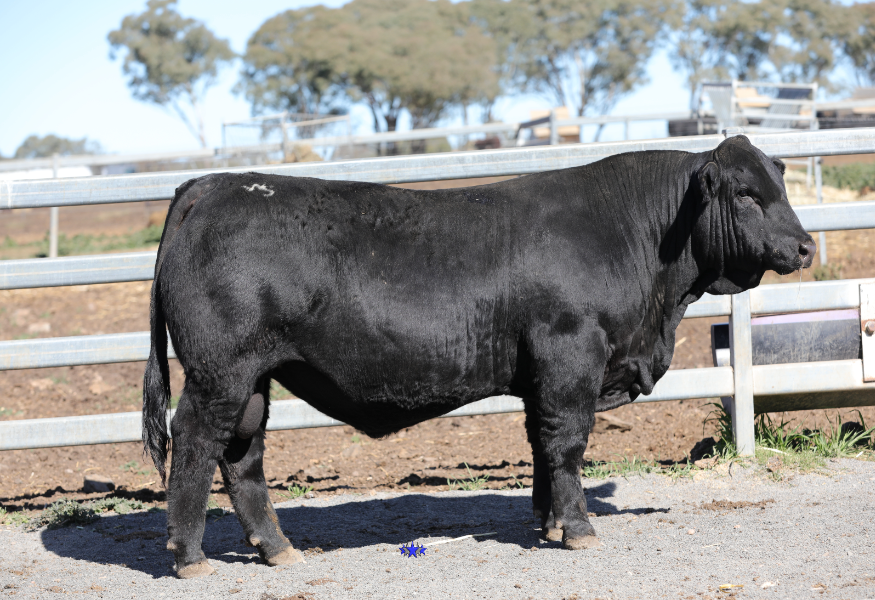 Another breed record has tumbled, this time at the Woonallee Simmentals bull sale at Tamworth on Wednesday.
Hitting a high of $55,000, the stud surpassed the previous Black Simmental record of $52,500, which they set in 2018 with the sale of Woonallee Messiah M170 to Lewis Farms, Alberta, Canada.
Now reigning supreme is 'the most talked about Black Simmental bull of the year', Woonallee Toronto T274, whose entry to the sale ring was much anticipated and quickly drew strong competition.
After a battle of wills, the 'outstanding' bull was knocked down to GB Livestock, Braidwood, NSW, and ABS Australia.
Sired by Mader Walk This Way 224B and out of Wombramurra Xsim M Lky One H21, the 15.5-month-old homozygous polled and homozygous black sire prospect sits in the top 5% of the breed for weaning weight and top 3% for yearling weight.
Tipping the scales at 768 kilograms, the deep-sided and powerful sale topper recorded an eye muscle area of 121 square centimetres, intramuscular fat of 4.4%, P8 and rib fat measurements of 8 millimetres, and a scrotal circumference of 41cm.
Stud principal Tom Baker said Toronto was an outstanding phenotype bull.
"Unbelievably huge body, huge depth, and a lot of softness, a lot of muscle and just out of a really, really good cow, so it was [a good result]," Mr Baker said.
"Other bulls by that sire aren't always homo black, so he was quite rare in that respect as well."
Read more:
While setting a new breed record was a pleasant day at the office for the family, Mr Baker said that's not all it's about for them.
"It's always nice to get the benchmark slightly higher each time, but we don't do it just for that - we do it to service commercial clientele," he said.
Like most stud vendors coming into spring selling season, the Bakers had been 'quite nervous' about what impact the drier seasonal conditions and cattle market contraction would have.
"People still need bulls, though, so we were pretty confident in that we have a good clientele and we've had good support.
"We honestly thought if we averaged $10,000, we'd be incredibly happy."
It's a figure they did manage to achieve, with all 50 bulls selling for an average of $11, 860.
Other high performers include the second-top price of $23,000 for Woonallee Tequila T106, purchased by the Geddes family, Queensland, and a third-top price of $22,000 for Woonallee Thunder T213, knocked down to the Parkins family of Gulgong, NSW.
Queensland buyers put in volume orders, with Westmoor Pastoral at Roma taking seven, and Plevna Downs, Augathella, and Nalpa Grazing, Mitchell, each taking four.
The sale was conducted by Elders, and interfaced by AuctionsPlus and Elite Livestock Auctions.
Read more: July bull sale results show 21% market contraction
---