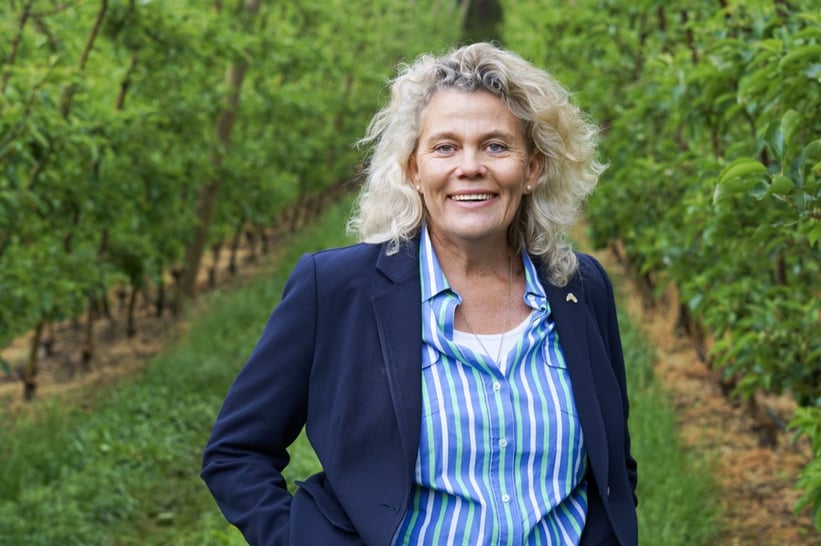 As her tenure draws to a close, Fiona Simson has reflected on her seven years at the helm of the nation's peak farmer lobby group.
Addressing the National Press Club on Monday, Ms Simson detailed the trends and challenges of her time as president of the National Farmers' Federation, and posed her thoughts for the future of Australian agriculture.
Below is an excerpt from her speech.
Connecting city and country
Connecting city and country is one of things that I've dedicated much of my time to over my advocacy career. Trying to bridge that gap between farmers and consumers, to improve the shared understanding of the challenges and opportunities we face, and to foster a more collaborative and proactive approach to policymaking.
It's so easy to curry favour in some parts of the bush by further wedging the city-country divide. By talking about 'us' and 'them'. The 'latte sippers' and how they 'don't care' or 'don't understand'. That sort of talk isn't leadership. And it also ignores the fact you can get a bloody good latte in Werris Creek or Gunnedah these days!
The 'us and them' rhetoric pushes us as farmers further from the people we ultimately serve. The people who eat our food and use our fibre. It plays on and deepens the damaging misconception some farmers hold that what they do isn't valued by the broader community – and we know that has real repercussions. So, I hope that I've been one of a growing number of rural leaders who have relegated that sort of rhetoric to the past.
But there's no shying away from the fact that we do face a growing disconnect in the community's understanding of agriculture. That's an enormous problem because we need them with us. The big conversations about the future of farming impact them too, and they deserve to have an informed view on what lies ahead.
The farmers' perspective
While… we've come an incredible distance as an industry on so many fronts – some things never change, nor would we want them to. One of those things is the need for the farmers' voice – the farmers' perspective – to be heard in the national dialogue.
I've always been incredibly proud to represent the farmers' perspective. I've always found that farmers bring an incredibly grounded view to discussions, no matter the topic. Always incredibly thoughtful and grounded in a deep practicality. I can't help but think that the farmers' perspective is informed by our daily connection to nature, having our fortunes dictated by its forces, and the reality check that brings.
In a world where people are so insulated and disconnected from forces beyond their control, farmers are able to keep things in perspective. To understand that most things are cyclical in the long run. It's that moderating voice in an increasingly polarised world that I think farmers bring to the political debate in Australia.
While traditionally viewed as conservative, I've never thought that label sat well. Any successful farmer embraces change and embraces new ideas. They have to. But they don't suffer nonsense, and they're not easily swayed by ideas that might be fashionable but lack merit. That's why I hope that despite numbering fewer than we might have a generation ago, we will always hear the farmers' voice in our discourse. That's why I'm so passionate about the success of the NFF as a vehicle to make that voice heard on the national stage.
I'm proud of what we've been able to achieve in my time to give the NFF the resources and sustainable footing it needs to do what is going to be demanded of it in the coming years, as we continue to ensure farmers are heard and understood in our ever-expanding capital cities. We know full well that the NFF and the organisations that make up our membership will need to continue to evolve. We have to remain relevant to a new generation of farmers, and we need to ensure our structures remain the best way to bring people together and to meet our advocacy needs into the future.
Global headwinds
As I see it, there has never been a more important moment for strong and sustained advocacy on behalf of our sector. I don't want to dwell here too much on current policy pressures on the sector. I'd direct you to our recent media statements and you'll hear plenty more from our new President on this in the coming days… But suffice to say, history will not judge this government kindly if it continues to prosecute an agenda focused more on satisfying factions than facts on issues like live sheep exports – a disaster for animal welfare, our ties in the Middle East, and farmers across Australia. Or water buybacks – tearing up some of the critical socio-economic community protections in the Basin plan agreed on by scientists and communities so many years ago.
No, as much as I might like to unburden myself on some of those issues, that'll soon be someone else's job. As for me, I'll be focussing more on the global picture wearing my new hat as a director of the World Farmers' Organisation And it's through the prism of that global perspective that I look at the areas where governments are failing farmers here at home, and I can't help but think it's just a local outbreak of harmful agricultural policies that is just part of a broader epidemic that is raging worldwide.
Whether its restrictions on fertiliser use in the Netherlands, Sweden or Canada; methane taxes in New Zealand; anti-science scare campaigns against modern farming practices; or the 32 countries which have imposed export restrictions on food products or inputs since the outbreak of the war in Ukraine… the result of these policies is the same. They will all contribute to pushing food and fibre production lower, and the cost for consumers higher – at a time when we've never needed to grow more.
Globally this year there are 345 million people facing acute levels of food insecurity. That number has more than doubled since 2020. As we look towards a future of climate change, and an extra 2 billion mouths to feed, the need to feed and clothe that population should be on an equal footing with any other challenge we face. Unfortunately, all too often it's the poor cousin - an afterthought which is frequently the collateral damage of the climate agenda, or the latest activist scare campaign, or a knee-jerk reaction to local price spikes.
That's not to say that the climate agenda isn't important, but simply to say that we have to be able to do two things at once. Policies which lower farm output should never be taken lightly. We need to constantly look forward 20-30 years into the future and remember the challenge we face to grow production. Policies which shave a percent here and a percent there from farm output are just widening a future food supply gap that we ought to be narrowing.
So, as I see it, that's my new job: inserting the farmers' perspective into the big global discussions that impact our future. Reminding global decision makers that we can walk and chew gum at the same time. That growing food and fibre isn't a luxury, it's a necessity.
I've had the privilege of taking part in some of these forums during my time with the NFF, and I can tell you that it's been an eye-opening experience. If I think about my trip to Sharm el Sheikh for COP27 last year, me and other members of the Australian delegation managed to have some really important discussions with the people influencing the agenda in that forum.
But if I zoom out, even if I include every other farming and aligned group from around the world, we were just a barnacle clinging to the hull of the climate change supertanker. If I think about all the other barnacles sharing that albeit very important hull – selling the next planet-saving technology or brandishing a copy of their latest sustainability report – agriculture was a long way from the front of people's minds.
And NFF isn't going to fix that, and Fiona Simson certainly can't. But we can make a difference by working collectively with likeminded organisations around the world, to elevate the agricultural agenda and ensure that other worthy issues and causes can complement, rather than compete with the cause of food and fibre production.