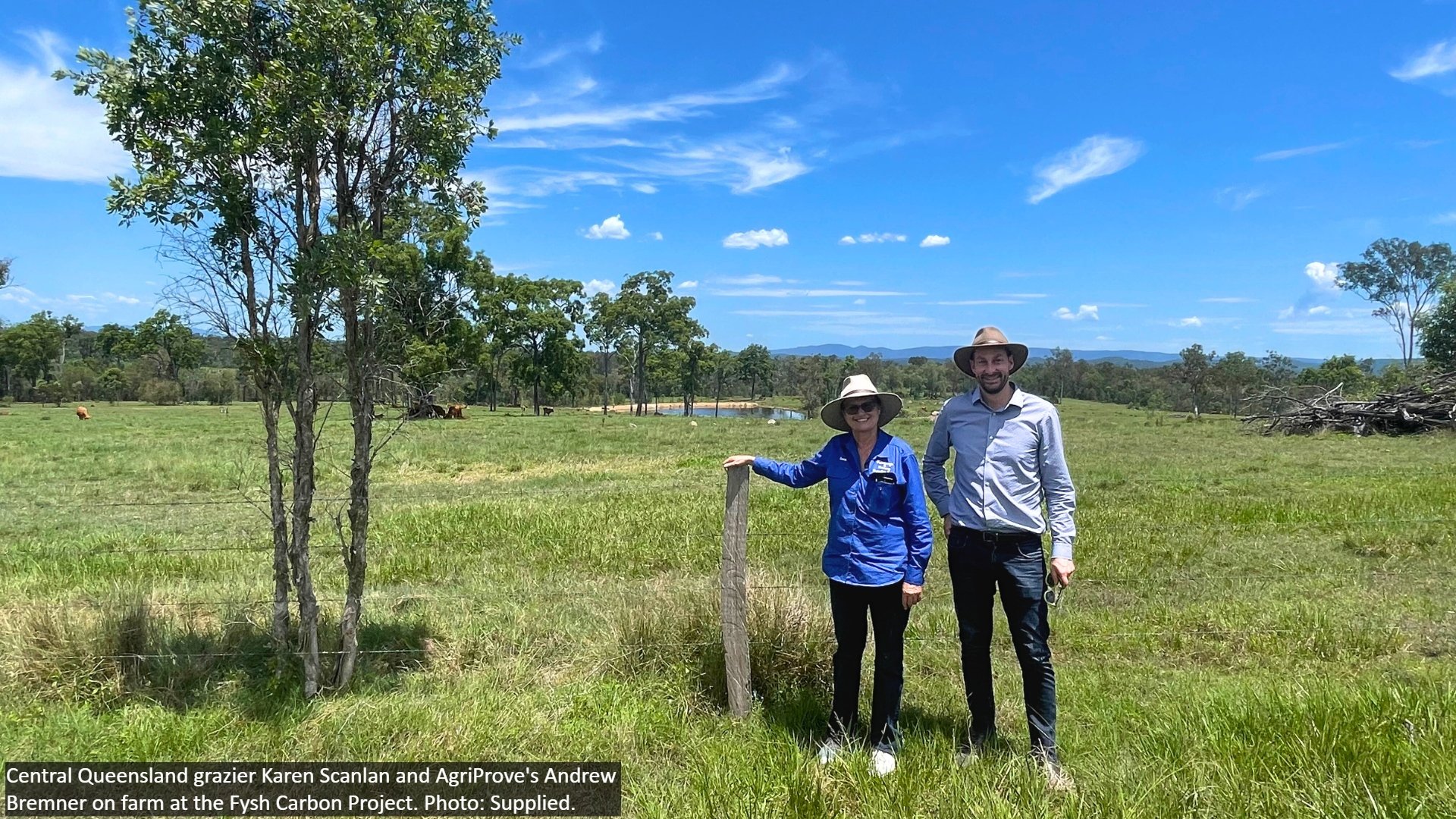 The first Australian carbon credit units generated under a digitally enabled model have been issued to the Fysh Carbon Project at Mount Tom near Gladstone.
The history-making project on Robert and Karen Scanlan's 400-hectare property in central Queensland generated 3559 ACCUs under the Emissions Reduction Fund, facilitated by leading carbon soiltech developer AgriProve.
The ACCUs were generated within just two years of the project's commencement, at an 'impressive' rate of 4.4 ACCUs per hectare per year of operation, supported by AgriProve's world-leading soil sampling analysis and collection within a digitally-enabled soil organic carbon model.
Working to futureproof their farm, Ms Scanlan said they're proud of being the first landholders in Queensland to start a successful soil carbon operation.
"My husband and I bought this land six years ago, and it's always been important to balance environmental interests with the profitability of our cattle farming operations," she said.
"We're now building a separate arm of our business through this soil carbon project that's so valuable to us because it's building financial and climate resilience.
"It's tough being a farmer, and anything that diversifies our farming income is important. We want to leave our land better than we found it for future generations, including our daughter."
The project was sown with multi-species pasture using a zero-till disc drill suitable for light, fragile, sandy soils at risk of erosion, thereby preventing any potential degradation of the Great Barrier Reef.
Grazing was withheld for nine months to allow for maturation and seed set to build up the seed bank for the following season.
AgriProve's innovative approach to monitoring soil carbon projects uses satellite data to highlight changes in soil carbon sequestration rates.
A proprietary SOC model was used to identify the likely increase in carbon stocks, which was then validated by physical soil sampling.
In doing so, they were able to fast-track ACCU issuance from five years, to a more attractive two.
AgriProve managing director Matthew Warnken said this was the first project issuance flagged for sampling under their SOC models.
"We will be using our SOC models to calculate soil carbon stocks daily to accelerate positive results for Australia's most innovative farming enterprises," he said.
"The Scanlans' property is also the first to have been assessed according to our Carbon Intensity Ratings Tool which proves that their carbon footprint is actually beyond carbon neutral, capturing more carbon than they are emitting."
Mr Warnken said the demonstrated leadership of the Scanlans provides a blueprint for best practice land management.
"The Mount Tom project was one of the first soil carbon projects in Queensland and has since stimulated participation of additional soil carbon projects and adoption of regenerative practices that improve soil health, reduce erosion and nutrient runoff, and support broader landscape biodiversity," he said.
"We are proud to have played our part in monetising this important work and demonstrating that farming enterprises can take tangible action on climate change while improving the climate resilience and productivity of their landholdings."
The Fysh Carbon Project is also a ground-breaking participant in the Queensland government's Land Restoration Fund, delivering significant co-benefits with the LRF purchasing ACCUs over 15 years.
This is the second AgriProve project to be awarded ACCUs for a soil carbon project, following the company's world first in 2019 when its flagship project in Gippsland received Australia's first soil carbon credits under the ERF.
AgriProve currently has 30 measured project increases in soil carbon, with the expectation the related ACCUs will be issued in the near future.
Last month, the company was awarded a $150,000 grant by Meat & Livestock Australia to conduct a six-year Producer Demonstration Site research project exploring how sequestering carbon in soils can impact the carbon intensity of a livestock enterprise.