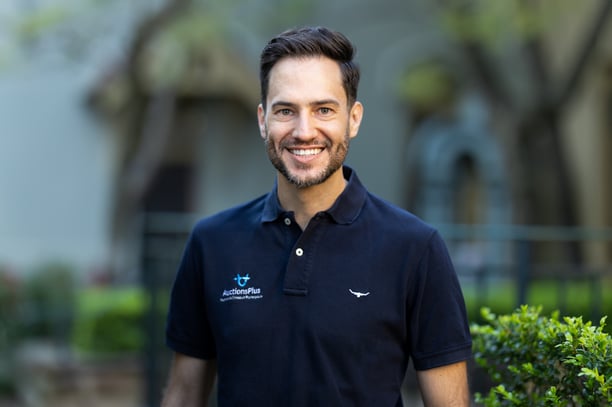 Since stepping into the chief executive's chair on August 14, Wyn Snyman has been on a whirlwind tour of auctions and saleyards around the country.
It's the culmination of an extraordinary transformation for the 38-year old, who has always been interested in how technology can add value to existing supply chains.
Upon meeting former CEO Angus Street and learning about the opportunity, Wyn was drawn to the role for the impact the business has on the ag industry. He became the company's chief financial officer position in October 2019. His success in that role saw him elevated to chief operating officer in August 2020, which he combined with CFO duties. Mr Snyman has been instrumental in leading operational quality and transactional integrity as the business scaled significantly over the past several years. Upon his appointment, the AuctionsPlus board highlighted his deep understanding of the company from strategy to process, to systems and technology.
We asked Wyn his thoughts on how the role was going three months in.
What are your first impressions on the job?
AuctionsPlus has a strong supporter base built up over more than 35 years in the market, with many users able to clearly recall the first time they listed stock or bought a lot. The loyalty and respect between AuctionsPlus and its clients have been built through the deployment of quality tools and functionality. That has been charged by the constant appetite of users to innovate and create options to best manage their operations.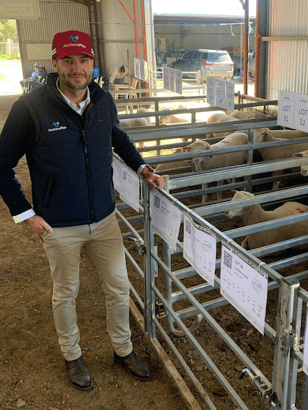 We hardly see you in the office now that you are on the road so much. Where have you visited so far?
I have logged quite a few kilometres thus far, being on the road nearly every week since taking the new role. From multiple trips to SA, through to the Central West and up into Queensland, I've met hundreds of agents and AuctionsPlus users, and have been fortunate to hear firsthand how they use the platform, and the successes that they have had. I will continue to get out to shake hands and interact with our users on a personal level.
I enjoy that and it also gives me the opportunity to build a deeper relationship with our customers and learn how we can better serve them.
What has most stood out to you as you've met our customers?
Given the current cycle, it has to be the resilience of users. Farmers and agents are incredibly resourceful and continue to operate under immensely difficult circumstances in some cases.
Our users are embedded in our platform, not just in the way they use it, but there is a sense of ownership of the platform and what has been built. People really care and want to give their inputs to shape the future of the platform.
Things have been challenging for many this year. What are farmers telling you?
At present its all about how to keep going under the current market volatility. Sentiment has shifted significantly to the downside, and users are facing the confluence of multiple challenging factors impacting their businesses.
At the same time, users are acutely aware that agriculture is cyclical, and that innovation and the adoption of best-in-class practices will be needed to keep running sustainable business into the future.
How is AuctionsPlus responding?
We are doing what we have done best, and that is listen to our users and deploy the tools they need to market and trade.
In the last couple of months, we have taken new technology to market that is focussed on supporting users to do price discovery for a sale.
The benefit of our history is that we can take a longer-term view on the market. We should be looking beyond this cycle and never forget the importance of investing in the future.
What innovations does AuctionsPlus have in the pipeline?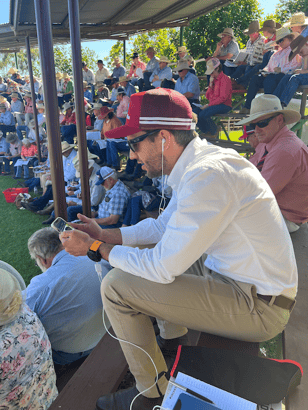 I am most excited about the market testing we are doing on our offline crush side assessment functionality. We are looking to it launch soon and it will significantly reduce double handling of data, and free up processes for time-poor customers.
We really want to get this product right, and so will take our time to ensure its works and is fit for purpose.
You've come from a different background — auditing. What are you bringing from that experience to the CEO role?
I had already been with AuctionsPlus for 4 years prior to stepping into the CEO role, meaning I have a deep understanding of the business and how it works. I looked after operations, integrity, people, and finance and therefore can hit the ground running in taking the business forward.
Looking back over my 15+ years professional career, there are clear parallels in what drives business, with the most important being having the best talent in the room aligned to a common vision.
How would you describe your personal style?
I am naturally quite methodical and analytical, and work toward solving problems that will enable and empower teams to be successful.
I enjoy being invested in the business, to see how all the processes and actions come together to form the solution. The better you understand the inner workings, the better you can make decisions that builds to the future goal.
What is your vision for AuctionsPlus?
AuctionsPlus is in a fortunate position, in that good decisions and strong support has set the business up to be a market leader in the ag tech space.
My vision for the business is to stay true to our founding principles and build on the foundations which has worked well - building innovative solutions for users in the industry to market and trade. What that looks like will continue to depend on the context and problems we set to solve.