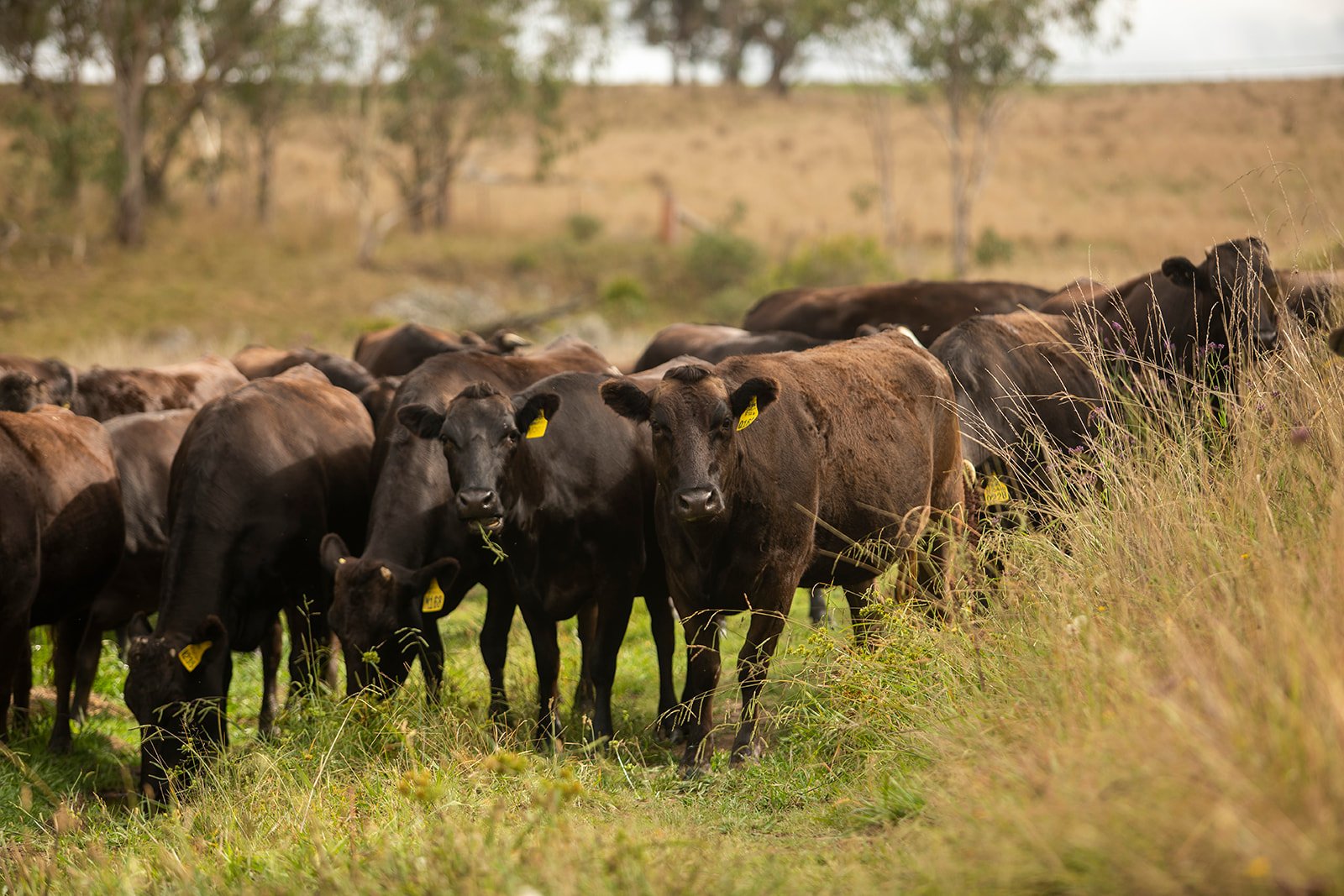 Consistently delivering premium returns and an exceptional eating experience, there's no doubt Wagyu has earned favour with producers and consumers alike.
Now a menu mainstay, production of the world's luxury beef has firmly cemented itself within the Australian red meat industry, offering a significant premium over other cattle even in variable market conditions.
So, what goes into delivering a high value carcase that affords producers such rewards?
For Sam Klug and Aaron Burke of Happy Valley Pastoral, it's a combination of the pristine environment of Flinders Island, Tasmania, and the use of genetics from the Perry family's Trent Bridge Wagyu stud.
Across a holding of 4000 acres, the couple has built up their cattle operation over the past seven years to be an entirely F1 Wagyu program.
"We buy in Angus cows at two to three years old and turn everything off to JHW Paterson & Son's feedlot at eight to 12 months of age, weighing anywhere between 250 and 300 kilograms," Ms Klug said.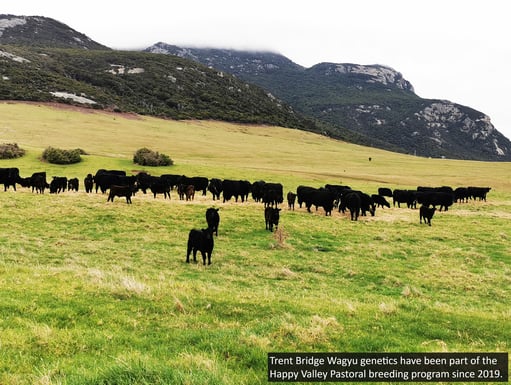 "We started doing the F1 Wagyu program back in 2017 and bought our first Trent Bridge bulls in September 2019, and we're rapt with them."
This year, the couple will join 840 cows, with the intention of eventually building their autumn-drop program to over 1000 head.
"We've currently got 34 bulls, of which 21 are from Trent Bridge. We're looking to increase that to be 70 to 80 per cent Trent Bridge bulls, and eventually we'll hopefully have 100%," Ms Klug said.
"Since introducing the Trent Bridge genetics into our herd, we've only pulled two calves in the past four years, and we find the bulls have great temperaments."
With a background as a MSA meat grader, Ms Klug is also hyper-focused on meat quality and creating a product that makes for an unmatched eating experience.
"Fantastic marble score, a low birth weight and high growth rates for the feedlot is what we really look for, and we've found the figures on the Trent Bridge bulls suit us really well," she said.
"Achieving good marbling, good flavour and a tender product is key."
So, too, is consistency – a requirement JBS feedlot livestock manager Jason Carswell can attest to.
Since 2014, Trent Bridge genetics have been part of the Tajima program – 'a very successful' F1 Wagyu brand.
"We buy the Perrys' F1 commercial cattle that they breed themselves and we also buy off other suppliers that use Trent Bridge bulls," Mr Carswell said.
"Their genetics perform well, not only for us but for other competitors, and they consistently achieve what our requirements are - consistent marbling results, consistent growth, and doing ability."
Fed for an average of 380 days and dressing out at around 410 to 420kg, JBS Riverina kills 260 F1 Wagyus every week for the Tajima range.
The product sells into markets globally – including the United States, Asia and China – but proof of its popularity can be found on home soil too.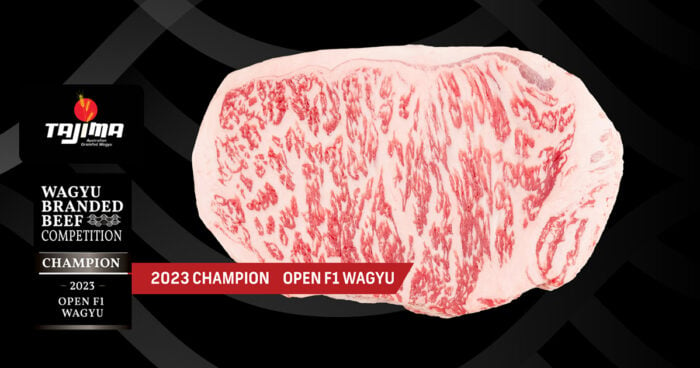 Earlier this year, a Tajima steak was crowned champion of the open F1 Wagyu category in the Australian Wagyu Association's branded beef competition.
Sourced from a carcase produced by Trent Bridge, the 'exceptional' class winner had a 'staggering MIJ digital marbling of 57%', along with a class-leading eye muscle area of 98 square centimetres.
Comments from the judges included 'pure bliss'; 'superb, clean, fresh juiciness and silky texture'; and a 'rich, buttery and umami flavour with lasting juiciness and depth'.
Producing such an exceptional product comes back to the Perry family's relentless focus on breeding high-marbling cattle, while also balancing the fact that producers still get paid on weight.
It's this attention to detail that has resulted in strong demand for Trent Bridge genetics, prompting the Perrys to bring their line-up of bulls to market for the first time, after 16 years of selling privately.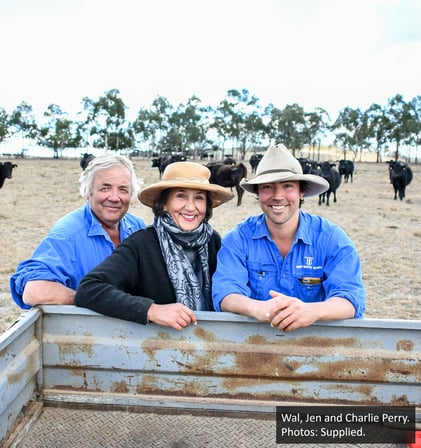 In cataloguing by far the largest run of Wagyu sires to go to market, stud principal Charlie Perry said they hoped to give existing and new customers a large choice of bulls at commercial rates.
"We are very proud of the line-up of yearling bulls we have for sale this year, with over 100 of our sale bulls in the top 10% of the breed for the F1 Terminal Index," Mr Perry said.
"The average marble score for our sale bulls is a massive 1.9, meaning our bulls average in the top 12% of the breed for marble score.
"At the same time, we are also focused on growth traits, and this crop of bulls has an average carcase weight EBV in the top 25%.
"We believe, with this very strong balance between elite marbling and strong carcase traits, this is the best line-up of bulls we have presented to date."
The inaugural Trent Bridge Wagyu bull sale will see 150 elite sires go under the hammer on-property at Aberfoyle, NSW, on September 7.
This article is sponsored content in partnership with Trent Bridge Wagyu.