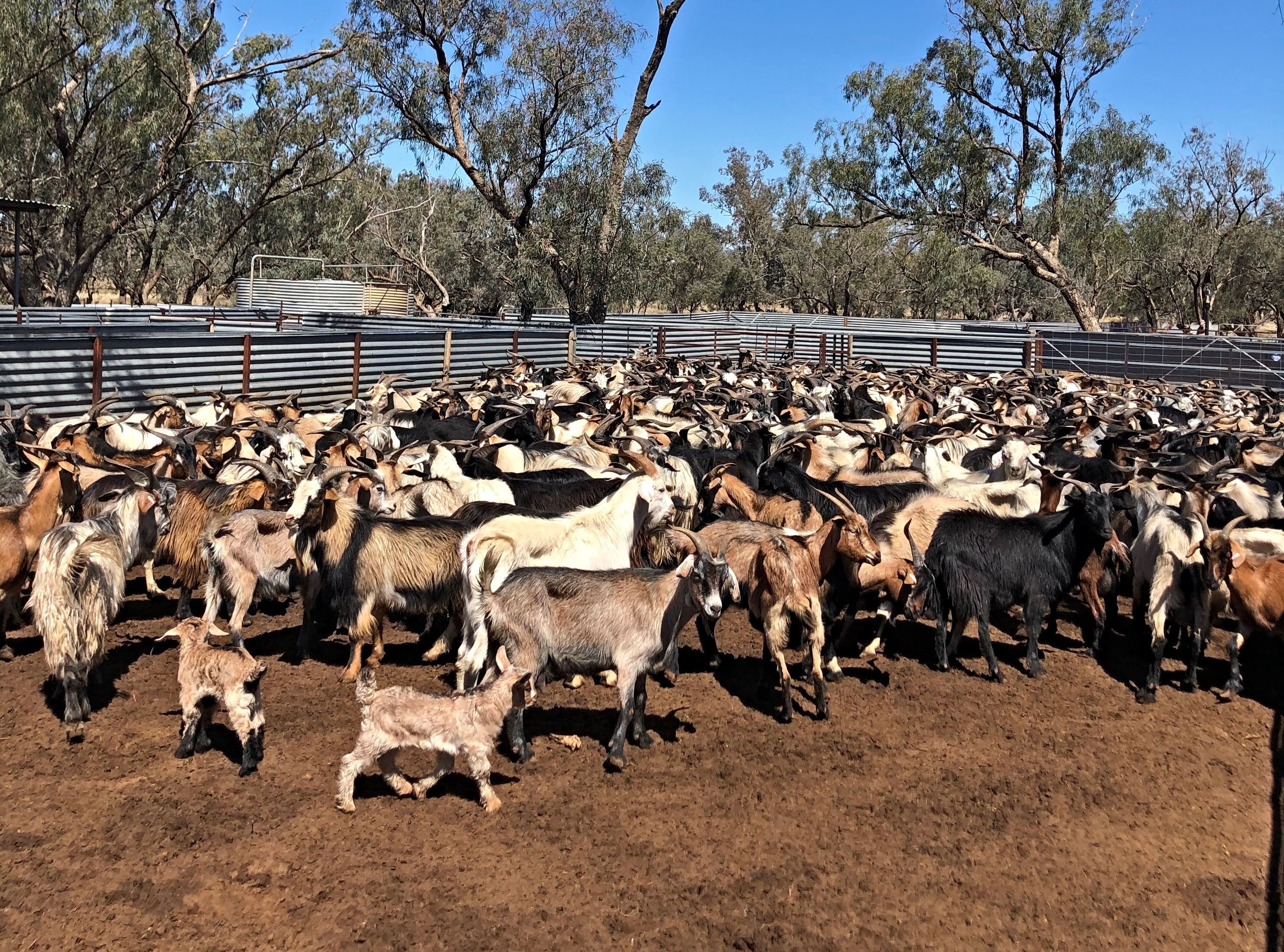 Helping goatmeat producers achieve productivity gains through informed genetic selection decisions in the same way beef and sheep producers can is among the key aims of a new $3.7 million research and development project.
Co-funded between MLA Donor Company and NSW Department of Primary Industries, Measured Rangeland Goats – Realising the Potential is a five-year project that has begun with the establishment of a goat resource herd at the NSW DPI's Condobolin Research Station.
The herd comprises 1,000 breeders, representing Rangeland, Boer, and Red breeds, and a wide range of traits will be measured on does and kids throughout the life of the project, which is being led by NSW DPI quantitative genetics research officer Dr Tom Granleese.
The does will be joined five times over a four-year period, with the first joining taking place in February 2024.
"The objective is to increase the number of animals that are performance recorded with pedigree and genomics to increase the size of the Kidplan database," Dr Granleese said.
"The Boer breed is the only breed currently in Kidplan and we want to know what the genetic potential of Red and Rangeland goats are as well."
The aims is to breed about 8,000 kids in the life of the project, which would effectively double the Kidplan database.
"We want to bring genomics to the goat industry and give producers the same opportunities that beef and sheep producers have," Dr Granleese said.
"Goats are one of the most genetically diverse species in the world. It's exciting from a genetics aspect because if you have a lot of genetic variation like the Rangeland goat, you can make really big gains and hence increase profitability very quickly when you start making informed genetic selection decisions.
"There is also a really extensive engagement and adoption aspect to the project to upskill producers and service providers, and teach them about the value of genetics in goats and how to use the data we will collect to their advantage."
Boer and Red does for the resource herd have been sourced from seven studs throughout Queensland and NSW, with the majority of those does in Kidplan or sired by bucks in Kidplan.
Rangeland does have been sourced from four different regions from Queensland and NSW to ensure diversity.
"We will have 1,000 does and 40 bucks per joining. We only want 30 to 40 progeny per sire because genetic diversity is key," Dr Granleese said.
What's being measured?
Traits being measured will include growth, reproduction, carcase, worm egg count and others.
A genomic sample of kids will be taken at marking time so researchers will know conception, litter size and weaning rate.
"On the kids we will measure marking weight, weaning weight, post-weaning weight, a post-weaning carcase scan, and a post-weaning worm egg count," Dr Granleese said.
"Then as the females go through the project, we will measure yearling weight, adult weight, and then they go back into the reproduction cycle.
"We're also recording visual traits including coat colour, coat type, foot structure, leg structure, polled or horned, and udder score on the females.
"We will keep all of the does bred during the project, but the wethers will be sent for slaughter once we have a final post-weaning measure on them. We are aiming for a 15–20kg carcase weight, seven to 10 months of age."
Dr Granleese said there was an opportunity for overlay projects such as eating quality, methane measurements, buck soundness, and semen morphology.
"The project is genotyping all the active animals in Kidplan to increase that genomic database. There is also funding for two honours students and a masters student in the life of that project," Dr Granleese said.
Towards the end of the project, high-ranking does from the project will be available for sale to the industry.
Support for producers
MLA project manager for genetics adoption Dr Sarita Guy said an important component of this project would be to create structures and resources to support producers to use Kidplan tools such as estimated breeding values.
"A range of adoption activities will be carried out concurrently and interactively with the research to bring producers along the journey. This will help them effectively use the outputs from the project," Dr Guy said.
In the final three years of the project, researchers will host three field days on-site at the NSW DPI Condobolin Research Station for producers and other industry stakeholders to attend.
"Other activities will include building networks of producers and service providers to exchange knowledge, build capacity and support on-farm practices. This will help build confidence to implement genetic improvements within herds," Dr Guy said.
"We know genetic tools work, and this investment will make them even more accurate. This is an opportunity to lift the performance of an industry that is undergoing rapid change."