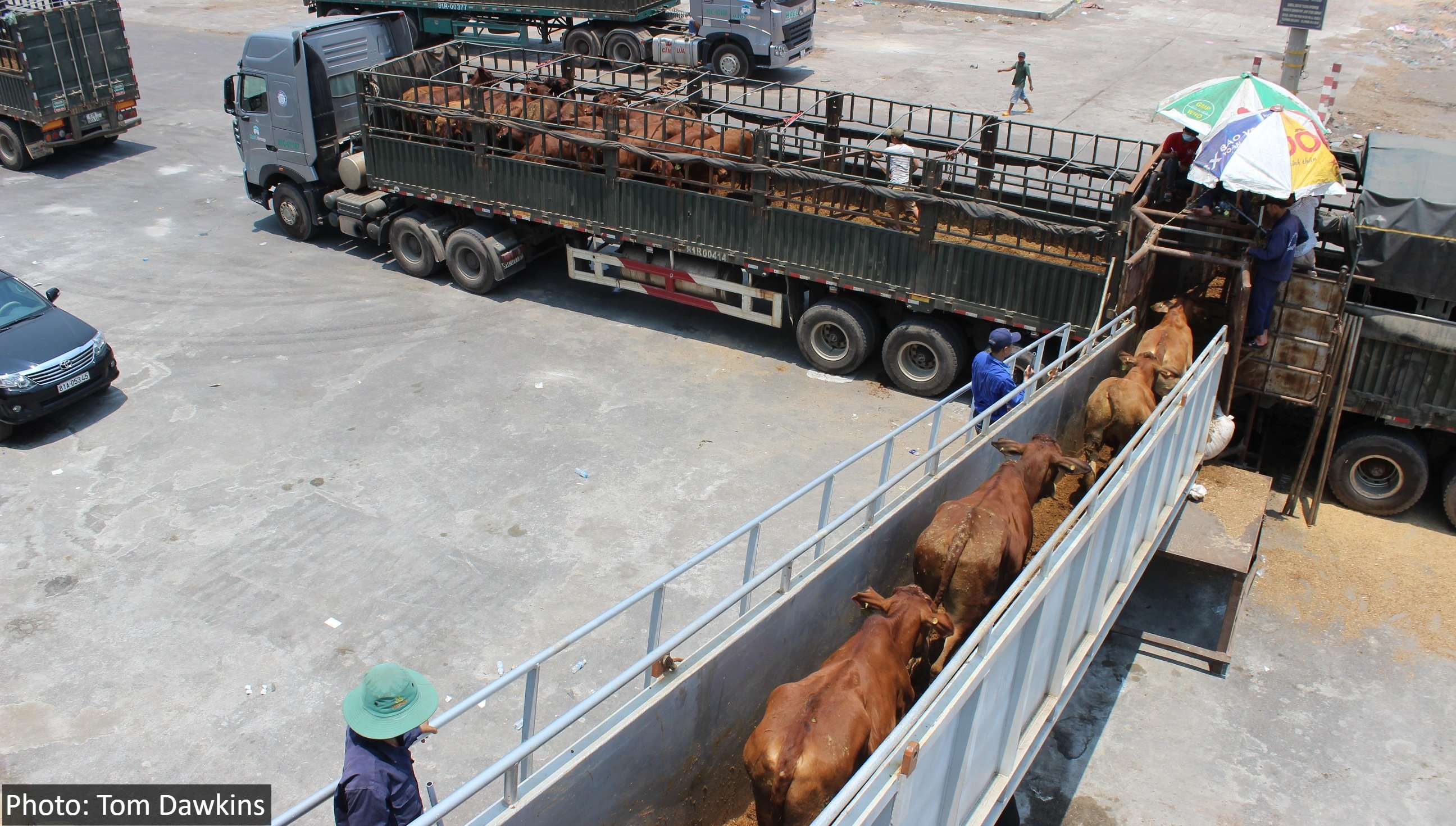 The detection of lumpy skin disease in Australian cattle in Indonesia has been labelled as "no cause for concern", with government and industry groups reaffirming Australia remains free of the disease.
In recent weeks, 13 cattle have returned positive results for LSD when tested a number of days after arrival in Indonesia, prompting the Indonesian quarantine authority to seek assurances that live cattle exported from Australia comply with their animal health requirements.
Indonesia has paused exports from four Australian facilities pending further testing of animals, but live cattle exports to Indonesia are continuing and 28 registered establishments are available for use by exporters wishing to trade.
Work is already under way to deliver rapid testing and restore exports from those facilities, however there's no indication yet of how long it will take for the testing process to be completed, or the timeline for the resumption of full trade.
Australia's chief veterinary officer Dr Mark Schipp was quick to quell the concerns of Australian producers, following reports of the detection from Indonesian authorities.
"Given the presence of LSD in Indonesia, positive results in cattle post arrival in Indonesia are not unexpected," Dr Schipp said.
"As Australia remains LSD free, a detection of LSD in another country - such as Indonesia - does not change Australia's animal health status."
In communications to members on Sunday afternoon, Cattle Australia chief executive Luke Bowen said the LSD-free status is backed by extensive testing and surveillance undertaken across northern Australia since the detection of LSD in Indonesia in 2022.
"Further surveillance and testing continue across the northern cattle industry, conducted by private and government vets, with all testing over the past 12 months showing negative results," Mr Bowen said.
"The Australian cattle industry has a long and deep relationship with Indonesia. This relationship remains critical to northern Australia and our region, underpinning strong economic, social and cultural ties.
"Industry and the states and territories are working closely with the Australian government to provide the assurances sought by Indonesia's authorities."
Red meat and livestock industry stakeholder groups met on Sunday afternoon to discuss the latest developments in Indonesia, as part of a standing industry response taskforce.
Red Meat Advisory Council chairman John McKillop said the robust systems Australia has for the ongoing monitoring of our animal disease status continues to supports us to trade around the world.
"We respect the right of Indonesia's technical authorities to seek relevant assurances that live cattle exported from Australia comply with their animal health requirements. This includes being free of LSD," Mr McKillop said.
Further details of the situation emerged in a webinar on Monday night, when industry representatives, federal Agriculture Minister Murray Watt, and Department of Agriculture staff provided an update and answered the questions of those in attendance.
Dr Schipp said the LSD-positive cattle had travelled to Indonesia across a number of shipments, originating from yards in Western Australia, the Northern Territory and Queensland.
"In order to verify that we're free of LSD and provide that reassurance to Indonesia, we'll be testing about 65 cattle out of each of those areas," Dr Schipp said.
"Those samples will go to the regional laboratories in those jurisdictions and to the national reference laboratory in Geelong, the Australian Centre for Disease Preparedness operated by CSIRO."
As of Monday night, three vessels with cattle from those facilities were in transit to Indonesia, which the country would still accept.
"We expect those cattle will receive a lot of attention on arrival in Indonesia and we'll respond to any further detections," Dr Schipp said.
"What is important for producers is to ensure cattle presented for export are free of any clinical signs, because cattle that have got lumps and bumps, have got ringworm and the like are the animals that are being selected for sampling.
"We hope we'll have results in short order and that we'll be able to provide that back to the Indonesians and provide them with the assurance they need that Australia remains free of lumpy skin disease and that these cattle were infected en route, on arrival or after their arrival in Indonesia."
When questioned about the possibility of vaccinating cattle before they leave Australia or during the voyage over, Dr Schipp said that wasn't an option.
"We can't vaccinate in Australia because that would affect our own animal health status; it would be seen as confirmation to trading partners that we have lumpy skin disease, which is not the case."
Beyond the suspension of trade for those four facilities in northern Australia, there has been 'no suggestion of an outright ban or suspension of live cattle exports to Indonesia', Mr Watt said.
"In addition, there's been no suggestion from Indonesia or any other trading partner of a suspension of exports of processed meat, there's been no suggestions of an impact on the dairy industry or any other part of the wider cattle industry.
"Of course, we're conscious that we need to get this done as quickly as possible to ensure our LSD- free status is understood very widely, right around the world."