The rural property market is showing no signs of slowing down, with well-known families across Far North and southern Queensland among those bringing historic holdings to market this week.

Read on for your recap of the latest properties to be offered for sale across the country.
Australia's biggest banana farmers set to sell holdings for $180M
Horticultural business Mackay Farming Group are selling nine farms across the Tully and Lakeland regions [Paywall] of Far North Queensland as the Mackay family looks to offload their tropical fruit business after 75 years in the region.
Used to produce 13 percent of the nation's bananas, the 5,861-hectare aggregation features a beef cattle enterprise and sugarcane plantings alongside the businesses' large-scale banana and tropical fruit crops.
The Mackay family have a long history of business in Far North Queensland, establishing their first banana plantations in 1945 near Tully before expanding into avocados, papaya, coffee and more to generate the Mackay Farming Group's now $75 million-strong revenue.
Offered up by JLL Agribusiness, the nine holdings are set to rake in around $180 million, being marketed through an expressions of interest process.
Cameron family to sell historic 10,842ha Queensland station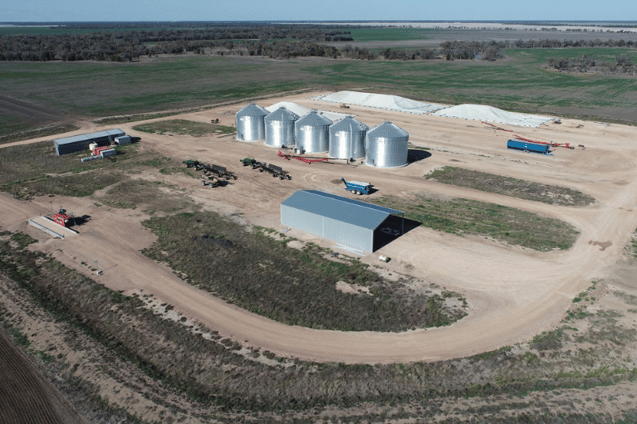 Above: the Cameron family's Welltown Station. Image: Nutrien Harcourts Goondiwindi.
Situated 10km west of Toobeah in southern Queensland's Goondiwindi district, renowned mixed farming property Welltown Station has been listed for sale [Paywall] by the Cameron family.
10,800 hectares in size, the Cameron family originally purchased the property via Cameron Pastoral Company in 2020 for $32 million before embarking on a major development and expansion of the station.
Welltown Station is understood to be one of the original holdings west of Goondiwindi and now currently comprises 8,879ha developed to dryland farming and 1,963ha of grazing country.
Alongside the property's 1870s homestead, two new three-bedroom homes, a new grain complex, new staff accommodation and a piped bore scheme have been set up for use.
Marketed by Andrew Jakins of Nutrien Harcourts Queensland, expressions of interest for Welltown close on September 7, if not sold prior.
$7.5m price tag for one of Victoria's original sheep stations
Above: Glenlivet in Victoria's sought-after Merino district. Image: Southern Grampians Livestock Real Estate.
One of the first stations to be established in Victoria's sought-after Merino district has been listed for sale at $6,500 per acre for a total asking price of $7.5 million [Paywall].
To be sold as a whole or in six separate lots, Glenlivet is well-fenced with improved pastures on fertile, dark loam soils and an excellent fertilizer history. The original circa 1894, four-bedroom family home is situated on Lot 1, while another three-bedroom home and the property's cattle yards can be found on Lot 3, Mungala.
Land in the south-west district of Victoria has been tightly held ever since the Henty family settled in the region in 1837, thanks to its reliable 640mm annual rainfall and quality grazing country.
Listed with Southern Grampians Livestock Real Estate, Glenlivet is to be sold by the set date of September 29, although prior offers will be considered.
Market movements
13,498-hectare Jemalong Station in Central West NSW's Forbes region is said to have been purchased by Lawson Grains for the sum of $85 million [Paywall], in a deal now close to FIRB approval.
While the deal remains under confidentiality arrangements, the historic station was offered for sale in February this year by Dutch agricultural investors Optifarm, who purchased the property in 2018 from Twynam Agricultural Group.
In other news, Chinese wool importer Qingnan Wen has purchased 16,600ha sheep station Nerrinyerie in western Victoria, drawing a close on 145 years of ownership by the Edgar family.
Home to a flock of around 8,500 maternal composite ewes as well as cereals and canola cropping operations, Nerrinyerie was expected to attract offers between $19.5 and $21 million when it hit the market. While the final sale price has not been disclosed, it is said to have sold close to expectations.