On just over 100 picturesque acres in Victoria's Western District, there is a changing of the guard happening.

A gradual transition that encompasses a rich history, a mutual passion for agriculture and a deep appreciation for the fertile farmlands at Winchelsea, 17-year-old Pheobe Guye is a testament to her family's legacy.
Now the fifth generation to work the paddocks of Cazna, and the other properties in the family's enterprise, Pheobe is as committed to the legacy as the generations before her.
"In 1918, after World War I, my great great grandfather Edward Fritz was given a 50-acre paddock of land just out of Winchelsea that he called Cazna, which is ANZAC spelt backwards," Pheobe said.
"Since then, my family have bought and sold land in and around Winchelsea but have always kept the original 50 acres we were first given."
Pheobe's grandparents were dairy producers for 50 years, before transitioning to a beef operation five years ago.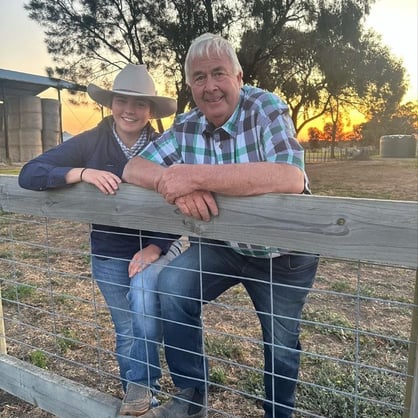 Above: Pheobe and her grandfather Rod.
Today, they run a herd of almost 150 black Angus cows, and when Pheobe's not at school, she can be found out in the paddock alongside her grandfather Rodney Guye, both sporting their signature RB Sellars attire.
As with the passing on of any legacy, he's taught her many things over the years, but there's one lesson that is most important.
"Through the years, the biggest lesson my Papa has taught me about farming and agriculture is to 'take the good with the bad and work on the averages'," Pheobe said.
It's a lesson kept front of mind as she endeavours to build her own herd - one which looks vastly different to the black beasts normally dotting the Guye family's paddocks.
"I have a couple Highland cows, and I've been really interested in the breeding of them," Pheobe said.
"It took me about three years to finally track down some registered Highland cows without horns, and I've just taken my calf Ellie off her mum Peigi.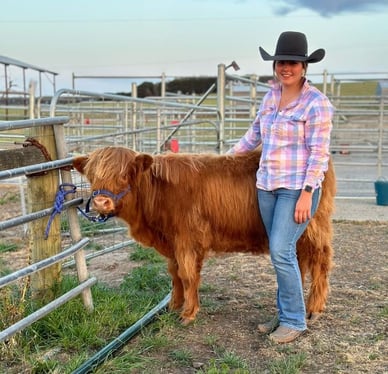 Above: Pheobe with her Highland calf, Ellie.
"I'm currently in the process of halter training Ellie and will hopefully show her at places like Geelong and Melbourne, with the goal of selling her to an owner who will love her just as much as I do and take very good care of her."
At the same time, Pheobe is planning to artificially inseminate Peigi, with the hopes of slowly building her herd.
"Once I have a bull, I will start buying more cows and getting them in calf to then raise and sell.
"Within the next three to five years, I'm hoping to have about five cows all in calf with a bull."
Lessons from further afield
The years to come will also see her building her ag knowledge and skills, with the help of people further afield in the industry.
"Once I finish school, I'm hoping to do a program called AgCAREERSTART for a year, where I will be based on a farm or station of my interest, and I'm hoping to learn many more skills and gain more experience and knowledge," Pheobe said.
"After that, I will come back home and I'm hoping to study a diploma of advanced agribusiness management at Longerenong College, then I'm hoping to go off and work even more before hopefully becoming a manager on a farm or station one day."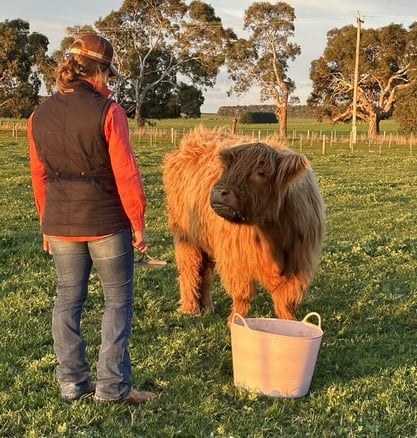 Above: Pheobe with her Highland cow, Peigi.
It's a clear path, driven by a love for agriculture that has flourished in the ecosystem of the family's farming legacy, and a community initiative that is trying to help young adults build a great future in regional and rural areas.
"At the start of last year, I think I was like a lot of other country kids my age - all we wanted to do was finish school and then head up north and chase cows on horses and motorbikes," Pheobe said.
"However, in September last year I participated in a program called 'Defying the Drift' run through Rotary clubs in Victoria.
"Defying the Drift was all about stopping country kids who grew up in small towns like me from going to work in the city, and instead staying in the country and working in regional and rural areas.
"The program helped me figure out what was best suited for my interests, and how and what would be the best way for me to get there."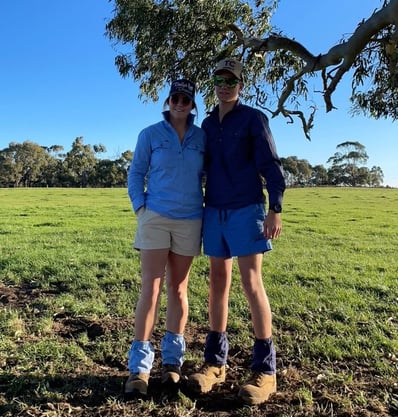 Above: Pheobe with her brother Maurice.
A shared love
No matter where Pheobe lands, she already has her uniform sorted.
An RB Sellars connoisseur, her love for the brand is also shared by the three living generations of Pheobe's family.
"My siblings and I have been wearing RB Sellars pretty much since we were born," she said.
"My whole cupboard is full of RB Sellars clothes, and I love looking at the different styles and ranges that are released each season.
"I love how trustworthy the brand is, and you can't go past the durability, quality, versatility and style."


This article is sponsored content in partnership with RB Sellars.