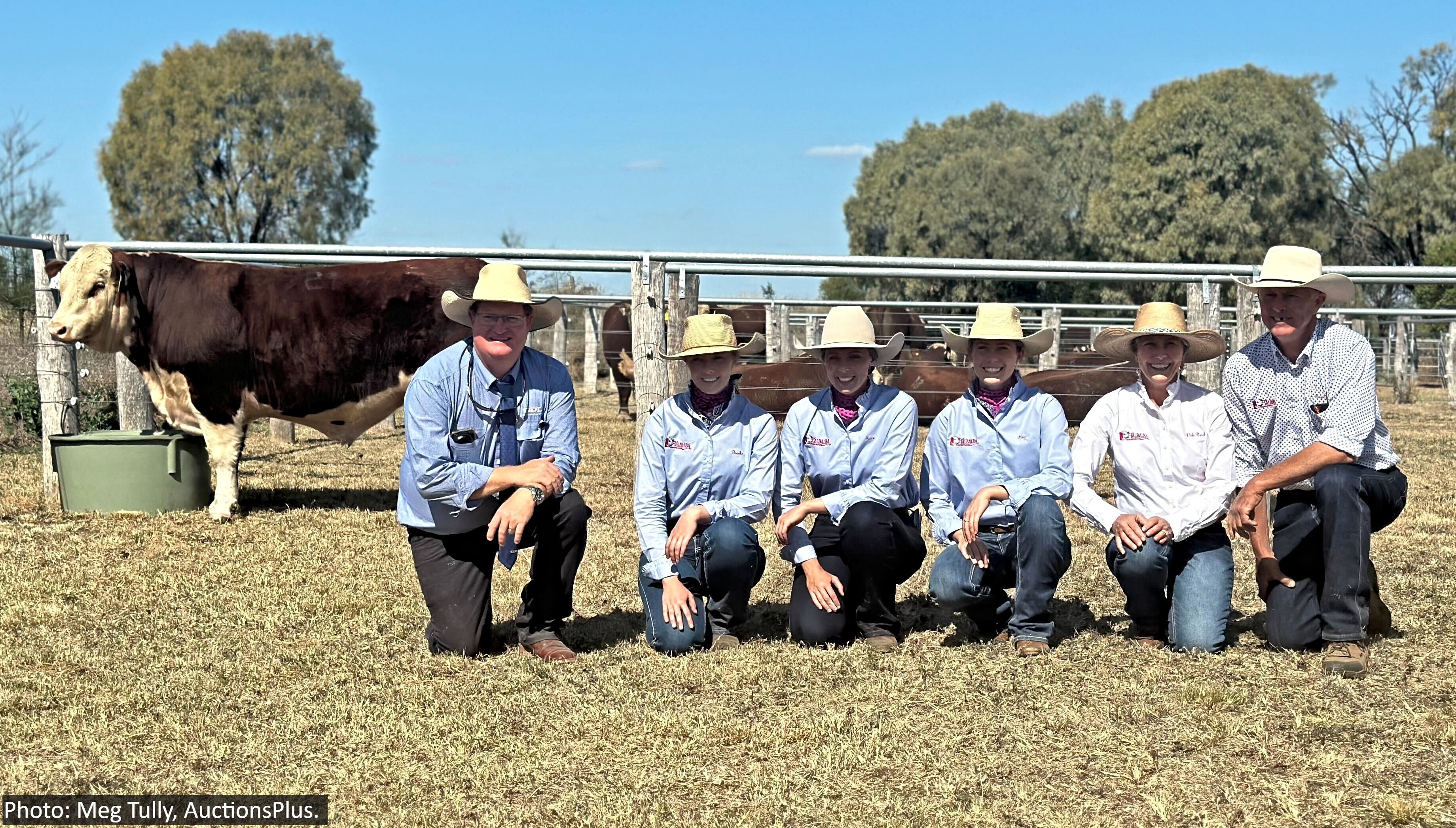 It was an emotional day at the office for Steve and Deb Reid at their Talbalba Herefords sale at Millmerran on Thursday, with the $102,000 sale of Talbalba Kingswood T011 (PP).
A new record top price for the prefix, the 19-month-old will soon head to the greener pastures of Tasmania.
Purchased in partnership by stud producers Andrew and Caroline McLauchlan, Valma Poll Herefords, and Cam Clements, Nova Poll Herefords, the leading sire prospect incited a bidding frenzy between several bidders on AuctionsPlus.
Sired by Days Kingswood Q139 (PP) and out of Talbalba Choice P139 (P), the long, thick bull with "sire appeal to burn" tipped the scales at 709 kilograms and measured 38 centimetres in the scrotum.
He boasted estimated breeding values of 7.6 for eye muscle area, 68 for 400-day weight, 1.1% for intramuscular fat, and a southern self-replacing index value of $174.
One of those good bulls "that are getting harder to come by these days", Mr McLauchlan said they had to go a bit harder on Kingswood than originally thought.
"We'd been looking for a bull for quite some time that had not only a good set of data within EBV figures but a good type of a bull – good balance, good skin and colour, bit of softness and doability - and we hadn't been able to find anything we liked up to this stage," he said.
"For what we're aiming to do down here with the sort of cattle we're trying to breed, we believe he's a bull that's really going to complement our program.
"It seems a bit strange spending that sort of money and not looking at the animal, but... he just stood out to us as what we thought we needed for the next step in our program."
Aiming to breed easy-doing animals that will convert feed into meat, Mr McLauchlan said they're really looking forward to getting calves on the ground next year.
"We're aiming to get him to a collection center to try and get some semen collected before he comes down," he said.
"Then we've got cows and heifers not far away from mating, so he'll get a good run here and then go down to Cam's place; he'll get a good workout."
Mr Reid said the faith people put in you to spend that sort of money can be a bit overwhelming at times.
"The overall result is terrific - the top end was very, very strong and it was really good to see some people get some bargain bulls at the end," he said.
"Some of those people paid a lot of money for bulls last year, so it's good to even it out a bit."
Taking second-top price honours at $42,000 was Talbalba Techno S041 (AI) (PP).
Knocked down to Beralga Herefords, the 24-month-old deep-bodied, correct bull weighed in at 903kg and measured 39.5cm in scrotal circumference.
Boasting good carcase data and outstanding marbling, Techno had EBVs of 39 and 69 for 200-day and 400-day weight respectively, 1.9% for IMF, 5.0 for EMA and gestation length of -1.5.
He was one of the first 10 bulls through the ring, which sold for an average of $23,200.
Overall, 54 of 62 bulls sold under the hammer for a clearance rate of 87% and an average of $14,833.
The sale was conducted by Nutrien and GDL, and interfaced by AuctionsPlus.
---