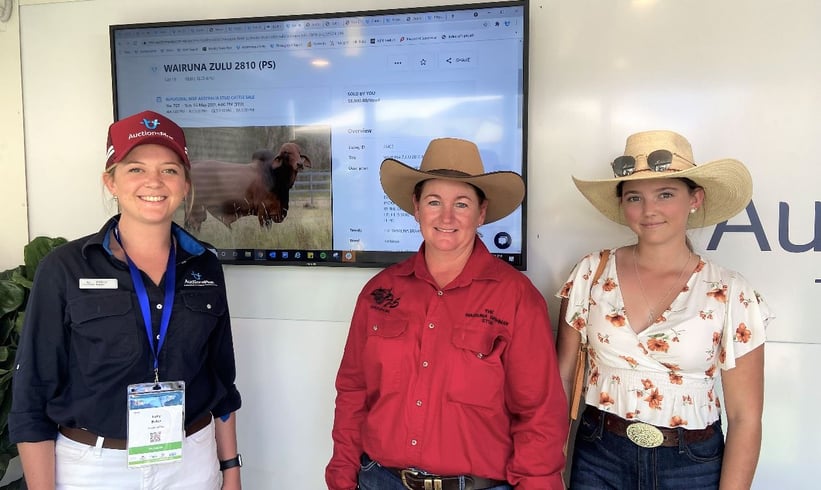 Last week at Beef Australia, a successful outcome saw Sharon Atkinson of Wairuna Brahmans sell bull Wairuna Zulu to Alex Tzioutzias of Orea Brahmans at Baralaba. The bull was held in our Inaugural Beef Australia stud cattle Sale at Beef Week.
Australia's first Brahman stud, Wairuna Brahmans celebrate 75 years this year and have made a successful return to Beef Australia after a 25-year break.
Due to the drought decimating most of the European cattle breeds up in North Queensland, it was then in 1936 that Zebu's (now known as Brahmans) were introduced into the commercial herd at Wairuna Station.
Sharon's grandfather Ken Atkinson got hold of some Brahman and Zebu genetics from Melbourne Zoo where later in 1946 Ken started the Australian Brahman Breeders Association.
17 year old Alex Tzioutzias has always wanted to introduce a stud to her family's commercial cattle farm.
"I thought having a stud would be a good way to get into the industry".
Having only established her stud last year, Alex is excited to welcome Wairuna Zulu to Orea Brahmans at Baralaba.
"He is a very good quality bull, he was soft, has good bone poly – everything I look for to introduce to my herd… I envision to have a good strong line of poly red animals from the best breeders" Alex said.
---
For more updates live from Beef Australia - follow us on our socials!
#APlusBeef21
#BuildingTheFutureOfBeef