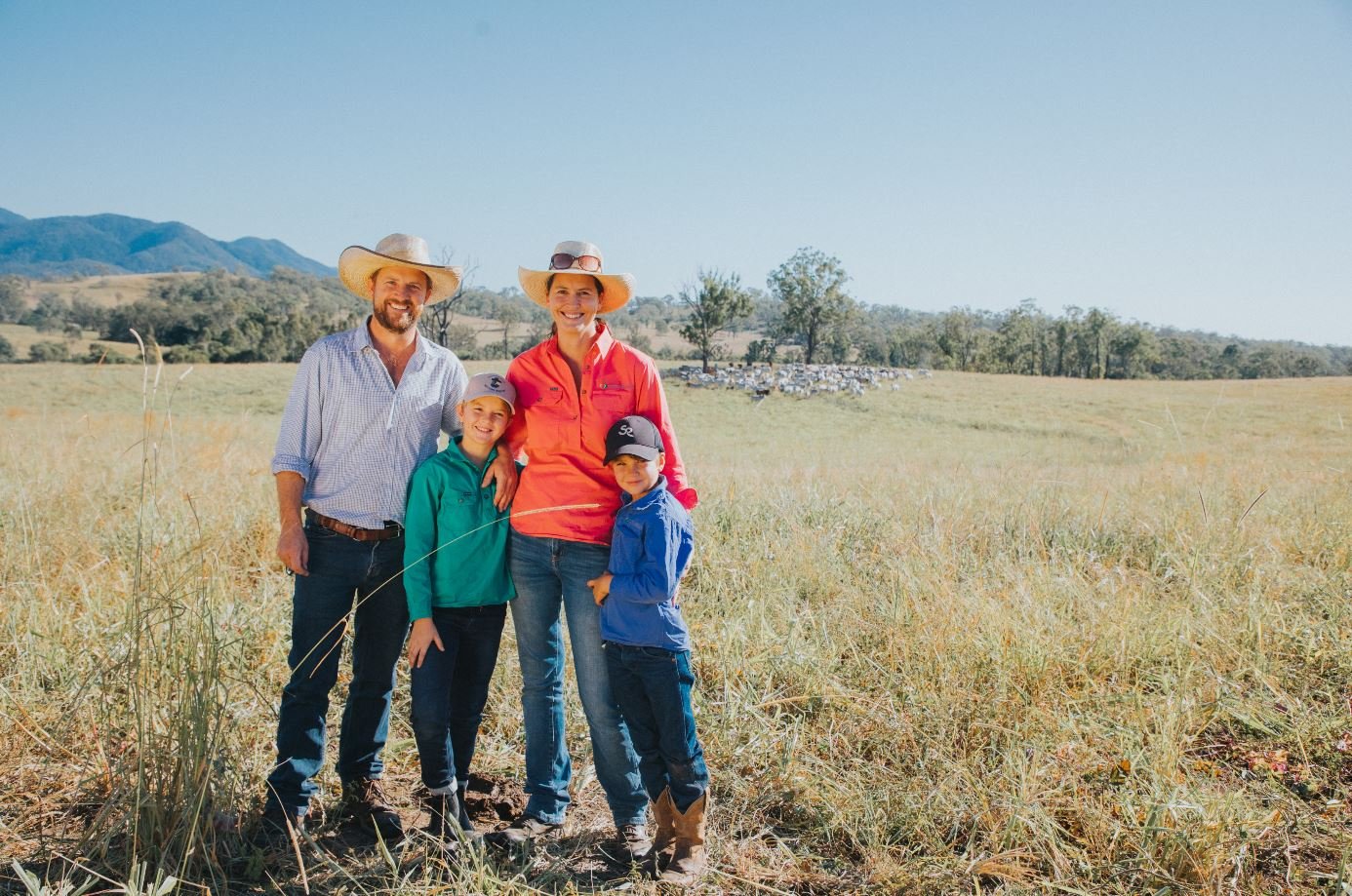 Most farming properties are steeped in family history, handed down from one generation to the next, but first-generation producers Adam and Jacynta Coffey have shown what it takes to build a modern legacy on the land – and what makes their success all the more impressive is that they didn't buy a well-established enterprise.
Picture the less-than-idyllic scene. A failed timber plantation in receivership and an unlivable home, two kids and a caravan. This is not the easiest route towards the dream of owning a cattle property.
But the Coffey's are a remarkable couple who have taken the daunting task of establishing their own cattle property head on with a fresh approach, unshackled by family traditions… and this may just be the key to their success.
Let's take you back to the beginning. Both Jacynta and Adam grew up in Tasmania, and while they had no connection to agriculture an interest in the industry blossomed through their careers.
Jacynta completed a commerce degree, which led into accounting for a large agricultural enterprise, while Adam initially had the makings of a promising chef, he deviated into jackerooing before strengthening his credentials with a farm business management course.
They decided on a change of scenery and headed to the mainland finding themselves in Western Australia managing a sheep and cropping property for 18 months.
When the property was sold, they were given the opportunity to run a stock camp on 1.5 million acres in the Kimberley for almost four years, which led into further corporate management and a stint on a property near Longreach.
The arrival of their first son took them back to Tasmania before returning to the mainland to a property in the Northern Territory.
"We got the opportunity through a family who were retiring and gave us a shot at their place where we had a profit share deal over three years," Adam said.
"We bought a lot of cattle on the back of the live export ban, which was pure good timing and luck, and we built those numbers to about 800 cows we kept on agistment on this property."
This herd, which sold for "substantially more" than the initial investment was the financial foundation the Coffeys needed to buy their own property.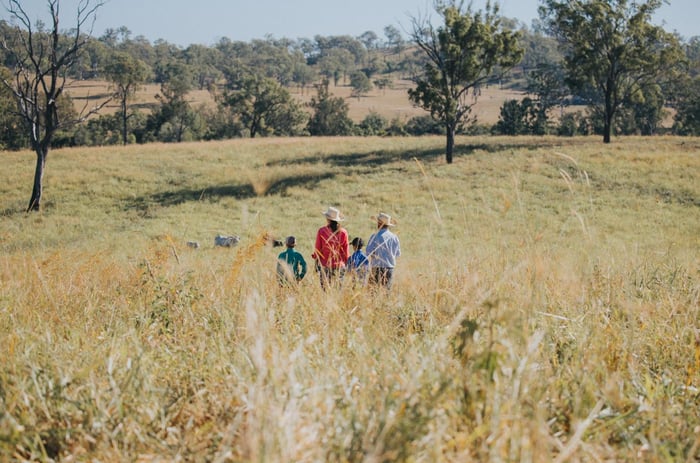 "We were prepared to go anywhere, but we had a list of criteria and at the top of the list was not buying someone else's improvements," Adam said.
That was certainly fortunate when they found 2,500-hectare "Boreelum" on Queensland's Central Coast, as the old real estate adage to buy the "worst house on the best street" probably applied.
Abandoned for about a decade, the derelict home leans precariously to one side. As for the land, 400 hectares was a timber plantation the Coffeys soon discovered held no value.
"We bought it from receivers, it was a failed timber plantation, the house was overtaken by wildlife and that was our renovator's delight," Adam said.
"There were 400 hectares of sterile hardwood bred specifically to be pulped. We hoped to find some value in it but in the end, it was a liability," Jacynta added.
"We had a five-year plan where we would then have the capital to start removing trees, but it became apparent all the trees had been taken over by woody weed and it was basically causing more damage by leaving them up, so we borrowed more money and started getting rid of them."
The Coffeys not only needed to tackle the land but renovate the home while the couple and their two young boys, now 7 and 10, lived in a caravan. Not to mention, Adam was awarded a Nuffield Scholarship during this time which involved trips away, including overseas.
Without the shadows of family farming traditions or opinions, the Coffeys have taken what they have learnt from working on properties across Australia, researched different production techniques and implemented Jacynta's auditing skills to curate their own way of doing things.
"That freedom to choose and change things up is the greatest benefit of doing it on our own even though there's all the hardship that comes with it," Jacynta said.
"We've got no family issues or people saying 'we don't do that in this area' or 'grandad wouldn't do that' and we are lucky not to have these restrictions."
"Getting in was hard, bloody hard, and obviously we run on a thin budget," Adam adds.
On-going education is important to the Coffeys and Project Pioneer came along just as they were starting their venture at "Boreelum". The Federally funded Barrier Reef Project allowed them access to training with RCS Australia which has proven invaluable as they navigate building their own business.
Five years on, the family live in the renovated home, have removed about 400,000 plantation trees, installed six bores and subdivided the property from four paddocks to thirty to allow for their cattle to graze as one large mob under rotational grazing methods.
They have introduced multi-species planting, bringing in temperate, cool season plants not usually grown in the tropical Queensland environment to "stimulate soil biology". With this they have entered into a soil carbon offsetting agreement.
"There's the potential to make carbon credits to diversify our income," Adam explained. "We are striving to increase our plant diversity and return organic matter to the soil, so if we are going to do it anyway and someone is going to pay us for it, that's great, but the main reason is for the production and performance of our paddocks."
By paying attention to the soils, the Coffeys aim to capture the heavy downpours into the soil, rather than allowing it to run off, and are doing this by drilling in the grasses, rather than going down the traditional path of ploughing, which can destroy the soil structure and runs the risk of losing topsoil.
"We've also planted cool species plants and brassicas like turnips, radish and chicory. These deep-rooted brassicas are designed to bust open soils," Adam said.
"Ultimately, we won't jag it every year, but if we get out of season rain, we are hoping to help fill the winter feed gap."
They're also focused on harmonising three business pillars at Coffey Cattle Co. – the people, the finances and the land.
"All three have to work, the land has to be happy, the people happy and you have to be making money – and with my auditing background everything has to be measured," Jacynta said.
"We use satellite monitoring technology for monitoring pasture and ground cover, which can tell you what percentage on the ground is photosynthesising.
"It's interesting as you can see from the air the areas where cattle don't get to and where a section of the paddock they preferentially graze."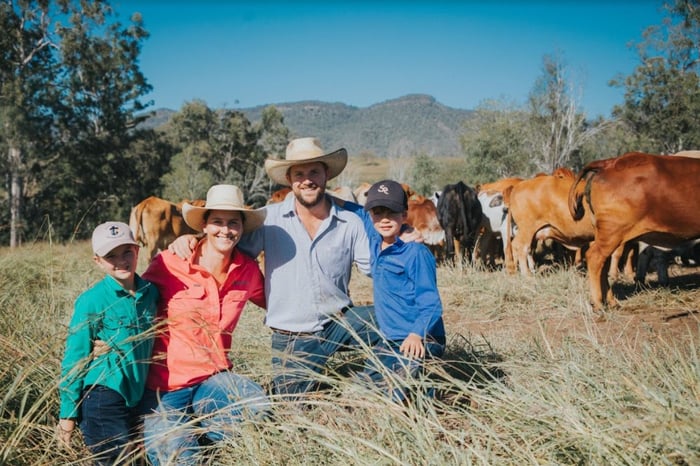 Adam said capturing the data had been a learning curve and it took discipline to implement it, but it helped with their decision making at Coffey Cattle Co.
"By monitoring grass carefully, we can know well ahead of the game if a crash is coming, then we can offload cattle into a market well and truly before it's been flooded with other cattle when shit hits the fan."
Jacynta said they also carefully combined the pasture data with rainfall charts to know when to offload stock at the right time.
"You might want to hold on waiting for rain but as much as it hurts to sell cattle, they go out fat and healthy and you're not stressed about them and whether it will rain.
"We've just gone through three years of drought and we haven't had to feed our animals."
The Coffeys' next step will be investing in remote water monitoring and soil moisture probes, while also realising the potential in their paddocks through continued improvements to their perennials and cool season plants.
Despite not having the traditional start into the agricultural industry, the Coffeys have shown if you take an entrepreneurial spirit, resilience and a lot of hard work, it's still possible to create a family legacy on the land today.
---
Twitter: @AdamCoffeyNT & @JacCoffey
Photo Credits: Ben Simpson