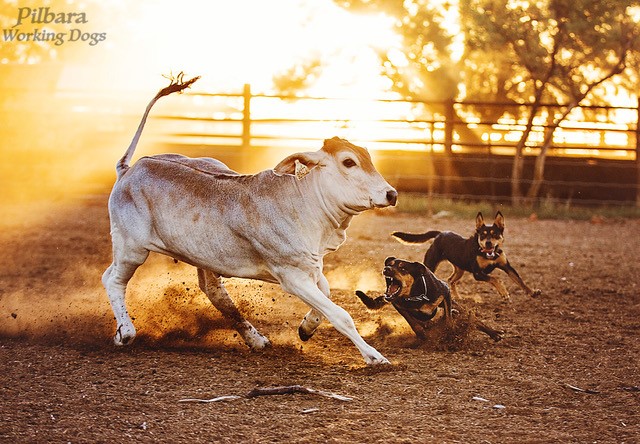 Eight years ago Aticia (Teesh) Grey admits she didn't know the first thing about working dogs. A loyal blue cattle dog was her only canine companion and the nippy heeler wasn't going to hold up in the yards. Teesh knew there was something missing when it came to stock handling on her Pilbara, WA cattle station and she set out to find it.
Fast forward to today and there's at least a two year wait on pups from her Pilbara Working Dogs line. They're a photogenic crew who've garnered a social media following of more than 70,000 and attracted global interest. More than once Teesh has fielded calls from overseas followers wanting to 'pop out' to the remote station to visit the much-loved dogs. Three carefully selected dogs have also made the trip to Sweden and France in the last few years.

So how did she go from just having one swag-shielding cattle dog to today owning a team of 10 kelpies and a new litter on the ground? In 2013 Teesh took herself off to a Neil McDonald Livestock Management and Movement school. She'd found that missing piece. By the end of the course she asked Neil to put together a team of four dogs for her.

Just two months later she crossed the country to meet up with her sister-in-law, picked up a trailer she'd bought sight unseen in Queensland, along with the four dogs that changed her course. A free pup from a friend helped seal the deal for her sceptical dad that the cost of the course was worth it. Teesh says he's been a slow convert to the value of dogs in the years since.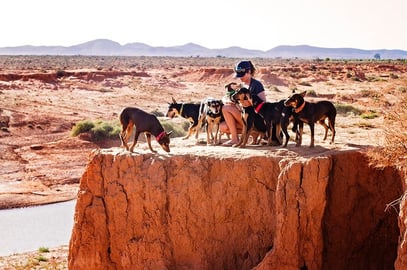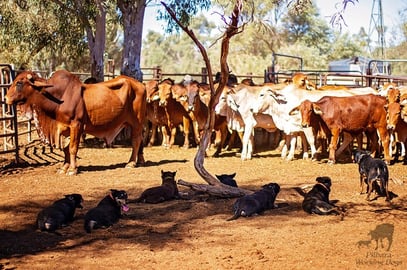 With plenty of hard-earned experience and ups and downs now under her belt, Teesh says the most important thing she's looking for in her dogs is a natural feel on their stock and stamina. While they love to hitchhike on the quad bike, they need to be able to go the distance on the huge station. Teesh is the first to admit she's not the biggest fan of training so the dogs also need to have a strong natural instinct to want to work on their own. There's times when Teesh has to step right back and put complete faith in her team.

"If the stock are feral, unhandled or spoilt, sometimes I can't even be in the picture because as soon as they see me that's too much pressure for them, so I need to hide behind a tank or a ute. I need to be able to rely on my dogs having the desire and skills to be able to do it themselves," she says.

"I think it holds my pups in good stead. I rely so much on them having a strong instinct that it holds them up really well in future homes. They go to properties working sheep, cattle, goats, even agility. Good genetics and a good start has held them up really well wherever they go."

While they've got the talent, instinct and impeccable breeding, it doesn't hurt that they know how to work the camera too. Teesh took to photography around 10 years ago before she even owned a camera. Over time her iPhone shots have transformed into the stunning images and videos she shares on her social media channels. From showing them hard at work to having a well-deserved nap, the personality plus team is loved by many.

"I like showing that they're more than just working dogs," Teesh says.

"I think seeing their character and the funny side of them and how well valued they are is what people relate to. They're more than just workers, they're my best mates."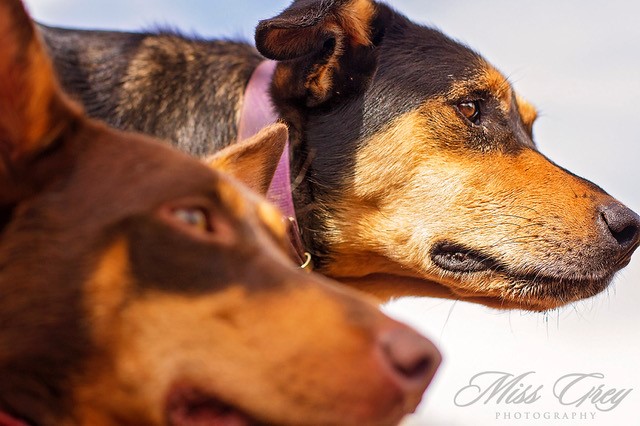 One dog who'll always hold a special place in Teesh's heart is Flora, one of the original four. Flora may have driven Teesh crazy with her refusal to be told what to do, but her stamina, ability to work at any point of the mob, work with (not for) anyone and her 'go all day' attitude made her a once in a lifetime dog, Teesh says. Sadly, she was lost to snakebite on Christmas Day, 2019. Teesh hopes to land a pup from her sister and it's going to have some big paws to fill.

With stock starting to come back after the drought, there's no shortage of work ahead for the Pilbara Working Dogs. Teesh plans to start droving more rather than using trucks to shift stock around their property, and relying on her dogs even more so than staff. She also hopes to offer tourism experiences to both international and Australian travellers.

For Teesh, the dogs have transformed her life. They're her workmates, her confidantes and an invaluable part of the station. When your workmates are keen, tireless, don't answer back (most days) and only ask for a feed, a kind word and the chance to do it again tomorrow, what's not to love? Today, Teesh can't imagine working stock without them and encourages everyone to take the leap. She leaves with some wise words of advice for those starting out.

"Go to a dog school. We all have this preconceived idea that anyone can work with dogs and train them but starting with a working dog school puts you years in front, rather than trying to learn on your own," Teesh says.

"And don't start with a pup. Start with an older dog if you can. If you want to learn how to ride a horse, you don't generally go out and buy an unbroken yearling, do you?"
Instagram: pilbaraworkingdogs