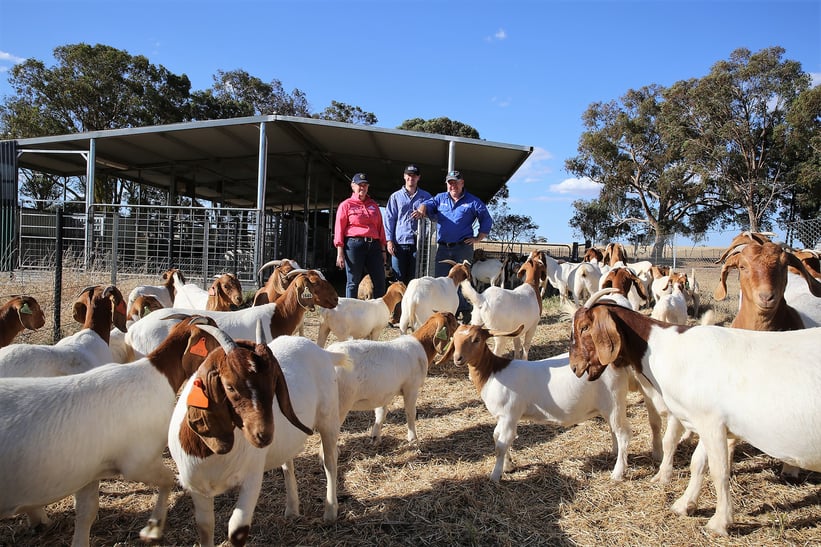 Goat meat may not be up there with lamb, beef and chicken on Australian menus, but if Linda McKenzie has her way it will soon become mainstream in boutique restaurants. Linda's mission is far bigger than elevating goat meat onto the plates of Australians, she also has goals to educate the new wave of tree-changers entering the agriculture industry.
Growing up in rural Victoria at Swan Hill, Linda had a connection to agriculture through her father whose skill set included shearing. Husband Peter's family came from a small farm, complemented by a transport business.
"Peter and I thought we'd like to have a farm, but work and other commitments kept us in the city," Linda said.
Then eight years ago they found Boorandarra Farm for sale, one hour north of Melbourne. Despite being a premature move away with children still in high school, the couple fell in love with the property and made it theirs.
Running Boer Goats, Linda works on the farm full-time, with Peter in the public transport industry, pitching in on the weekends along with their four children when they visit.
"A lot of the people in the farming of goats, not the rangelands, are women. They're quite easy to handle and not as erratic as sheep, I find them really easy to manage," Linda said.
"In animal husbandry it is the calm approach, not pets by any means, but used to being handled in yards."
With a limited farming background, Linda knew she had a lot to learn. She started the transition to the farm with a caretaker and calls on her father-in-law and contractors knowledge when required. Linda has also found a mentor in fellow goat farmer Connie Northey.
However, despite being green to the industry, Linda had a clear plan on how she wanted to run the property and being an ecologically conscious farm was at the core of that.
The 80-hectare property comprises half remnant vegetation and half pasture and the first thing Linda did was establish a holistic farm plan, engaging a farm planner who was also a landscape architect.
This work included fencing off the ancient native grass trees estimated to be between 400 to 600 years old, as well as some infrastructure improvements.
The property was already set up for goats, with the yards and handling equipment custom made for them and handled by one person, setting the scene for Linda to establish her Boer Goat stud, which runs about 35 stud does and three different bloodlines of bucks. Cattle and sheep never entered the picture because of their higher infrastructure needs.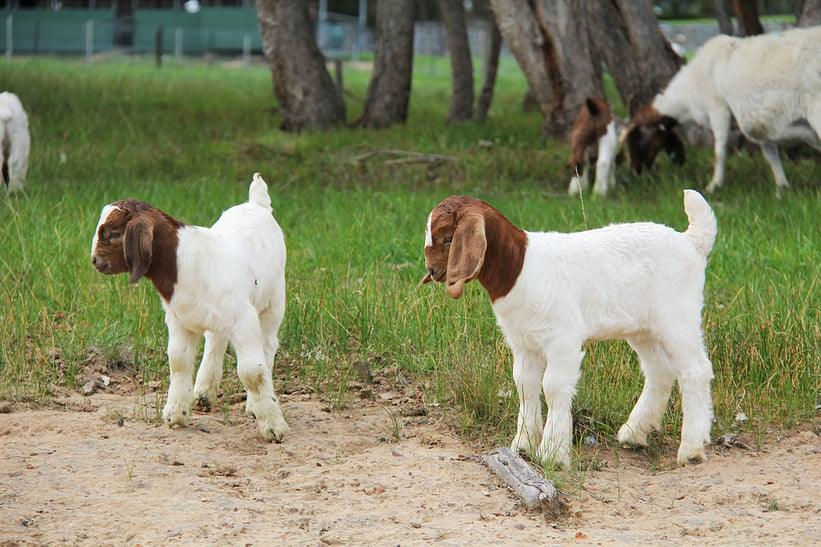 Linda found there were a lot of small-scale Boer Goat breeders about, but no saleyards for them. The choice was to find a market or sell them to abattoirs where they'd lose their premium and fetch the same price as rangeland goats. The other hurdle was that abattoirs didn't take smaller quantities.
This was when Linda formed Strathbogie Goat, creating a brand and supply channel for herself and other Boer Goat producers direct to restaurants and retailers.
"I thought, there has got to be a market for goat meat as it's the most widely consumed protein in the world; Australia is the biggest export but we don't eat it."
Linda invested in a researcher who surveyed hospitality venues to see if they would take on her ethical and sustainably focused goat meat.
The feedback was positive and in 2019 Strathbogie Goat was launched, with one of the biggest success stories the collaboration with Palling Bros., a name now synonymous with craft beer and craft goat meat, with Strathbogie Goat tacos the best-selling meat item on the menu for more than two years.
When the COVID pandemic hit, Linda lost her hospitality market and had to centre her attention to retail, with Meat and Livestock Australia (MLA) offering short-term financial assistance, which Linda put into developing her retail product and to engage a social media consultant.
The result? A successful entry into the retail market and possibly the world's cutest goat video that went viral.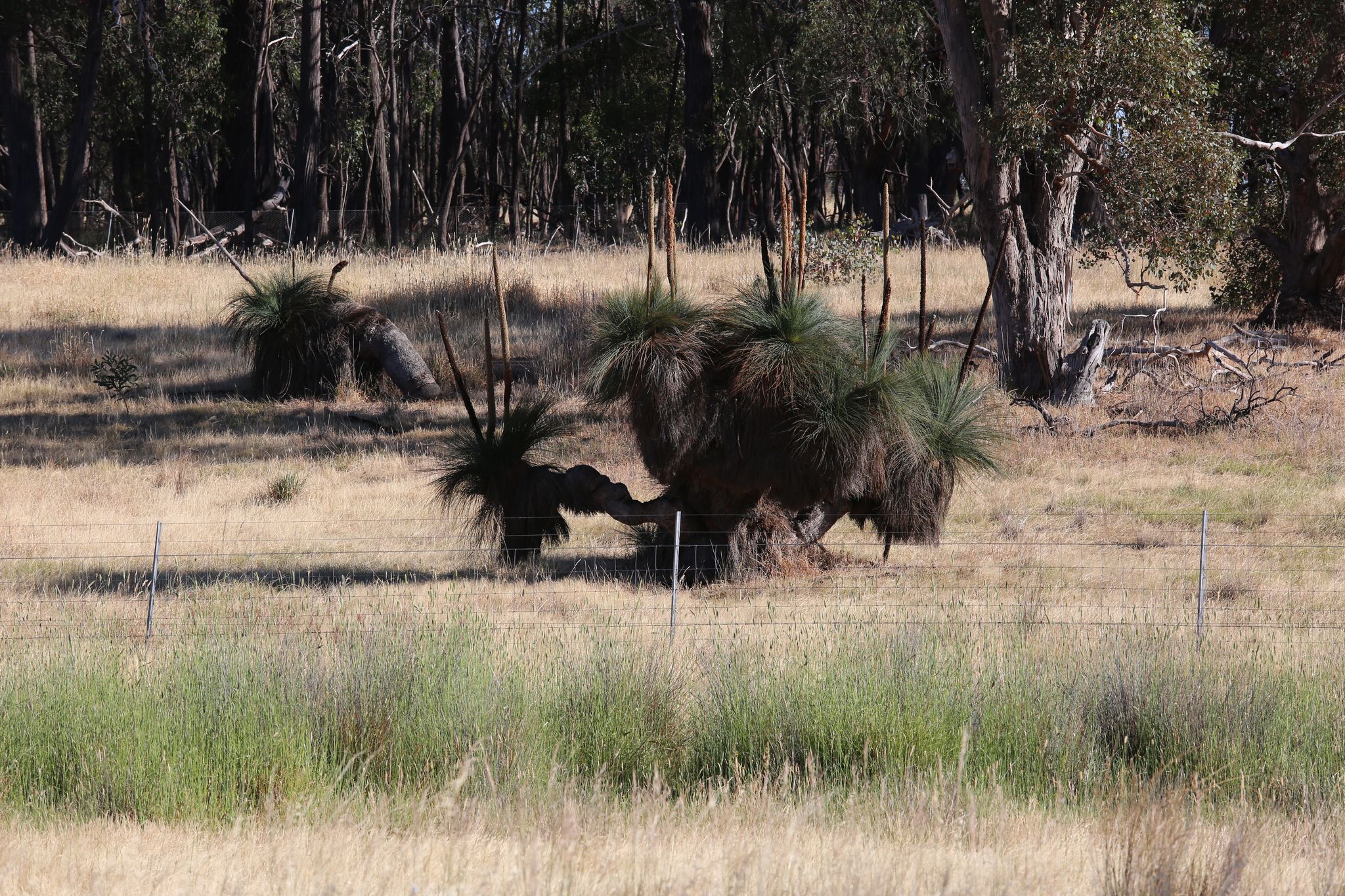 Fenced Conservation
"It's been a really big learning curve; if you had told me 12 months ago that I would be selling retail and selling out of stock I would have laughed at you, it blew me away what you can do on social media."
While aiming to stay a boutique producer, Linda is passionate about sharing her knowledge with others.
Having already run workshops on Boorandarra, Linda is taking things to a new level, building a commercial kitchen as a test kitchen and education space.
With people making the tree-change from the city, particularly in the face of COVID, they haven't grown up "sitting around the table absorbing information about farming".
"So when people move for lifestyle change … where do they go to learn the 101 of living on the land?"
Linda has seen first-hand larger properties being divided into smaller lots, but the new owners don't know what to do with the land.
"We need to change our mentality about what is productive and how we can do it."
"In the UK we've spent time with people who have 10 to 20 acres and they are running a really intensive animal husbandry - like a feedlot but it's not, they just think smaller - and it's just a different way of thinking to us here in Australia."
"The country around here is ideally suited to goats - low input, you don't need fertilisers and spray," she said.
While Linda aims to keep her enterprise boutique, does she see goat meat being served up in Australian homes?
"When I think back to when I was a child and my mother went somewhere for dinner, she came home and said, 'they had spaghetti bolognaise on the menu and we tried it'."
"It was the same when Chinese restaurants opened up in rural Victoria. I think with goat meat we have started with the restaurants before we will see it more mainstream in the home."
Photo credits: @fionalakephotography and @mla.com.au
---