To say things are looking pretty good for Lachie and Sophie Kelly from LSK Poll Dorset & Suffolk Studs would be a bit of an understatement. The young couple bought the entire Clarendon Poll Dorset Stud in 2019, hosted their first on-property sale in 2020 and in May, 2021 they'll bring home their best addition yet - their first baby.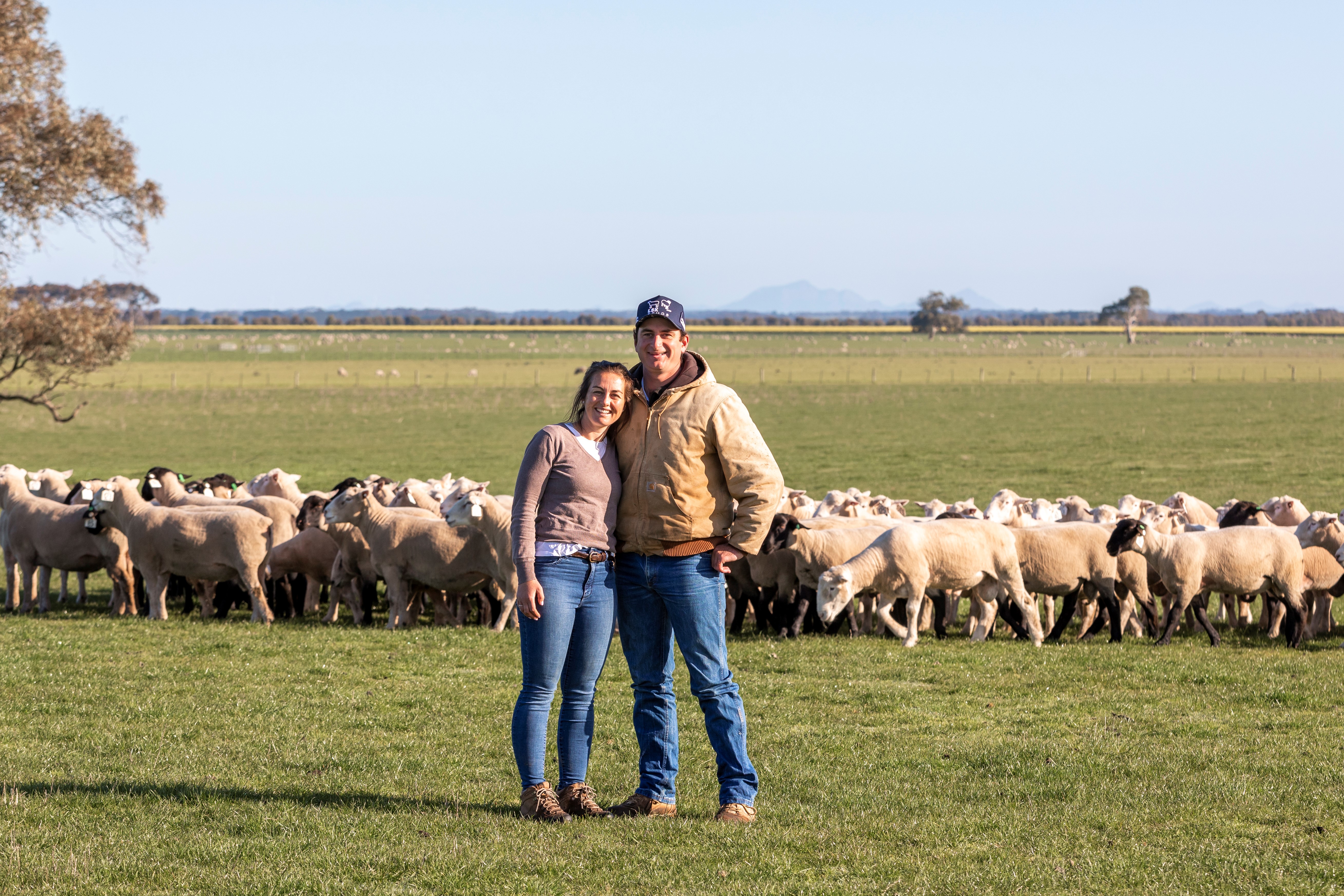 Lachie grew up alongside his two brothers on a family farming business at Caramut, South-West Victoria. Both his brothers are also thriving in different agricultural sectors and Lachie credits their passion for the agricultural industry to their childhood experiences and inspirations.
He hit the books after school with an Agribusiness degree and later went on to manage the current MLA Chairman Alan Beckett's and wife Sally's property at Yea. Combined with his studies, Lachie says this role gave him a great opportunity to be around experienced people and businesses.
Today, the couple is based at Hexham, Victoria. Lachie says the Clarendon ewes they purchased in 2019 are proving to be excellent, honest and genuine producers. Their next focus is on investing in the best genetics to keep on improving their offering across all three sections, including the Charollais X rams.
We believe in endeavouring to produce balanced prime lamb sires that combine elite performance data, with breed type, conformation and structure that will stand up in a show ring. We want our clients to have the most profitable rams that last," Lachie said.
The couple has also been kept busy hosting the Suffolk Society's resource flock. It's involved joining commercial ewes by AI to diverse and industry relevant stud sires. Lachie says he's excited to see the outcomes.
"It will give many benefits for the breed by providing actual data records, particularly on hard to measure carcasses and eating quality traits. In turn, it will help to calibrate the DNA genomic analysis for the Suffolk breed," he said.
They're reaping the rewards of their hard work but Lachie says he's been lucky to have had some great people share their knowledge and experience with him along the way. Alastair Day who runs Allendale Studs at Bordertown, South Australia is one person who's left a big impact.
"Alastair and his family have given me an immeasurable and invaluable amount of support and help in my life," Lachie said.
"Specific to the stud stock industry, Alastair's skills, professionalism and integrity are second to none in my opinion and his mentorship has undoubtedly been the major source of inspiration for me.
"Best of all, I now consider him a great mate."
Whether it's having people enjoy their property for work or play, the ever-changing nature of his day-to-day life, or working alongside a good kelpie or two, Lachie says things couldn't be looking better.
"Sophie and I are optimistic about the future of this industry and we're determined to provide the same experience and opportunities to the next generation," he said.
And it's not long now until they get that chance in May. Congrats, guys.