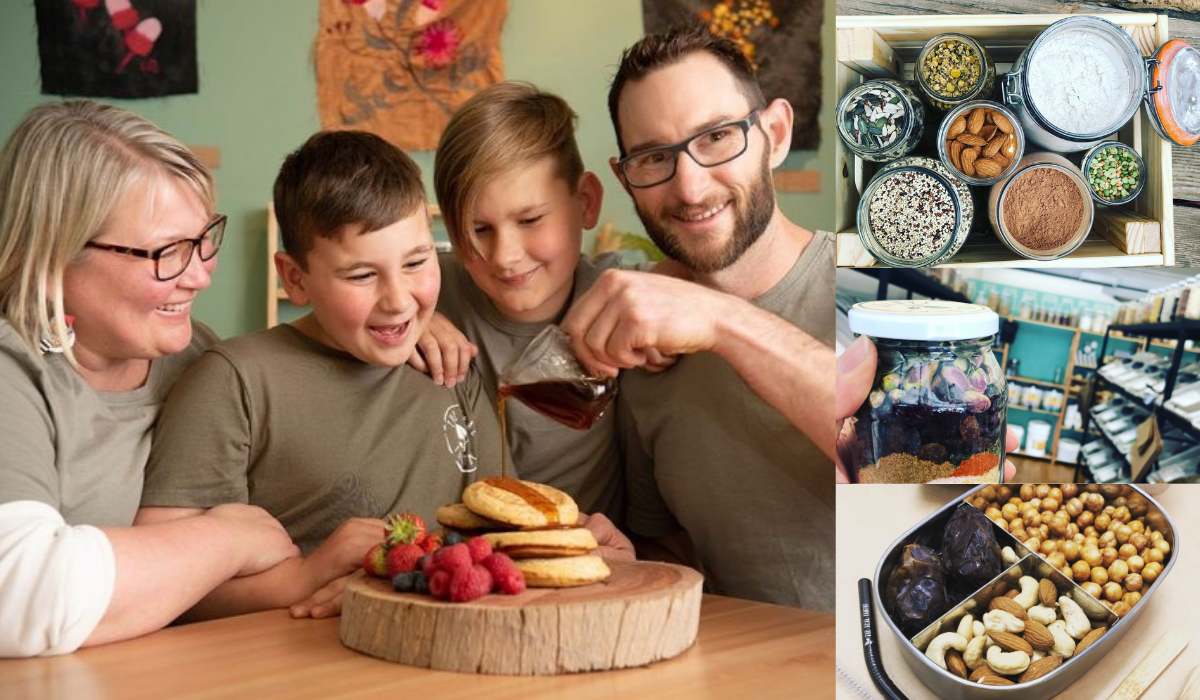 Memories of delicious, wholesome food from Grandma's kitchen is the ethos behind one couple's business, but it's also driving a bigger mission to engage the wider community in a back-to-basics approach to food and living.
Donna and Justin Forshaw have been at the forefront in encouraging people to make small changes in their lives by eating more wholefoods, reducing waste and promoting sustainability, opening their business The Real Pantry in the Barossa Valley at a time when, arguably, there were very limited options and discourse on sustainability and wholefoods in regional South Australia.
While their store, which sells bulk wholefoods, eco products and shoppers can bring in containers from home to fill, has been embraced by locals and the push to reduce plastic and waste is growing momentum, their humble backgrounds planted the seed to change the way they lived and inspire others to do the same.
"We both grew up on stations, Justin on a property north of Cloncurry in Queensland, while I was from a station in outback South Australia, near Lake Eyre," Donna said.
"We both remembered how our grandmothers cooked and how food was made from real ingredients."
Donna's passion for food translated into a hospitality career, first cooking on stations before working in cafes and training as a chef.
"We did a trip to Melbourne and there was a shop selling spices in Lygon Place; this was 15 years ago, and I was really drawn to that way of buying spices and loose products.
"The thing I like about it is, if you go to the supermarket, you buy a 500g bag of sunflower seeds for one recipe then it sits at the back of the cupboard, but it's much better to buy only what you use.
"You can buy all the same products here as at a supermarket but only buy what you need so nothing is wasted. People actually come in with a recipe and we go through it, or they bring in their jar and they only want it half filled, so we are only buying what we need and I really like that."
While the concept is becoming more mainstream – Coles announced in June it would pilot a BYO container system in Fitzroy – Donna admits it has been difficult at times to get some people to understand what the store is about.
"I think there's still this perception further afield, where some people still see us as a health food shop, but we have rice, flour and sugar - we have normal food, so we've used the hashtag no nasties as you can see what you are buying, there's no packaging."
Growing up in an era of plastic and flippant waste, it has also been important to the Forshaws to help stonewall this trend.
"Here you are bringing in your cereal container and putting your weekly muesli in that, so you aren't getting the box and the plastic bag."
It's also an important message Donna has instilled in her two sons.
"We were at the supermarket watching a lady put everything in plastic bags and the boys could see this and they know you don't need a plastic bag for bananas.
"But it's about doing small steps rather than doing the whole hop, we aren't by any means perfect, it's about doing what we can as a family."
Donna believes there is a changing tide in Australia and people are becoming more conscious and circling back to shopping how their grandparents did.
"My grandmother had a farm near Balaklava and I distinctly remember when we would go to town she would go to the butcher, go to the bakery and go to the fruit and veg shop.
"It's about sustainability, but it's also about local business and the growth and development in our towns.
"It's also about community. If you go to some of the chain supermarkets, what kind of conversation do you get?"
The Real Pantry's journey began with recipe jars at markets and moving onto a retail shop front which has evolved to also provide online delivery. What's next?
"When we opened, we were very strict that everything had to be organic, but you just can't get everything in Australia, especially since covid, so now we are more focused on bulk Australian products to ensure a sustainable, waste-free and local shopping experience."
---