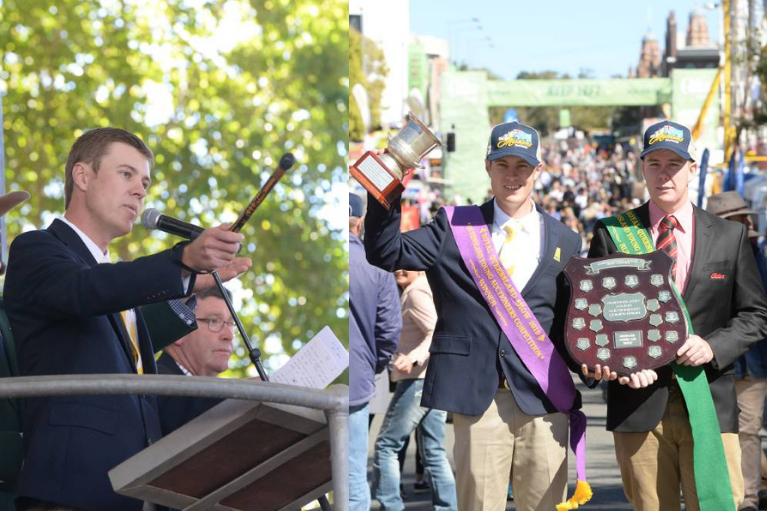 A good mate and childhood mentor once told a young Liam Kirkwood that 'he who panics last wins'. Liam admits it took him a while to figure out what his friend was on about, but today the 24-year-old champion auctioneer and principal at Ray White Townsville Rural and Livestock lives by those wise words.
Growing up on his family's cattle property in Maitland, NSW, Liam knew one way or another his future was in the agricultural industry. As he puts it, "if I wasn't selling cattle, I was going to be buying them".

He took on a livestock buyers traineeship with JBS after school and travelled all over the eastern states, before a permanent position eventually came up in Townsville, QLD.

In 2019 Liam met 70-year-old Kevin Currie, principal at Ray White Townsville Rural and Livestock. It wasn't long before the livestock buyer since 1966 saw the young man was keen, knowledgeable, energetic and had the sprightly joints of a 20-something - he was someone who could take on his business and loyal client base.

Liam soon stepped up to the helm and became one of Australia's youngest principals at just 23-years-old.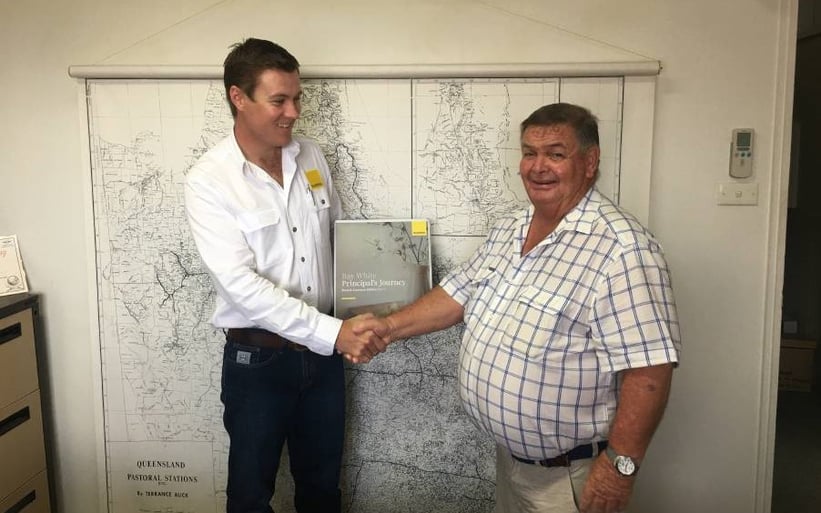 Liam Kirkwood with Kevin Currie. Source: North Queensland Register
It's a pretty big achievement in anyone's books but taking out the 2019 Young Auctioneers Competition at the EKKA (Royal Queensland Show) in 2019 is right up there with it. While he admits he might've been a bit underprepared, he threw his hat in the ring and his on the job training and level-headedness carried him through.

"We'd come off the back of floods and clearing auctions and anything we could do during that wet period and all of a sudden the auctioneer competition was upon us. I hadn't had a lot of experience or practice but I decided just to go in it and I was lucky enough to win," he said.

"It was a bit of a surprise considering it was my first time in the comp and more often than not some people go in it a few times before they win."

While his chance to take a shot at the national title in 2020 disappeared when the Sydney Royal Easter Show became another COVID casualty, Liam's set to have another chance in April.

His weekly cattle sales in Charters Towers are getting him ready to take on the best of the best, along with plenty of experience he's picked up along the way.

"I was lucky enough as a young fellow to travel around to sales with a very good friend and mentor of mine, Edward Throsby who owns a meatworks, and I heard a lot of auctioneers so I kind of picked up what to do and what not to do," Liam said.

"My style is an amalgamation of a lot of other people's styles. You run across a lot of good people in this industry."

The auctioneer win proved to be a great sounding board for Liam's career. At not even 25, the young principal already has a well-recognised name within the industry.

These days he fully understands Edward Throsby's words of wisdom.

"He always used to say that to me - 'he who panics last wins'. I'm a pretty easy-going person I guess and that's what he said he meant by that. In this game you've got to keep working away at things and not give up," Liam says.

"If you get knocked down you've just got to get back up again and eventually you'll have a good win. That's what happened with the auctioneer competition and the business is going well. Can't ask for much more."

Except for the national title in three months time, of course. Watch this space.