I have been surrounded by agriculture my whole life, having grown up in Ardrossan with childhood visits to my grandparents' farm in Langhorne Creek, a degree at Marcus Oldham College and then in my twenties, I was lucky enough to fall in love with a farmer who later became my husband. I subsequently moved to Burra in South Australia and my husband Tom and I now run 10,000 Merinos on our property, Wandillah.
I've always loved high-end fashion and putting gorgeous outfits together, even when I was a young girl.
When I was just 10 years old I was diagnosed with Non-Hodgkin's Lymphoma. Not long after the diagnosis my mum passed away from breast cancer when she was just 43. With so much to process I turned to fashion. I didn't have the long flowing hair that my friends did but I had a body that I could put clothes on and so I was always dressing up – I guess looking back it was a form of escapism. While I may not have always nailed it (who does as a kid!) I remember it being such a thrill to have someone compliment my carefully selected outfit.
I realised early on that fashion was so much more than just what you wore, it represented freedom and allowed me to show off my creativity and for people to look beyond my illness. This is when the first seeds of my dream of starting my own label were planted.
In early 2019 I launched my clothing label iris + wool, with a focus on creating stylish, long-lasting garments using environmentally-friendly methods, and promoting the superior quality of Australian Merino wool.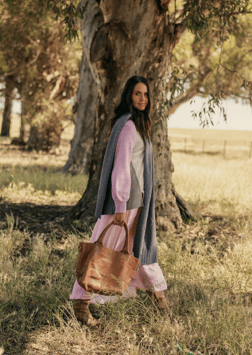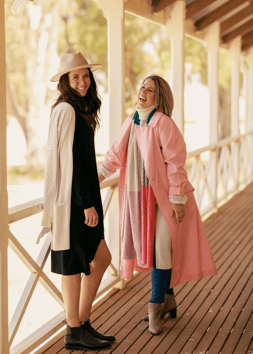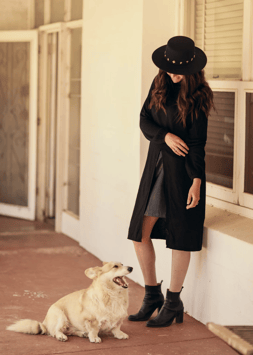 The label name includes iris as a tribute to my mum because irises were one of her favourite flowers. I also donate 5% of sales to the McGrath Foundation in honour of her memory.
My mum and Aussie wool producers have been my inspiration and reason for starting my label. I am in awe of how hard famers work to produce our food and fibre.
Ultimately, my goal is to see my products stocked in high-end boutiques and one day open an iris + wool store. With two little ones underfoot it might be a while off yet – but if one thing cancer has taught me, it's that resilience and putting one foot in front of the other is the key to creating your dreams.
Shop: https://irisandwool.com/
Website: www.buyfromthebush.com.au
Instagram: @buyfromthebush
Facebook: @buyfromthebush