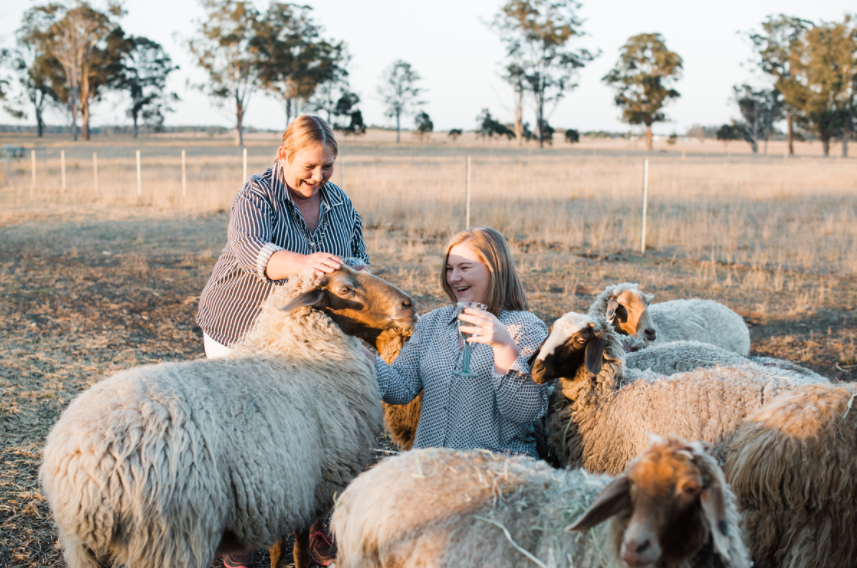 Set amongst a stunning, century-old homestead and lush, wedding-ready gardens in the Scenic Rim is Towri Sheep Cheeses, run by mother and daughter duo Carolyn and Dallas Davidson - a pair of multi-generational sheep farmers who have transformed their breathtaking property into a purpose-built sheep dairy.
Besides stocking trendy inner-city restaurants and wineries with their handmade sheep cheese, this innovative duo have a multi-pronged approach to developing and marketing their product and 300 acres of prized land, including offering farm tours, weddings and markets in their exciting plans. Here's their story.
Hi, ladies. What do you feel have been your biggest achievements so far in the agricultural industry?
As a business we pride ourselves on innovation - you have to, on the land. When you're up against droughts, bush fires, floods and Covid-19, having a list of ways to continue trading around all obstacles is crucial. For a while we didn't utilise what we had at our disposal, such as our farm tours, so we decided to renovate our old stable into a stunning campsite for future weddings and visitors - and that turned out to be an incredible move.
Through Covid-19, we joined forces with The Scenic Rim Farm Box, which helped promote our products to a wider audience, which was an incredible marketing opportunity for our brand. Also, through the beginning of Covid-19, we took a different track to stay in contact with our customers by starting 'Towri Wine Time', where we go 'live' on our social media every Monday at 5pm and talk about a local wine, an incredible local product we stock in our on-site farm shop and all of our upcoming events. To our amazement, the show has grown a viral following online.
Recently Towri has been nominated for RACQ's People Choice Award, which is a true honour and although a long shot, Towri is also in the running for the Australian Tourism Awards, which is announced in November. We have also been nominated for the Scenic Rim Business Awards.
How has having a career in the agriculture industry shaped you both, personally and professionally?
It's humbling, grounding and challenging all at the same time. The saying, 'you get out what you put in' doesn't really apply to this unique industry, at times you feel you put in 10 times what you get back…...then you start to notice the little moments that make it all worth it, such as helping a ewe give birth, rain filling the dam, sunsets over your farm, the looks on school kids when they learn all about milking sheep… we put a lot in, but what we get in return can not be measured in dollar value.
---
To learn more about Towri or take a tour of their farm, visit https://towrisheepcheeses.com.au/.
Image Credit: Dallas Davidson
---