There was no doubt Landfall Pheasantry S1755 had all the makings of a sale topper, but a bid of $240,000 was a 'surreal' experience for the Archer family of Landfall Angus stud.
Offered at their 45th annual on-property sale at Launceston, Tasmania, on Monday, the 19-month-old was knocked down to the Harbison family of Dunoon Angus, Holbrook, NSW, for a price that was just $40,000 shy of the Australian Angus record set in 2021.
Sired by Te Mania Pheasantry P1479 and out of Landfall Eline Q835, the sire prospect tipped the scales at 664 kilograms and measured 43 centimetres in the scrotum.
His TransTasman Angus Cattle Evaluation estimated breeding values included 9.4 calving ease-Dtr, 1.8 birth weight, 118 for 600-day growth, 12.4 eye muscle area and 6.3 intramuscular fat.
A result that well and truly surpassed Landfall's previous highest price of $75,000, stud co-principal Frank Archer said he wasn't surprised Landfall Pheasantry S1755 had caught the eye of several bidders.
"I was of the opinion that he would be the bull that topped the sale, but I had no expectation that he would sell for that much," Mr Archer said.
"He was a bull that had strength in a lot of areas and, in particular, he was from a really high-quality cow line.
"He had a really attractive phenotype and he's a functional bull, really structurally sound, great docility and he had a really good performance dataset to go with it."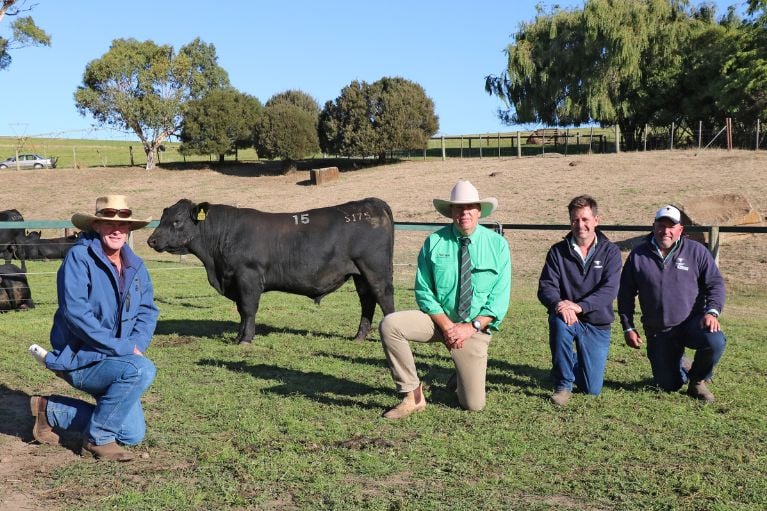 Chris Saunders, bidding on behalf of buyer Jock Harbison of Dunoon Angus, Nutrien auctioneer Warren Johnston, and Landfall Angus stud principals Frank Archer and Ed Archer with the $240,000 sale topper Landfall Pheasantry S1755. Picture: Zoe Howard, Clever Creative.
Despite the quality of the bull, Mr Archer said it was surreal to achieve such a price.
"It's not the sort of thing that we're known for, selling big-money bulls like that; we're more well known for the commercial orientation of our business," he said.
"I think the reality is, whilst he did make a high price and he's going to go to seedstock use, the bull has been bought by another seedstock producer that has a strong commercial focus.
"I think they saw that in the Landfall program, and it was one of the reasons why they were attracted to the bull."
The second-highest price of the sale was $46,000 for Landfall Pheasantry S1330, also sired by Te Mania Pheasantry P1479.
A third-top price of $45,000 was paid for Landfall New Ground S1340, sired by Landfall New Ground N90.
Overall, the sale saw 230 of 235 bulls sold for a 98 per cent clearance, $14,648 average and $3.369 million gross.
Mr Archer said it was a result that exceeded expectations.
"We felt the market was going to be quite different to what it had been the last couple years, and I think it was, in that there was more spread on the prices received for our bulls," he said.
"Obviously, there was a high-priced bull in there which put the average up a bit, but I think it was a sale for everyone; there were some top-end bulls that made bigger money, then obviously there were a lot of commercial bulls that were still good value for money."
The sale was conducted by Nutrien Livestock Tasmania and interfaced by AuctionsPlus.
---