When Robert Mackenzie's non station mated heifers brought a jaw-dropping price of $2130, a local agent commented, "for heifers to make that sort of money you would usually expect them to be tested in calf." Because that's usually where the money is: heifers in calf. Nonetheless, unjoined heifers are the newest business strategy for the highly successful and historic Mackas Pastoral company who have spent the last few years making their mark on Chinese supermarket shelves.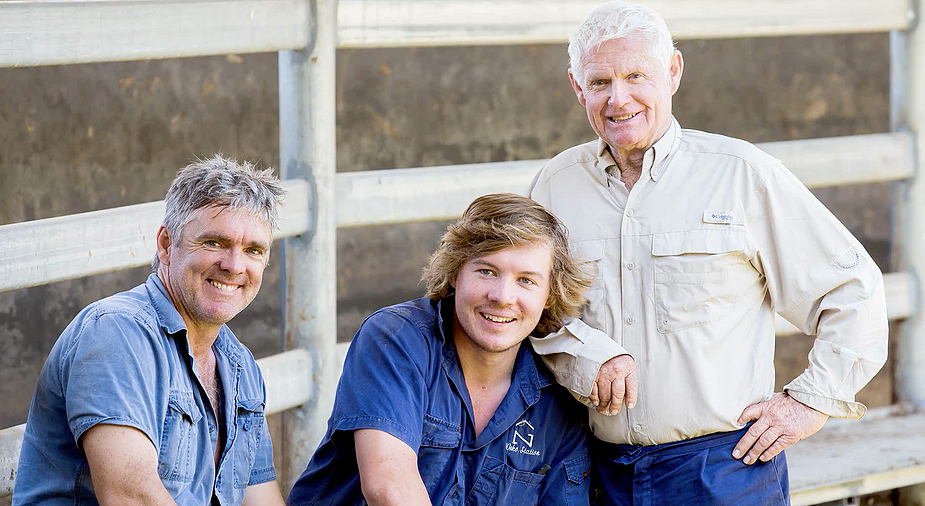 Three generations of Macka's Pastoral, Bruce Mackenzie and his son Robert and grandson James. Macka's Pastoral.
Grown in the picturesque and productive Gloucester region, Mackas 110 yearling heifers from Woko Station topped all categories at an online-only sale of some 23,000 head. Despite being unjoined. Their price per kilo was the talk of the sale, and the phones rang hot thereafter.
In fact, Robert Mackenzie's heifers brought $230 above the next best priced pen, and $380 more than the reserve. And, mind you, that was at a sale where a new AuctionsPlus record was set for in-calf heifers, so it's not as if the other lots were substandard.
Robert was sitting in the car at one of his properties, Skibo Downs in Gloucester, with Meat and Livestock Australia's Sam Bourke and Julie Bollard when the good news came through.
"It was a proud moment for us to top the market in three categories. I had two MLA reps in the passenger seat. We were all a bit overwhelmed with the result and definitely celebrated," Robert said.
"For people to have faith in what we're producing is quite emotional. It's humbling."
His weaner heifers and steers pulled in the big cents per kilo too, topping their categories: heifers brought 605c/kg and steers 583c/kg.
When I called Robert to talk, Channel Ten's Masterchef and famous fine dining chefs from Three Blue Ducks had just left his property. In fact, his face and his farm are often being filmed. Etihad Airways (who fly Australian beef products to the Middle East) are scheduled to visit, as are Meat and Livestock Australia for promotional filming projects early next year.
The Mackas Australian Black Angus Beef success story goes back over 136 years.
As a fourth generation beef producer in Gloucester (with Woko Station, Berrico Station, Bowman River Station, Barrington River Station, Glendonald Station, and Skibo Downs), and the Hunter Valley (with properties Oakfield Park and Williamtown Flats), Robert and his family carry on the Mackenzie beef business that was started in 1884 by his grandfather, Archie Mackenzie in the Hunter Valley.
Today, Robert, alongside his father Bruce and his sons James and Jack, runs Mackas Pastoral across eight stations on 13,000 acres of some of the most productive and lush looking land along the east coast of Australia, with up to 3500 breeders.
"Macka's is a proudly family run business with a network of farms, each with the same aim," Robert remarks.
"We just want to produce the highest quality Black Angus Beef and share a clean and transparent 'Paddock to Plate' experience with all our customers…"
And that's no lip service. Pre-covid, he frequently hosted international customers (including Alibaba, MetCash, and eCargo) on his property to show them how Australian Angus beef is produced and processed.
"Meeting customer needs and then exceeding their expectations is very much our mission."
That's a mission he shares with Australia's key agricultural bodies, with which he has developed strong partnerships: MLA, NSW DPI, Austrade, Angus Australia, Beef Australia and even Macquarie University.
But the main business, the output for which they're most famous, is their chilled and frozen Mackas Verified Black Angus boxed beef and retail‑ready products available throughout Asia.
And it's not a case of ship and forget. Robert is highly engaged with his far-away consumers.
"Our focus is on customer service and product support," he said.
In the last fews years, he has been to China 13 times since his first solo excursion in 2015, where the export market intricacies and language barrier would have deterred many. Since then, Mackas Pastoral footprint in China has grown and evolved significantly.
"We think outside the box. For us to take beef and lamb to make dumplings in China definitely opened some eyes. We love adopting Australian agriculture for global consumers, we have this extraordinary healthy, green, clean image and the whole world wants to know about it."
"The Chinese market is very concerned with provenance, traceability and product integrity which is why Mackas has been on the frontfoot delivering that."
"Telling the great Australian agriculture story is made so much easier thanks to the industry bodies we have. Sometimes producers overlook the people that make what we do possible, but they're actually world-class."
The early months of covid caused chaos for beef exports, as headlines reminded us daily. ABC's 7.30 Report, South China Post and The Australian all interviewed Robert on the impact it had on the beef industry. Shipping and sales halted due to downturn in international trade, and when a version of normality returned, Robert says his freight costs more than doubled. The Federal Government provided freight assistance for producers to export via air during the shipping halt.
"If the government hadn't stepped in, we would have been in all sorts of trouble."
On the plus side demand for Aussie beef, year-round, has been sky high. As a consequence of covid, provenance and food safety has become even more critical for consumers worldwide, especially in China.
Robert's transparency and traceability focus will go a long way towards meeting that increasing expectation.
In the meantime, the more recent focus on supplying unjoined heifers is already paying dividends with demand at an all time high, as evidenced by the sale result in November.
"This is something we've always wanted to do, and the timing is just so right. We kept these heifers especially to offer them to restockers," Robert says.
"Our genetics are as good as you will get, with a lot of focus on creating maternal mothers for us to be able to offer really high quality replacement heifers."
"AuctionsPlus works well for us; everytime we have sold with them we've topped the market. We're looking forward to building a stronger, more successful relationship with AuctionsPlus..."
While the numbers are nice to hear, Robert says he's most pleased by seeing plenty of repeat buyers.
"Our staff and family share the vision and bring professionalism and passion to their work. From the front gate to the back gate, we're proud of every bit of what we do and that doesn't happen without committed people," Robert finished.