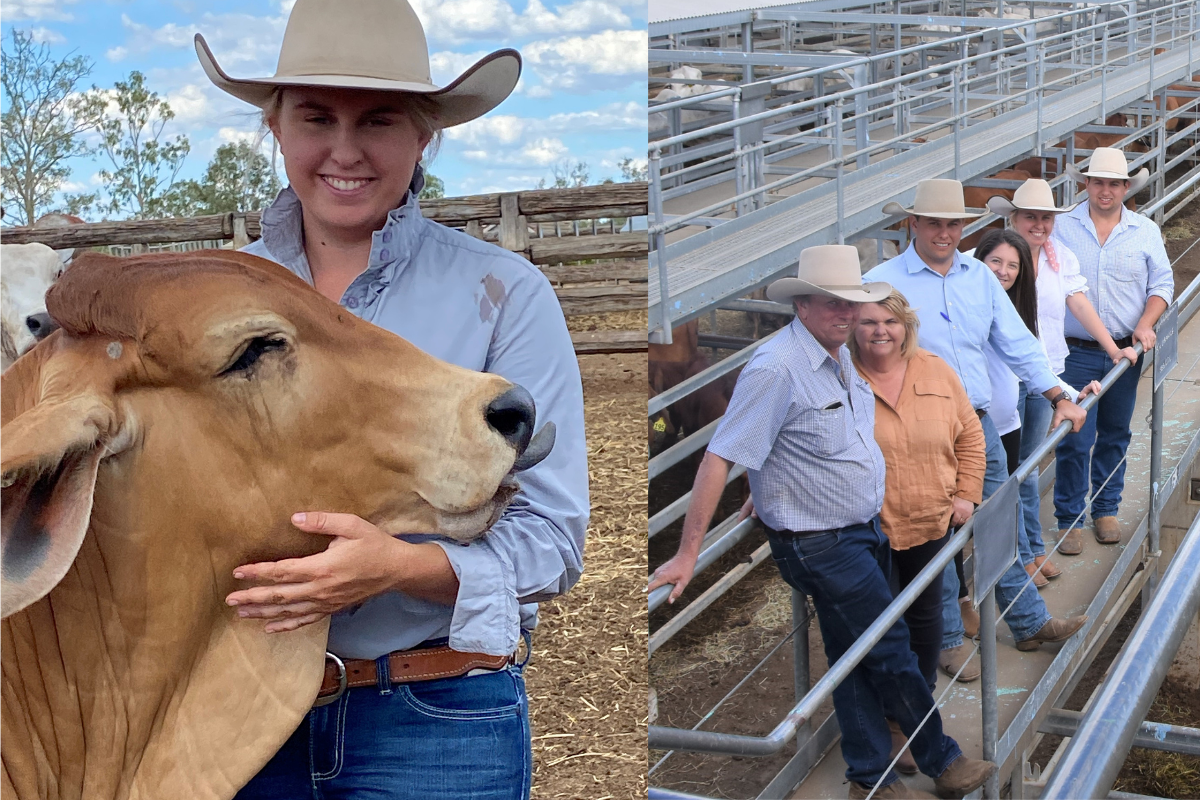 As an eager six-year-old wanting a tangible piece of the family stud business – her own cow – Megan Kent was given a steer. This only fuelled a young girl's passion for cattle and at just 20-years-old Megan walked away from her first bull sale with more than $100,000 in her back pocket.
While Megan's age put her in the minority of stud producers, she is a well-known face at sales, always standing alongside her parents when they sold from their stud, Ooline Brahmans.
Megan's parents Darren and Sue bought "Wilden" at Goovigen, about 100km south of Rockhampton in Queensland 22 years ago. With the couple having grown up on dairy properties, they decided to follow a different path, moving into Brahmans and stud seedstock.
Their stud, Ooline, was founded in 2002 and named after a native tree that grows in good country. Perhaps this was the good omen the budding business needed or perhaps just the perfect fit, as the stud has since gone from strength to strength, allowing the entire family to be involved.
While Megan works full time on the property, her two older brothers, James and Isaac, are also actively involved and each sibling has built their own stud line from Ooline.
After a couple of private sales, Megan sold her first bull at sale under her brand, Ooline M, at Braham Week 2018 for $12,000. Focused on her cattle, there was no splurging for the then 18-year-old, who reinvested the profits into heifers.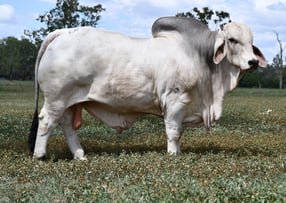 But things got serious for Megan and her stud when she made her debut at the Big Country sale earlier this year – Ooline M's three grey Braham bulls averaged $37,333, topping out at an impressive $46,000.
Megan admits there were some nerves on the day, but excitement took over and she held a steady confidence in the knowledge she knew her animals.
"I like to spend a lot of time sitting with my bulls and getting to know them, as I like to be able to trust my bulls," she said.
"I had a fella come up who said, 'you ran that animal through the ring really well' and I said, 'I trust my animals and knew what he was up to'."
Despite the success at Big Country, Megan is modest and acknowledges the input her family has had in educating her about cattle and what genetics to follow.
"Dad and my brothers, who are nine and five years older than me, have given me lots of opinions and I have learnt a lot from them. I am in the yards drafting and being around them and listening to them talking - 'that's a good cow because of this'. I am very much influenced by them."
Megan has expanded her knowledge through the young judges' competition at shows, has completed her pregnancy testing and artificial insemination qualifications and studied Certificate III in Agriculture at school.
But it was being around cattle and getting involved as a family that laid the framework for Megan's passion.
"We were just always there, we were never not with the cattle, and we went everywhere with mum and dad," she said.
"I have always loved cattle – I tried to find something else to do but I just love cattle. It's their nature and their habits and the way you can get an animal to trust you and the way you get to understand them; they are amazing animals.
"I was about six and wanted my own cow and dad gave me a steer. When the steer was sold instead of getting the money, mum and dad gave me a cow, then I sold the calves from her.
"I think it was about 10 years ago I thought I could be stud producer like mum and dad, then when I was probably about 14 or 15 I thought, 'I don't know if I could do that, it might be a hard thing to make my living from and don't not know if I would be capable of doing it'.
"But by being home after finishing school I have built my confidence and know it is a long-term thing as you wait nine months for a calf to be born then it's two years for a bull to be sold, so it's not a quick turnover."
Megan said while there weren't many people her age working full-time in the stud and seedstock industry, she said the next generation was coming through.
"There are more young people getting a bit more excited about getting into it."
Ooline outsources its bulls from sales like Brahman Week, Big Country or NCC Brahmans, occasionally buying in a heifer to bring in new genetics.
"All all our cows have been bred through the years to continuously breed a better animal," Megan explained.
"We focus on carcass quality and fertility because every animal you breed has to be bred back for the meat market."
With a bright future ahead, Megan is looking forward to presenting another three bulls at next year's sale. While she will continue to contribute to her family's overall goal to produce cattle with the best possible carcass and fertility, Ooline M will be looking to also develop the animals' temperate, structural correctness and a nice head.
---
Find Ooline Brahman Stud on Facebook: @OonlineBrahmanStud