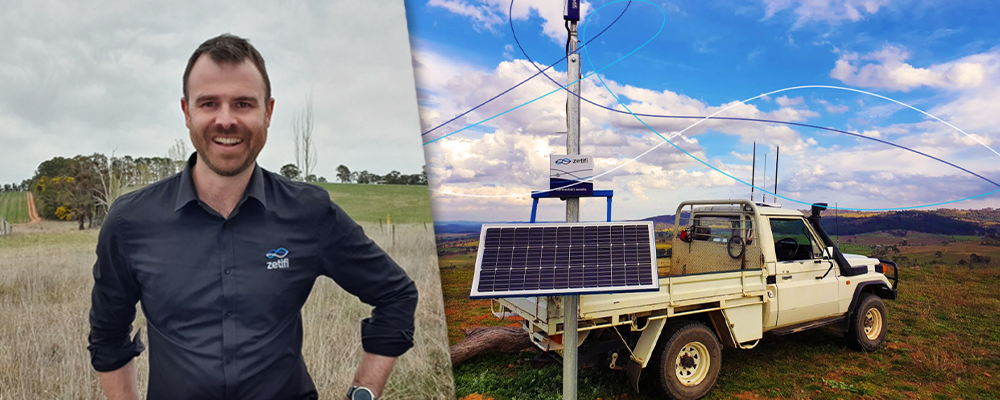 Two-thirds of Australian farms have unsatisfactory internet connections. We all know the routine, phone calls drop out right when you need them not to and forget about it if you need to access broadband quickly in the paddock. A consequence of this is that adopting new ag-technologies that require the internet is pretty much out of the question. Fortunately, an idea out of Wagga Wagga, inspired by a farmer in Dirranbandi, is set to change all that...
A few years ago Dan Winson - who admittedly knew next to nothing about farming - was teaching a classroom of students about how to build wireless networks when one of the students pointed out in the article in the Sydney Morning Herald. It told the story of a farmer in Queensland who had built his own impressive 53 meter tower to get better wifi. It wasn't a rickety hills hoist invention either. He'd gone to the trouble of getting an engineer and actually welding it up in his own time.
Dan was dumbfounded; why would anyone go to that level of challenge just to get wifi?
Dan knew he had to speak to Andrew Sevil at "Whyenbah" in Dirranbandi, so he set about finding his phone number.
"I called him up and put him on speaker in the classroom and it turned into one of the best lessons I've ever taught. Andrew Sevil, the farmer who had built this solution, had done it purely to get faster internet and connectivity across his farm," Dan said.
As an expert in networks and wifi, Dan offered his services at no charge to properly set up his network, with his classroom of students watching on.
"We ended up load balancing his link live in the classroom with the students watching while Optus and Telstra got it all working for him."
Over the following months, Andrew and Dan stayed in contact. But Dan couldn't stop thinking that if someone was going to go to that length to get wifi on a property, there must be a massive market out there for a solution.
"Not everyone's going to go and build their own 50 meter tower, but I realised that if we could build something that was more accessible, that there was a real problem there that people would pay to have solved, and that's what we've set about doing."
Dan launched Zetifi. A wifi repeater for farms that you can strap on to trucks, tractors, sheds and get crystal clear internet connection.
"Zetifi's been extremely fortunate to have lots of early adopters trial our products over the last couple of years. We've connected more than a hundred farms and completed trials with NSW Department of Primary Industries and in the Northern territory, in Western Australia."
The wifi repeater is described by Dan as "ruggedised", which he says means its built for Australian farms.
"One of the challenges in serving this market is having to replace something when it's 400 kilometers from a major center. We don't want to ever have to do that if we can avoid it. So we've gone to extreme measures to over-engineer these products and make them extremely rugged. They are ruggedized so that they can withstand the conditions, the temperature, the humidity, the vibration, the weather, the dust, everything that you need to make something last in the Australian bush. We essentially fill these things with the same resin that is used to hold up concrete retaining walls. It's completely inert. And by doing that, we can make sure that they last and that they don't cause us headaches," he says.
Zetifi is due to launch soon as a direct to market solution, and has signed partnerships with both Case IH and AuctionsPlus.
"I was fortunate enough to be at evokeAG (agriculture innovation conference) a couple of years ago, and I stumbled on the team from AuctionsPlus. Immediately, they said they needed to go and find the boss and they needed to bring him over to meet me because the technology we were working on had the capability to let them reach more customers. Thankfully, they did and Angus Street (CEO of AuctionsPlus) and I struck up a conversation. We were able to get a pilot started, developing the technology to make it better for them so that they can hold their auctions on farm and make use of our connectivity."
Angus said the timing was as close to perfect as possible. The trials were happening right when COVID struck and caused a significant spike in the need for online auctions in the livestock market.
"COVID has really driven the adoption curve of online technologies and online marketplaces like AuctionsPlus due to the lockdown of the borders, and also concerns from the older generation of the farming community that they do not want to be exposed to the virus.
"Our on-farm stud sales require live streaming of audio and video. And although we had a number of clients that had requested the use of this service over the years, there were many for whom we weren't able to provide a solution due to their poor network. When Dan threw his technology in front of us, we leapt at the opportunity to trial it and improve the quality of on-farm connection."
Thanks to the Zetifi solution, more on-farm stud sales and dispersal sales were able to be conducted, even when buyers couldn't physically be on site to bid.
"COVID has had a big impact primarily again on our stud sales, plus we've got about 200% growth in our online clearing sales and about 100% growth in special sales, like dispersal sales."
The partnership between Zetifi and AuctionsPlus will allow more properties to hold online sales.
It's amazing to think how times have changed. Going back 33 years, AuctionsPlus first sale actually required two kilometers of telephone wire, a generator to run the fax machine, and two ways to relay bids! Today, fast, reliable, ruggedised internet is the only essential.
For more visit: www.zetifi.com