Putting down the tools and picking up the reins to Gundary near Goulburn has been more than just a tree change for Troy and Hannah McNally. A builder by trade, Troy and his young family left Sydney 10 years ago and today they're living a life even better than what they could have imagined with their Amaroo Australian Whites.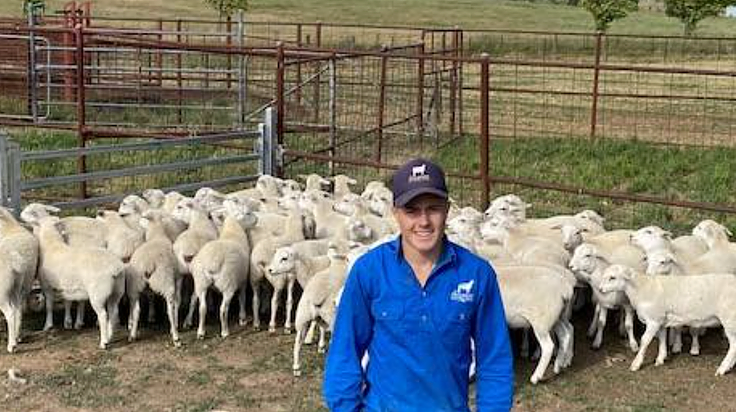 With 16-year-old Jaiden taking the stud side of the business full steam ahead, and 14-year-old Ella and five-year-old Bayle pitching in, the family business has skyrocketed in recent times.
Eighteen months ago the McNally's decided a change was in order and after spending six months researching the Australian White breed together, they had a full dispersal sale of White Dorpers.
Their recent record breaking sale saw 54 future breeder's sell for $650 per head. Even more importantly, Troys says it opened up opportunities for young Jaiden.
"Jaiden lives and breathes agriculture, you almost have to drag him inside every night," Troy jokes.
"This was a fantastic result and gives him more opportunities down the track in the industry and in the breed and if that's what we can do and pass on to him then we're more than happy to keep letting him pursue what he wants to do."
Maintaining the breed and slowly improving year on year, an embryo transfer program to build on numbers in the stud side, and eventually an on-site property sale are all on Jaiden's to-do list.
Whether it's driving heavy machinery or building up a stud, Troy said Jaiden will throw everything he has into thriving in the agricultural industry.
With much smaller boots but no doubt following in Jaiden's footsteps, is young Bayle who loves being out and about on the farm . His favourite request to 'go look at the sheep' is on repeat in the McNally household.
And while Troy jokes his greatest fear is that 14-year-old Ella may get a taste of the city life one day, he says she's the first to put up her hand and help out on days where the whole family has to pitch in and get the job done.
"As we've explained to the kids, farming isn't an easy path, it's a seven day a week, 365 day a year job but we enjoy it and we just wanted to give the kids an opportunity of living a life on a property," Troy said.
"Even when I was living in Sydney I always knew if I ever had kids I'd want them to grow up experiencing that life."
Whatever direction their kids decide to take, Troy said the family's hard work and commitment to their new venture has been rewarding.
"We never expected ourselves to be in the position we are that allows us to focus on pushing something we all enjoy doing and the Aussie Whites have helped us on those lines," he said.