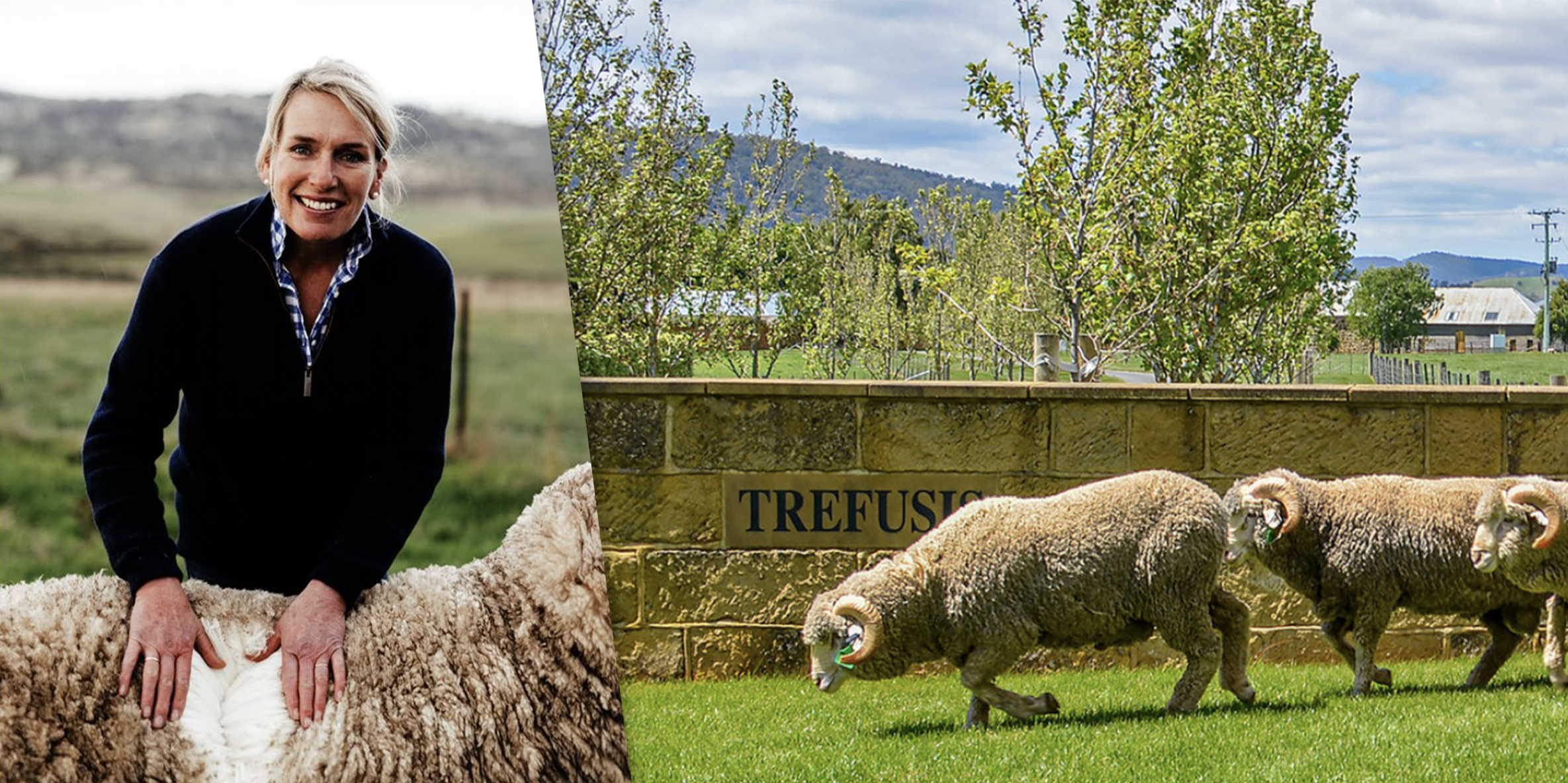 On the days she's battling Tasmania's horizontal sleet and hail, Georgina Wallace jokes that even she wonders what the latte set is doing and whether they might have a spot for her at the table. In reality though, there's nowhere she could imagine herself and husband Hamish being than Trefusis, a 7000-hectare property in the Tasmanian Midlands.
Georgina grew up on the Merino stud and returned in 2017 after selling Uplands, a property she and Hamish had owned for 23 years. Now aged in her 50s ( or "old and buggered" as Hamish helpfully jokes in the background), Georgina found her passion for agriculture at a young age.
While her friends headed to uni to study teaching or nursing after school, neither of those career paths interested her. She felt the pull of home and returned to Trefusis. Georgina worked on the family property for four years before getting married, and while she says it's always been her calling, she's thrilled to see more formal opportunities for women in agriculture today.
"I would've given my eye teeth to have gone somewhere like Marcus Oldham but it wasn't the done thing for women in those days to go to ag college but I'm so pleased now that a lot of girls are doing it," she said.
"It's a change for the good because there's so many facets of the ag industry where there are good jobs there for women.
In 2015 Georgina became the first female president of the Australian Association of Stud Merino Breeders - a position that allowed her to inspire and share her down to earth approach with others in the industry.
"I was giving a talk to a group of young people at a National Merino Challenge and I said if you work hard, you keep trying to improve and you keep at it through thick and thin, you will succeed and I really believe that," she said.
The recent 36th annual Trefusis ram sale results back her up. The offering comprised 44 Merino rams and 19 Poll Merino rams with the top price making $4400 and 50 rams sold averaging $2096. Coronavirus restrictions on Victorian travelling to Tasmania saw local wool producers take the complete catalogue.
With this strong support coming from repeat clients as well as new buyers, it certainly appears the hopes that Georgina holds for Trefusis' legacy are well on track.
"I think we'd like to be remembered as good farmers and producing top wool, top sheep and top prime lambs," she said.
"It's always been my passion to continue the Merino stud. I like the challenge of it, striving to keep on improving it every year and I like the variety of work.
"I want to be remembered as good, hard workers and we're always striving to do our best."
And as long as she continues following the sound advice her wise dad often dished up - try not to make the same mistake twice - she can't go wrong.