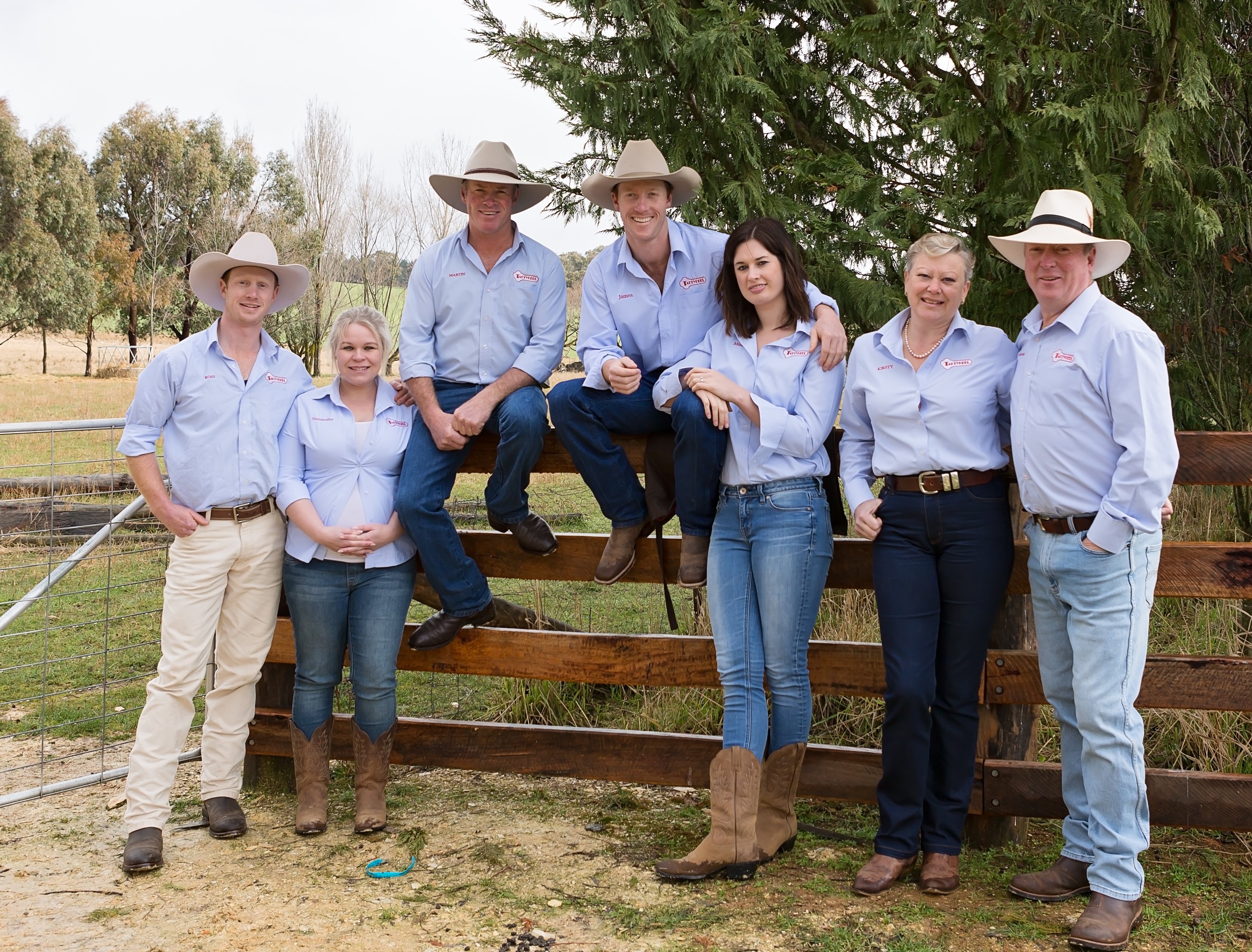 At the ripe old age of 12, Graham Gilmore felt he might just have experienced the proudest moment of his life. He'd shown the champion Dorset Horn ewe as a novice breeder at the Sydney Sheep Show. While he still remembers it like it was yesterday, fast forward to today and he's notched up another achievement he thinks might just pip it at the post - developing the Australian White breed.
Along with his two sons, James and Ross, Graham runs Tattykeel near Oberon, NSW. Graham's parents, John and Mavis, established the Tattykeel Dorset Horn Stud in 1959 and later started the Poll Dorset Stud in 1964. Their sons Graham and Martin shared their parents' enthusiasm for the breed and began to further improve it.
It was during a trip to Brazil that Graham came across the Santa Innes sheep breed, fully haired but used for meat production. The penny dropped for Graham - why do we need wool on a meat sheep? The discovery sparked a 20 year passion for creating the Australian White breed. They released the breed 10 years ago and while Tattykeel's records in Poll Dorsets are almost $9000 for stud rams, its Australian Whites this year averaged $22,670. It may have been a long and tough road at times but Graham said its success has surprised even him.
"I certainly imagined the change in the industry, I could see that as quite glaring but I couldn't have imagined this is where it would go," he said.
"I've shorn sheep all my life up until recently and there's nothing wrong with the product wool, it's a magnificent product. But we've just spent today with our Poll Dorsets after all the rain, they got flyblown, we had to treat all the sheep, bring them in and jet everything."
Australian Whites don't require shearing, crutching, lice treatment or mulesing. Graham said trying to compare them with other breeds is like comparing apples and oranges.
"When people ask what's the difference between running Australian Whites and normal sheep it's like running cows, normal sheep, goats or Australian Whites. It's so totally different," he says.
With the breed continuing to perform across the country, Tattykeel is now setting its sights on improving eating quality. The Tattykeel product can be found in half a dozen restaurants across Sydney, shining with the best of the best on the menu. Graham says the eating quality comes from the low melting point of the intramuscular fat which gives high omegas. To continue to better it, the team is taking biopsies from live animals and performing raw data testing. The whole operation is based on grass finish. And although they don't all have the same melting points and omegas, Tattykeel is working on its uniformity.
"You've got to get the worst of the animals and make them better all the time. It's like a football team, if your worst player's a good player, you've got a bloody good team," Graham says.
Of course, there's someone very important to the development of the breed that Graham says will never be forgotten. His younger brother Martin felt a little off-colour on the morning of July 12, 2018. Tragically he died just a few hours later with a torn artery in his heart.
"Martin busted himself in developing this breed and he'd be over the moon about where it is today. We don't forget Martin in any of this," Graham said.
"This is a dream come true for our family and we're just so passionate about the breed and helping other people get it right. We listen, keep our heads down and do the best we can."
For more visit: www.tattykeel.com.au