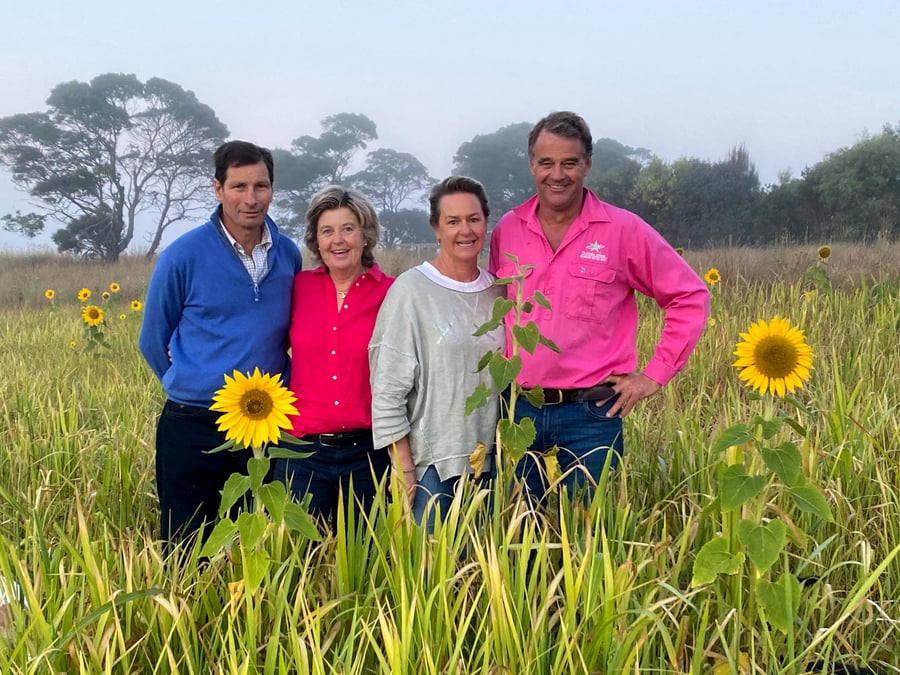 While many of our great great grandparents would have unwrapped a nice set of pots and pans on their wedding day, one family welcomed a gift that would evolve into one of Australia's most sought after Angus genetics - Te Mania Angus.
In 1928 five cows and one bull were shipped from Scotland to New Zealand to celebrate a family wedding. The small herd saw the formation of the Te Mania Angus gene pool and in 1971 fifteen cows and two bulls were sent across the ditch to create Te Mania Australia.

These days the Australian entity is run totally separately from New Zealand and spans a herd of 1400 stud females and 400 recipient cows, under the management of Hamish McFarlane and brother-in-law Tom Gubbins, at Connewarre and Mortlake in Victoria.

Hamish grew up on a mixed farming property in South Australia. After a few years jackarooing in outback New South Wales, an experience he says gave him a great insight into the relationship between livestock and their environment, he hit the books and soon found himself working in the finance industry in the city - but the pull from his rural roots remained.

After meeting wife Amanda, Hamish joined her family's long history of contributing to the Angus breed and says their commitment to innovation and genetics continues to grow.

"Each generation has been passionate about honoring and being respectful of what's already been established and enhancing it, and then improving what we supply to the industry," Hamish says.

With Te Mania's strong focus on collecting data and turning it into easily understandable information for the wider industry, the digital age is now well and truly catching up to the pioneering work done in the Angus industry. The team is set to launch its use of digital capture collars for its heifers soon and will be able to record real time data from the paddock.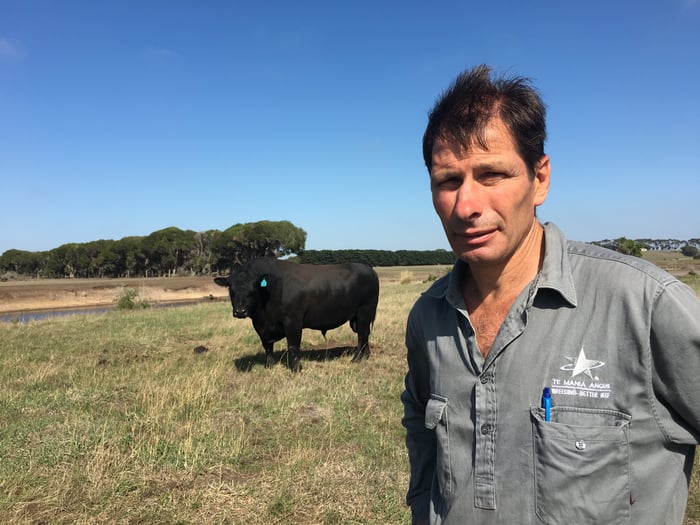 Not one to shy away from technology, it's no surprise that Te Mania Angus was the first user of AuctionsPlus in the bull sale arena. With pretty ordinary mobile coverage at the original premises in Colac, Victoria, Hamish says it wasn't without its challenges.

He recalls one sale around 20 years ago where a buyer from Northwest Queensland described it like 'playing a pinball machine'. No sooner had he tapped a button to place the next bid, someone else would bid back. It didn't stop him though and that buyer snapped up 15 bulls. Even all those years ago, Hamish says Te Mania's dedication to data meant buyers had confidence in the genetics.

"A large part of our program is based on collecting lots of comparable data then having it analysed through Breedplan. This then provides us with the confidence that the genetics that we offer to the market are going to breed like they are described to do," Hamish says.

"In recent times supplying videos of bulls just gives buyers that extra level of confidence that they can buy pretty much on description and that it is certainly the case now with commercial cattle."

This year, Te Mania's closing in on 100 years of breeding success. It hasn't come about by sitting on the fence either. Hamish says setting challenges and ticking them off will continue to see the business thrive for a long time to come.

"Our whole business model is based on innovation, persistence and being respectful of the people we're supplying to," he says.

"That's what we've always been about."


---