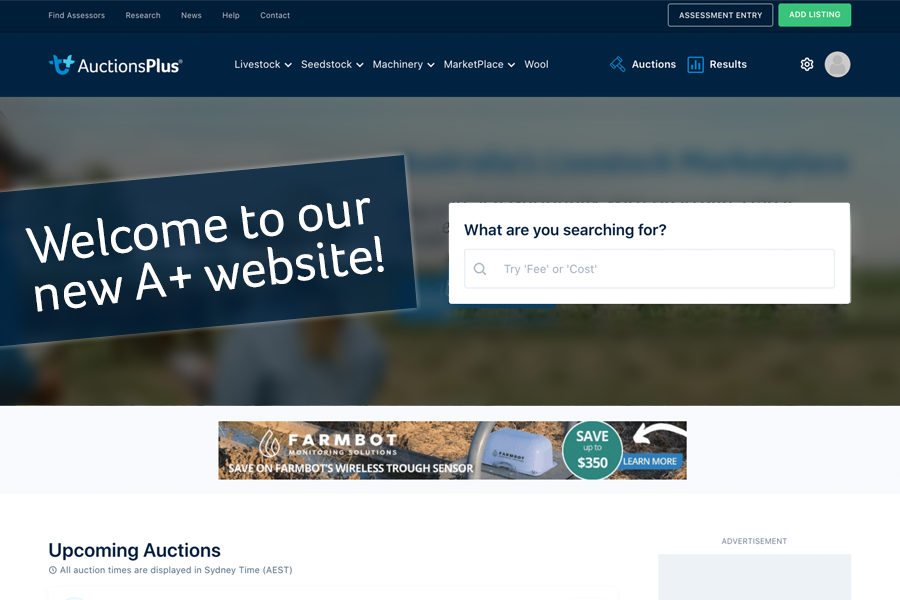 As a loyal member of our digital community, you will have noticed that the AuctionsPlus website has a new layout, look and feel.
With customer service and innovation at our core, we have long recognised that our 'old' website was good – but could be better. Without reinventing the wheel, we've embraced the opportunity to enhance what we had and build what's been missing.
We appreciate the importance of our website. Our goal has not been a radical redesign, but rather optimizing every aspect of your online journey to create a world-class digital experience. The enhancements and changes we've made are designed to make it easier to find more of what you are looking for and provide you with an efficient, intelligent and reliable experience.
Here are some of the key updates we have made and how they will enhance your online trading experience:
*New* Search Function
For the first time ever, you can search for specific listings instead of searching through to an entire auction catalogue. You are now able to search for specific stock categories, descriptions, locations, or stud sales across all auctions and classifieds, making it easier to find exactly what you're searching for.
*New* Catalogue & Lot Information Layout
Our traditional catalogue displays remain, with some added inclusions to the information provided at a catalogue level. Once you are in the listing, we have improved the layout, look and feel for all categories. You can also email and call the selling agent or broker directly from the listing you are interested in.
*New* News Centre
We have built a central hub that gives you access to the latest livestock & agricultural news, market analysis, industry related articles and commodity insights.
*New* Help Centre
The information available to you on AuctionsPlus is extensive and it is all centrally located in our Help Centre. If you cannot find the answer to your question, we have provided multiple contact points to resolve your query as quickly and seamlessly as possible.
Enhanced Category Search
If you are browsing, pre-defined category search tabs allow you to easily view everything from commercial cattle to alpaca and property auctions. By selecting from one of the available categories, you will see all available listings (including auction, buy-now and classifieds).
Increased Filters & Sorting
After searching for a listing through our search bar or the category search tabs, new filters allow you to narrow your search even further. Including Agency group, Assessor and town name, catalogues are immediately sorted to suit your preferences. Filters will continue to evolve - so please send us suggestions below as to how we can improve your search.
Customise Your Experience
We appreciate how valuable your time is, so we have introduced a new saved searches function, allowing you to check for any new listings that meet your nominated criteria. In addition, a calendar reminder function means you to set calendar alerts for upcoming sales.
Improved Sharing
When selling on AuctionsPlus, you can now share customised catalogues through uncomplicated share functions via email, Facebook, Twitter or direct link. For buyers and those browsing, you also can share listings that you are interested in, simply and easily.
Upcoming Auctions
All upcoming auctions will remain on the homepage to ensure seamless connection to running auctions, along with habitual weekly catalogue access.
Auction & Results Tabs
The ability to browse results pages remains by selecting from pre-defined categories. In time, we will be expanding these categories and increasing the sophistication of our results to include indicator, comparison, and projection tools.
Market Comments
Our weekly Market Comments will continue to be emailed to your inbox and you can now find links to market analysis along with free market information and additional insights in the results tab.
Contact Us
Our website may have had a facelift but direct access to our dedicated team remains. Either phone our office on (02) 9262 4222 or email info@auctionsplus.com.au to reach a number of our specialised Market Operators; we're here to help, receive feedback on what we can do to improve your online experience or hear what's happening in your local area.
---
We hope you love our new look! With careful consideration, extensive feedback and a huge amount of work, our intent is to improve your experience.
We also understand and appreciate that change can be overwhelming. As such, we have endeavored to keep the same user journey available to those who were comfortable with the old AuctionsPlus website.
If you have feedback on our new look – be it good, bad, or anywhere in between, please let us know below by filling in the form below. Similarly, if you think we've missed anything or could improve, we'd love to hear from you.
Submit Your Feedback